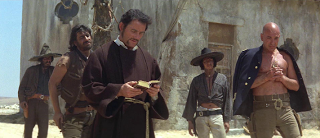 A Town Called Hell (1971) is a dismal Euro Western. An Anglo-Spanish coproduction, it mixes the silliness of the worst Spaghettis with monumentally miscast stars.
In 1895, two Mexican bandits (Robert Shaw and Martin Landau) massacre a church congregation. Years later, Shaw becomes The Priest, a pacifist holy man in the town of Bastard, while Landau becomes an Army Colonel. Vengeful widow Alvira (Stella Stevens) helps Bastard's citizens oust warlord Don Carlos (Telly Savalas), before The Colonel arrives in town tracking a revolutionary. He tries tempting The Priest into joining him, leading to violence.
A Town Called Hell offers a predictable parade of murder and backstabbing, punctuated with inscrutable flashbacks. What's lacking is the operatic direction informing the best Spaghetti Westerns. Director Robert Parrish's picaresque touches (Alvira traveling in a coffin, Don Carlos's crucifixion) sit there amidst artless shootouts. A nocturnal gunfight is especially confused, while the story completely shifts gears halfway through. Add childish moral debates and you have an indigestible casserole of awfulness.
Robert Shaw vacillates between brooding and spittle-flecked ham. Telly Savalas spends his screen time bare-chested and cackling. Stella Stevens' somnambulistic turn overcompensates in the other direction. Al Lettieri and Fernando Rey fester in supporting roles. Only Martin Landau tries an earnest performance, floundering amidst this garbage.
British Westerns are generally the pits, so A Town Called Hell's quality shouldn't surprise anyone. That it features Johnny Horton's "The Battle of New Orleans" playing at an 1880s square dance says it all.