I love to decorate with baskets! I love their texture, shape, versatility, style and colors. The beauty of decorating with baskets is that they go well with all design styles. They're extremely stylish and they never go out of fashion. They can make any room look charming and well organized. The most common use of baskets is as a storage accessory. They keep a room looking very neat and tidy.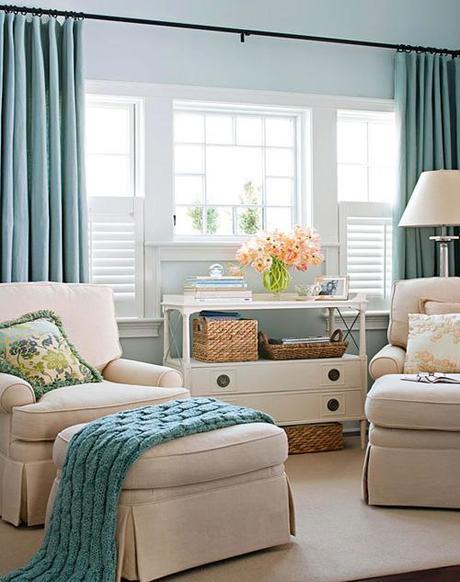 But you can also take advantage of the different sizes, colors and shapes of baskets to decorate your home in a way that's totally unexpected. Let me show you a few designs that you can easily do in your home. For example, look at this basket, which contains an indoor plant, and see how it blends in nicely with the neutral color of this room.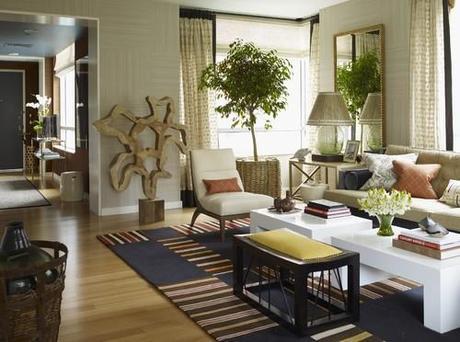 The focal point in this room is the basket vase.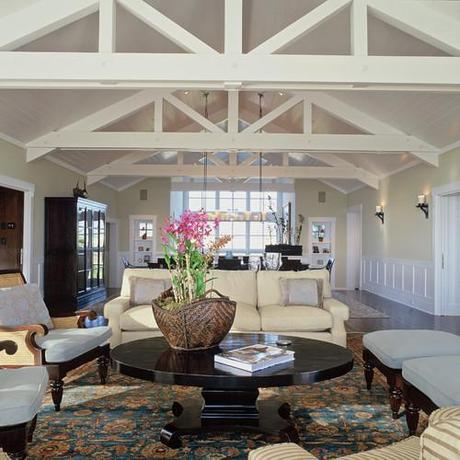 When I saw this picture, I immediately wanted to buy some concentric-circle baskets and decorate my wall. How totally divine!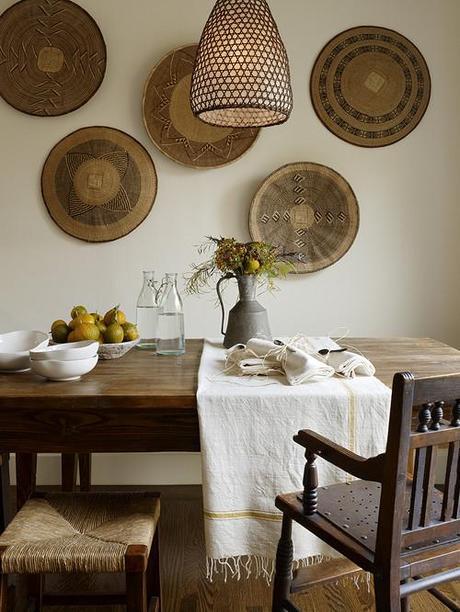 A collection of baskets in different sizes, colors and shapes can make a unique piece of wall art.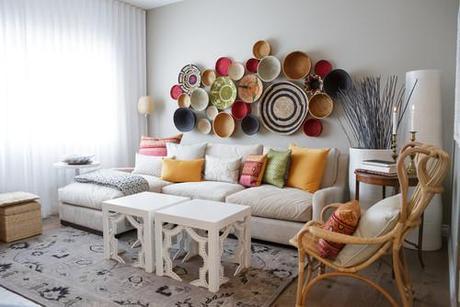 This bedroom features a basket-like headboard that is hand-woven from seagrass. Fabulous!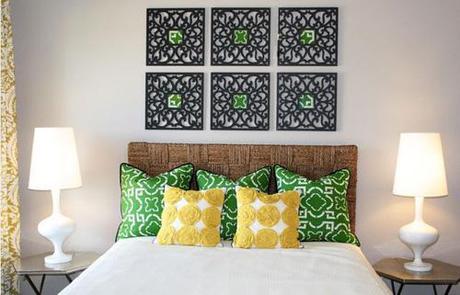 If your kitchen cabinetry doesn't go all the way to the ceiling, you can use baskets in different styles, shapes and colors to fill the open area between them.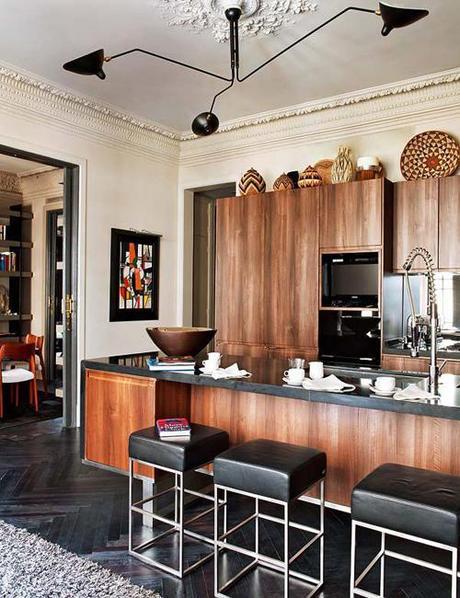 For a bathroom, different styles and shapes of baskets can be used to create a corner vignette.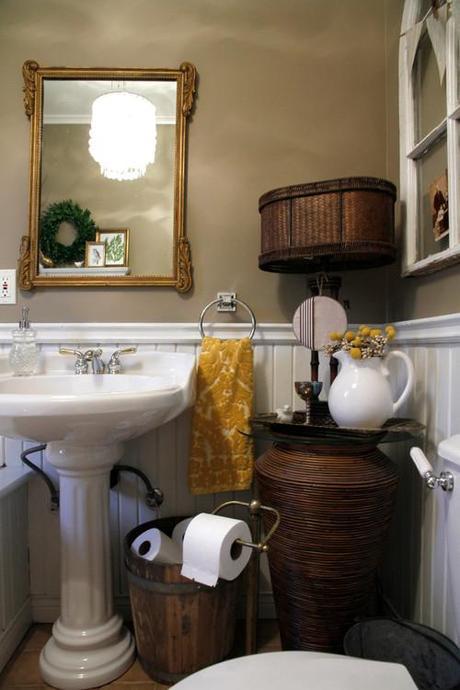 In your kids' bedroom, you can use a collection of square baskets as storage for books or toys. What a beautiful pendant light this circular basket makes! It's an eye-catching focal point.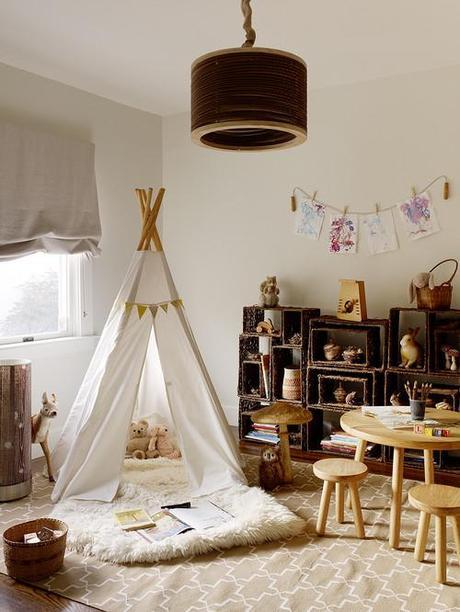 A basket ottoman! This is a definite conversation piece.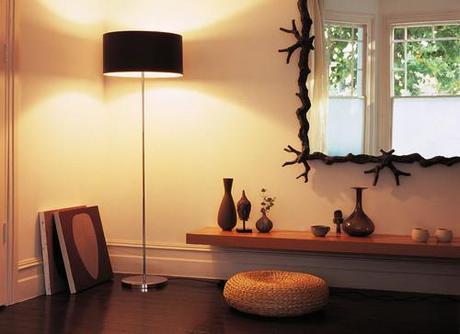 In a bedroom, baskets can be used to storage extra linens or miscellaneous items. You can even use them as a night stand—they are perfect for a small space!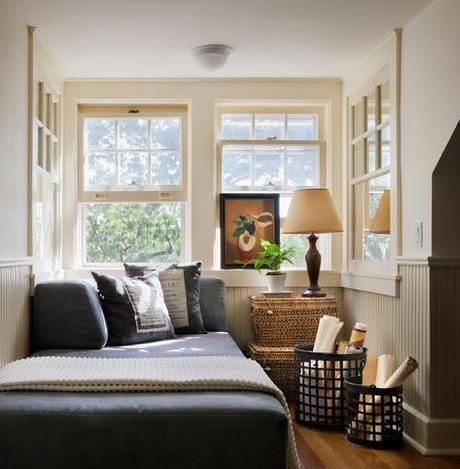 I'm in awe of this lighting fixture design, with a wire basket holding candles! However, for pendant lighting I think I'd rather use battery-operated candles.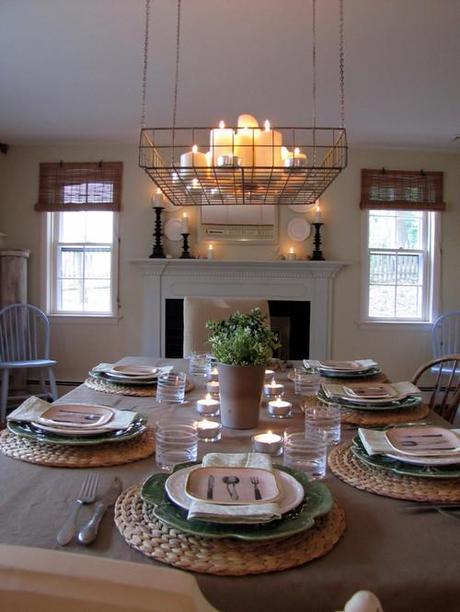 To help you incorporate baskets into your home decor, here are a few of my favorite finds!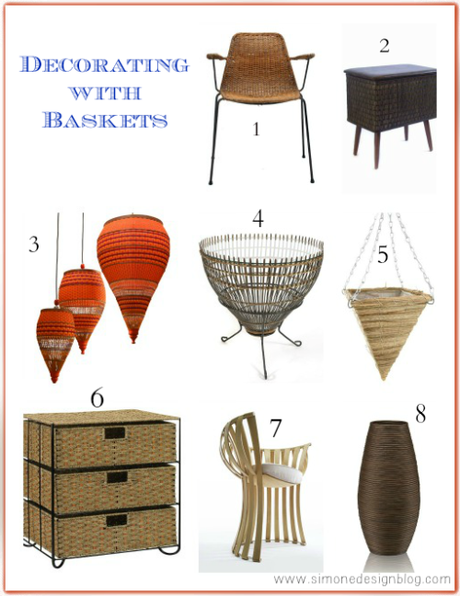 Images:
1
//2//3//
4
//
5
//
6
//7//8
There is something wonderful about decorating with baskets. They're neutral colored, and they have eye-catching textural patterns. Because of these qualities baskets make perfect decorating accessories and furniture. They blend quite nicely in any existing home decor. How would you like to decorate with baskets in your home?
Simone