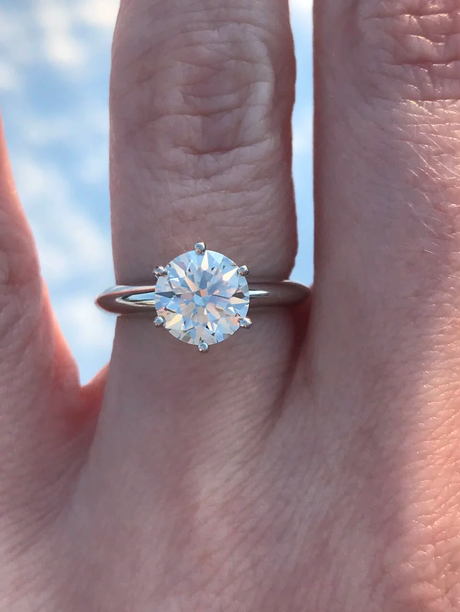 JohnnyAngel posted this stunning Tiffany Solitaire ring the Show Me the Bling forum at PriceScope. You can blame Audrey Hepburn for the fascination, but the drive to make this luxury dream a reality was all Johnny Angel!
JohnnyAngel was a longtime lover of Tiffany, as so many are. After learning a lot on PriceScope about phenomenal diamonds, Tiffany always remained the dream. Congratulations on this incredible addition to your collection! We should all hold on to our dreams so fervently!
The Stats:
1.20 ct
Color: I
Clarity: VS1
Measurements are:
Table- 56%
Depth- 61.5%
Crown angle- 34.6
Pavilion angle- 40.8
LGF- 75%
Visit the original post with more pics and join me in congratulating JohnnyAngel!
The Jewel of the Week is our chance to feature and appreciate a recently posted piece from the Show Me the Bling Community!
Thank you so much for sharing your jewelry experiences with us. We look forward to seeing more!
#JOTW
Come show off YOUR fantastic bling with fellow jewelry lovers and trade professionals Learn more about Ideal-Scopes on PriceScope!
By Kayti Kawachi