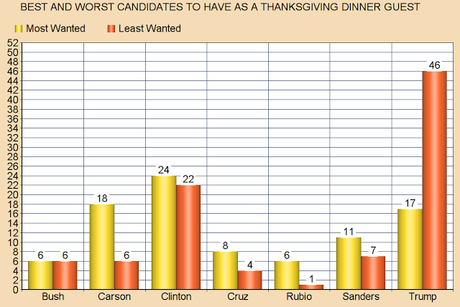 In honor of the Thanksgiving holiday, Public Policy Polling gives us a fun survey. The survey was done on November 16th and 17th of a random national sample of 1,360 registered voters, with a margin of error of 2.7 points.
They asked those respondents who the presidential candidate would be that they would most or least like to have at Thanksgiving dinner. Hillary Clinton turned out to be the candidate most wanted for Thanksgiving dinner at 24%, while Donald Trump was the candidate least wanted at 46%.
Of course, you can't do a poll without asking some serious questions, and PPP did. They asked whether the side dish at Thanksgiving was appropriately called "stuffing" or "dressing". I've always called it dressing, but it seems I'm in the minority. About 51% say it's stuffing, and only 34% believe it's dressing -- and that holds true across all political lines.
They also asked what was the best pie to serve with Thanksgiving dinner. No surprise, pumpkin pie was the winner at 27%, with pecan and apple tied for second at 17%.
Now we know -- a Thanksgiving turkey should be served with stuffing and pumpkin pie.