Having had a very bad experience with Rajdhani Thali back in Gurgaon I was a bit skeptical to try this outlet. Located on the 3rd floor of the Royal Meenakshi Mall on Bannerghatta Road the experience turned out to be different than the last one. Rajdhani Thali is known to serve Gujarati and Rajasthani food and because of the Mango season a lot of their food items had this royal fruit. The ambiance is clean but the tables has seen a lot of action and is now a bit shabby.
Read my review on other popular destinations like Chai, Charcha & Change, Jiyo Natural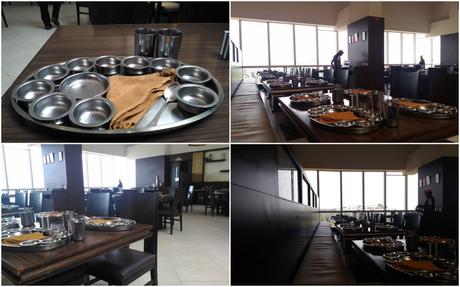 Mango being one of the main themes of the lunch we started off with the Raw Mango and Mango Lassi drink. They were cool and gave a soothing effect from the scorching heat. Infront was a Thali with a dozen katoris which got filled up pretty fast. Some of the most interesting items were the Dahi Bhali with exotic mango flavor, delicious and amazing. The Dal Dhokli was also interesting like the Dal Batti and Churrma. Clarified Butter or ghee is poured right on top of these dishes to make it even more earthy.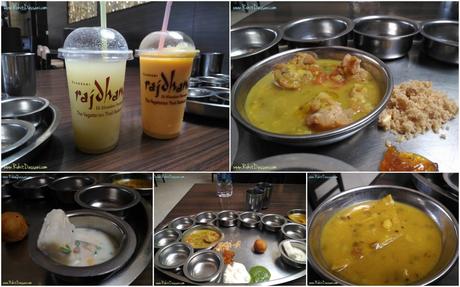 Next came the curries – 4 to be precise including Palak Paneer, Samosa Aloo Sabzi, Til Aloo and Rajma. The Palak Paneer was exceptional with a smoky flavor. The Samosa Aloo Sabzi was unique in itself with an excellent taste. You can try a range of breads like Phulka, Parathas, Thepla and so on along with different dals like Gujarati Dal and yellow dal. The Pakodha Kadhi was fantastic in taste, never imagined besan (gram flour) and corn could go so well. Next we tried the Khichari, reminded me of very basic yet healthy homely food.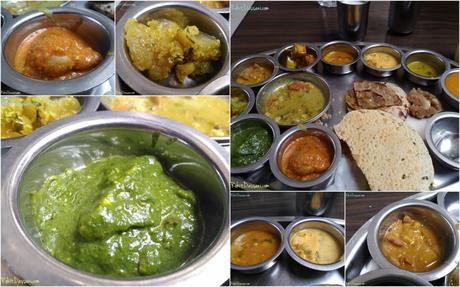 For desserts they had the Sooji Halwa and Jalebi. The Sooji Halwa here was a bit different than other places as it also had an aftertaste of fennel seeds (saunf) which gave an interesting twist to it. The Jalebi's were good if not great. Overall the experience at Rajdhani Thali was quite an interesting one especially for the fact that I have been missing core Rajasthani food for a long time. The price of the thali is a bit expensive but worth the new experience.
Rajdhani Thali – Rajasthani Food – Scorecard –
Food/Taste – 8/10
Service/Hospitality – 8/10
Value for Money – 8/10
Ambiance – 7/10
Quantity/Quality – 8/10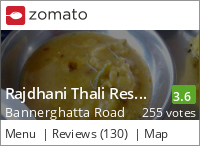 Overall Rating – 3.9/5