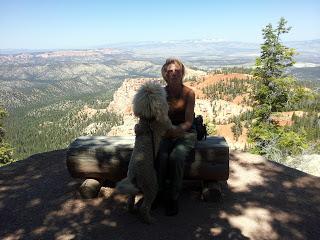 Maeve and Joanne at Rainbow Point, Bryce Nat'l Park
I celebrate the positive side of mental illness and psychiatric service dogs, but I'm no Pollyanna. Stigma and bigotry are alive and well.  Every so often, however, I get a glimpse of how life would be without them. Tuesday was exhilarating!
I had a reservation for the Park Service bus to Rainbow Point in Bryce Canyon National Park. The park has been great about the service dog and this bus tour was no exception. Despite some resistance from Maeve to getting on the bus (she was sensitized by her first large bus on the Vegas Strip a couple of weeks ago) the driver was friendly and welcoming. Even better, he was a gentle and good driver so Maeve got over her fear quickly. By the first stop she was good about getting back on and a couple of stops later she was so relaxed she fell asleep. With one grouchy, ignorant exception, the passengers were very friendly and inclusive. The day was clear, the views were beautiful, and I heard about the restaurant at the Lodge
at Bryce Canyon -- that it served good sustainable food and had a good selection of local beers.
I hadn't had a good restaurant meal in months, and as a former beer judge I love places that support their local brewers.  The Lodge was one of the stops on the way back to the campground so I thought I'd get off the bus there, check out the menu to see if I wanted to go there for dinner the next night, and then hike back along the canyon rim to our campsite. Maeve doesn't wear anything other than a collar tag that identifies her as a service dog when we do outdoor activities (and the Americans with Disabilities Act regulations say she doesn't ever need to wear anything), but I usually put on her saddlebags when we go into a place that sells or serves food. I hadn't anticipated stopping at such a place today, so we didn't have her saddlebags with us. This is one of the reasons the Department of Justice (which enforces the ADA) specifies that service dogs don't need to wear anything that identifies them as such. The point of the ADA is to allow me to live as free and spontaneous a life with my disability and my service dog as do people without disabilities.
I went into the Lodge, braced for a challenge from an employee. No problem, no questions. It was as if Maeve were invisible. I asked the desk clerk where I could see a menu for the restaurant. He pointed to the restaurant entrance. I read the menu.  It was wonderful, and I realized I was very hungry. A passing waiter complimented Maeve. I asked another restaurant employee when they started seating for dinner. "At five," she said with a smile. That gave me 10 minutes to take Maeve out to powder her nose and for me to decide whether to eat dinner at the restaurant that night or the next. There would still be time after dinner to hike back to the campground before sunset. I decided it was worth the challenge of bringing Maeve into the restaurant naked.
I walked into the Lodge and directly to the restaurant entrance. "One for dinner," I said and braced myself for what the hostess would say about Maeve. "This way please," she smiled and seated me at a desirable table by an open window with a gentle breeze. Maeve settled under the table immediately and never even twitched a toe. I got a number of compliments on her behavior.
The menu and ambience were classy rustic. The beams were logs; nice tablecloths and napkins were on each table; wonderful bread and dipping oil were promptly delivered; and entrees of trout, free-range chicken, buffalo, and alaskan salmon were featured.  I ordered a buffalo flank steak with white bean and bacon compote and a glass of local stout (I love Utah beer -- it's required by law to have 20% less alcohol than does a Bud and yet it's full of flavor).
I thoroughly enjoyed my dinner, but felt a little lonely and mildly sad that I was eating alone. Usually I eat at brewpubs or beer bars so I can sit at the bar and possibly talk beer with another patron rather than eating at a table by myself. That feeling went away when my waitress brought my desert.
Another thing the staff had done right was to seat me just where they would have had I not had my service dog with me. Each of the tables beside mine had a couple seated at it. The couple to my right got my attention just as desert came and asked if I'd like to join them.  I was thrilled! Then I realized they might not know that Maeve was under the table. "You may not have noticed," I said, "but I have a service dog under my table and she'd have to come too." "No problem," they said with big smiles.
We sat talking together for over an hour. They asked about Maeve's job and as usual I told them she was a psychiatric service dog and, eventually, that I suffered from bipolar disorder. I do this in order to fight stigma (I don't fit the U.S. media stereotype of a crazy, violent bipolar-sufferer) and to familiarize people with the rights of people with psychiatric disabilities. This didn't even cause a pause in the conversation. In fact, they wanted to know more. We talked about service dogs, about the federal laws that give people with disabilities the right to emotional support animals and to service dogs, and, best of all, about things that had nothing to do with disability -- what it's like to live in Manhattan (they were from the area and I had lived there for 14 years), whether or not it's a good place to bring up kids, the challenges of dealing with people and computers (he was, as I had been, in the technology field), about headhunters and executive coaching (services she supplied and I had used), about hiking and international travel. When it was over they thanked me and said they'd enjoyed the opportunity to have dinner conversation with an intelligent person --- and I could tell that was really what they meant!
Joanne Shortell, Maeve's Service Human
[email protected]
www.servicepoodle.com
www.facebook.com/servicepoodle
www.linkedin.com/in/joanneshortell
call us using "call Maeve and Joanne" at http://www.servicepoodle.com/contact-us
We would LOVE to speak to your group free of charge
Joanne and Maeve (her psychiatric service poodle) help people with psychiatric disabilities discover their rights to emotional support animals in no-pets housing without pet deposits or pet fees and their rights to service dogs