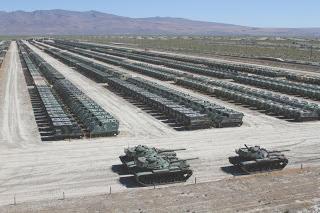 Tank Storage at Sierra Army Depot
I live in the Tri-Cities, Washington, near
Hanford
. Our economy is dependent on the hundreds of billions of dollars being spent cleaning up the mess made here in the desert during the Manhattan Project. Some people think that's a big waste of money, but not a lot of those people live around here.
But speaking of big wastes of money, a drive of about 10-1/2 hours south of here on Highway 395 will take us to the vast, sprawling Sierra Army Depot, which lies in the desert, 60 miles north of Reno, Nevada, and to the story of wasting money that boggles the imagination.
The Sierra depot takes up 32, 292 acres of geography ideally suited for jack rabbits and lizards, if not humans, but it's also ideal for storing equipment the US Army can't use anymore. That stuff includes 3000 M1 Abrams Tanks. More than the 2300 tanks the Army has in operation.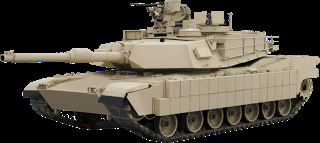 Not surprisingly, the Army doesn't want anymore Abrams tanks and it doesn't want to spend any more defense dollars refurbishing the ones it has. But not so fast you Army slackers!
Certain members of Congress feel it's vitally important for the plant in Lima, Ohio, to continue producing tanks, and for General Dynamics Land Systems Division to continue its work in Sterling Heights, Michigan, and in various of its operations and business locations around the United States and indeed, around the world -- General Dynamics is a BIG corporation, with over $30 billion in business volume in 2012. And because corporations are people, GD has pumped millions into the coffers of its favorite congress people; people who just happen to be in states where it builds stuff, including stuff the military doesn't want.
The non-partisan Center for Public Integrity found that:
An Army proposal to stop work on the M1 Abrams tank to save $3 billion, has been blocked by the members of four key congressional committees.
Those lawmakers have received $5.3 million since 2001 from employees of the tank's manufacturer, General Dynamics, and its political action committee.
The lawmakers have also been heavily lobbied by former committee staff members on the company's payroll.
The company's campaign donations spiked at key legislative milestones for the Pentagon's budget bills in 2011 and 2012 (see the InfoGraphic here).
No less than the Army's chief of staff, Gen. Raymond T. Odierno, told Congress last year, "Please, no more tanks!" But 173 House members - Democrats and Republicans - sent a letter to Defense Secretary Leon Panetta, urging him to continue supporting THEIR decision to produce more tanks, and not listen to Army generals. Every House member from the Ohio delegation (see below), with the exception of Republican House Speaker John Boehner and Rep. Dennis Kucinich, a Democrat, signed the letter. After all, what do Army generals know about the industrial base, i.e., pork, and buying elections?
Residents of Ohio are represented in Congress by 2 Senators and 16 Representatives.
Member NameDC 202 -FAX 202 -Contact Form
Senator Sherrod Brown (D- OH)224-2315228-6321http://www.brown.senate.gov/contact
Senator Rob Portman (R- OH)224-3353224-9075https://www.portman.senate.gov/public/index.cfm/conta …
Rep Steve Chabot (R - 01)225-2216225-3012https://chabotforms.house.gov/index.cfm?sectionid=58& …
Rep Brad Wenstrup (R - 02)225-3164225-1992https://wenstrup.house.gov/contact/email-me
Rep Joyce Beatty (D - 03)225-4324225-1984https://beatty.house.gov/contact/email-me
Rep Jim Jordan (R - 04)225-2676226-0577http://jordan.house.gov/contact/
Representative Bob Latta (R - 05)225-6405225-1985http://latta.house.gov/contact/
Rep Bill Johnson (R - 06)225-5705225-5907http://billjohnson.house.gov/contact/
Representative Bob Gibbs (R - 07)225-6265225-3394https://gibbs.house.gov/contact-me/email-me
Rep John A. Boehner (R - 08)225-6205225-0704http://boehner.house.gov/contact/
Rep Marcy Kaptur (D - 09)225-4146225-7711https://forms.house.gov/kaptur/webforms/issue_subscri …
Rep Michael R. Turner (R - 10)225-6465225-6754http://turner.house.gov/contact/
Rep Marcia L. Fudge (D - 11)225-7032225-1339https://fudgeforms.house.gov/index.cfm?sectionid=214& …
Rep Patrick J. Tiberi (R - 12)225-5355226-4523https://writerep.house.gov/writerep/welcome.shtml
Representative Tim Ryan (D - 13)225-5261225-3719http://timryanforms.house.gov/contact/
Rep David Joyce (R - 14)225-5731225-3307https://joyce.house.gov/contact/email-me
Rep Steve Stivers (R - 15)225-2015225-3529http://stivers.house.gov/contact/
Rep James B. Renacci (R - 16)225-3876225-3059https://renacciforms.house.gov/index.cfm?sectionid=58 …