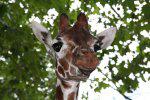 A Young Male
In the 21st century, we very much believe that every large animal has been discovered but even in the past couple of years, new mammals are still being recorded by experts from around the world. This morning, scientists have confirmed that they have discovered a new subspecies of Giraffe in a thorny and rarely visited area of the Kruger National Park.
Giraffes are well-known to be the world's tallest animals but this latest discovery has put a spanner in the works. The elusive Pygmy Giraffe (Giraffa camelopardalis pygmaea) was snapped by a ranger surveying the region earlier in the week. A herd of nine individuals was spotted grazing beneath a young acacia tree, including males, females and two young calves. The tallest of the males measured just 156 cm tall.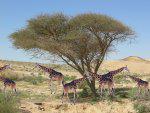 Social Gathering
The average height among Africa's nine already known Giraffe species is up to 5.5 m for males and 4.5 m for females. Giraffes feed from the leaves at the tops of the trees and this size difference between the sexes allows for less competition between the two for food. Although male Pygmy Giraffes also appear larger than the females, the average size is less than that of a new-born "normal" Giraffe, meaning that they have to feed on vegetation much lower down.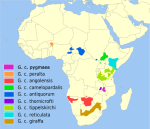 Giraffe Distribution
Standing at between 0.9 m and 1.56 m tall, scientists are still slightly unsure as to why this particular species of Giraffe has evolved to be so significantly smaller. Other main differences include the fact that the Pygmy Giraffe appears to live in a permanent herd (other Giraffe species tend to meander from one herd to the next), and the fact that their smaller body size means that they do not seem to have so many problems bending down to drink.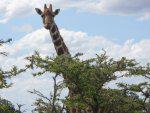 Towering Over Trees
The reason for this tiny Giraffe to live in a herd with other individuals is thought to be to do with protection in numbers from hungry predators, as they are no-way near as tall or as powerful as a standard Giraffe. Very little is currently known about this herd or whether or not there are any others, but researchers are already watching them day and night. Whoever would of thought that a new subspecies of one of Africa's "Big Five" would be discovered in 2011...
If only these cute little herbivores really did exist!! Happy April Fools Day from all at A-Z!