John 1.35-42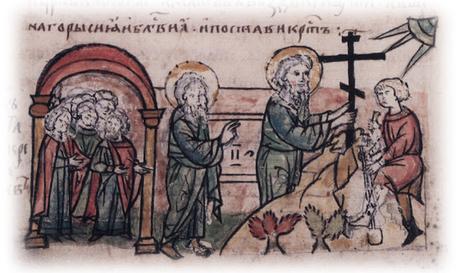 St Andrew, according to tradition, placing the cross on the hill where Kyiv was built.
A miniature from the Radziwill manuscript.

Thank you for joining us today as we celebrate and honor St Andrew
We honor St Andrew as the first follower of Jesus
He was the first called (we read that in Matthew and Mark), but our reading today focusses on Andrew as the first who chose to follow Jesus.
Andrew was a fisherman. He was also a follower of John the Baptist.
But John the Baptist does something remarkable. He points Andrew away from himself and towards Jesus. He sees Jesus coming and he tells Andrew and another disciple, possibly John, 'Look, here is the Lamb of God'.
If you visit the Tretyakov gallery, it is almost impossible to miss Ivanov's amazing painting of John the Baptist pointing to Jesus.
And we are told, "The two disciples heard him say this, and they followed Jesus."
They are the first to follow Jesus, and it was the beginning of a lifelong journey. Andrew was faithful to the call all his life, even though it led him to much suffering and finally to death on an X shaped cross
We honor St Andrew as one who spent time with Jesus
When Jesus asks Andrew, 'What are you looking for? What are you seeking?', the answer is not what we might expect.
He doesn't ask to see a miracle, or for healing (like the blind man, when Jesus asks him 'What do you want me to do for you?').
He does not ask Jesus to solve a problem or sort out an injustice.
He does not ask Jesus for success in his business or for peace or even for eternal life.
Instead, he simply asks, 'Where are you staying?'
And Jesus invites him to come and see, and to spend time with him. He turns up at 4 in the afternoon, a very English time, and is there for the rest of the evening.
And for Andrew that was the beginning of a life spent in communion with Jesus.
For three years he spent time with Jesus who walked on this earth, but for many more years, after the resurrection and ascension of Jesus, he continued to spend time with Jesus, in a different but no less real way.
I had a mentor, a 'spiritual father' when I was in the UK. He had been one of my training vicars.
The most important thing about him for me was not that he was a great priest or evangelist or pastor or teacher or church leader. What was important for me was that he was someone who, like Andrew, wanted to spend time with Jesus. He longed for Jesus, he desired Jesus. He put aside time to be with Jesus. He spoke with longing about going home to be with Jesus. And a few weeks after I arrived in Moscow he did go home to be with Jesus. He sees him now face to face.
We become like the people who we spend time with. Andrew spent time with Jesus and so he became like Jesus.
And we honor St Andrew as someone who brought people to Jesus
He brought his brother Simon to Jesus. Bringing a member of your own family to Jesus is both one of the easiest and one of the hardest things to do.
He brought a little boy with a picnic to Jesus
And when some Greeks, some non-Jews, come to Philip and say 'we want to see Jesus', Philip doesn't know what to do. Should he or shouldn't he take non-Jews to meet Jesus? So he goes to Andrew, Andrew takes both Philip and the Greeks to see Jesus.
There is a strong tradition that he preached in Scythia, and according to some traditions he brought the good news to Kyiv and even as far north as Novgorod (which is why St Andrew is considered the patron saint of Russia).
And when people come to Jesus, that is when miracles happen.
Jesus transforms Simon. Simon was spiritually dead, but comes alive. He becomes the apostle Peter
Jesus works a miracle with the five loaves and two fish and transforms a picnic into dinner for 5000
And it is not surprising that there are legends that St Andrew, after the death and resurrection of Jesus, on his preaching journeys worked many miracles and even brought those who were dead back to life, including drowned sailors. That is why the St Andrew flag is flown by both the Russian Navy and the Royal Navy
And when Andrew brings the Greeks to Jesus, Jesus knows that his time has come – the time to work the greatest miracle of all, when he dies on the cross as the Lamb of God for our forgiveness, and through his obedience and sacrifice brings eternal life to people, to you and me, who were dead.
Thank you for joining with us for this St Andrew's day.
Please pray with us and for us, that we will be people who faithfully follow Jesus, who spend time with him who bring other people to Jesus Christ, the Lamb of God, so that he can work wonderful miracles and bring life to the dead.