One thing that I learned from the recent Beaujolais tasting is that tasting several similar wines at the same time can be fun, and it can help me appreciate the differences that exist between wines that may appear to be very similar at first.
Since Malbec went well with the beef tacos last time, I decided to try that again. This time, however, I opened two bottles of Malbec. One was from Argentina, and the other was from Chile.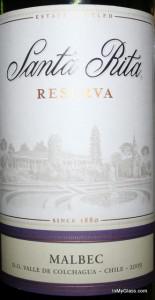 The Chilean wine is from
Viña Santa Rita
, and comes from the Colchuagua Valley.
I get some fruit and vanilla on the nose. The palate starts out with cherries with some nice spice mid-palate. There is some good oak on the finish. It is a well-balanced wine. The quality and style of this wine is what I've come to expect from Chile.
This wine gets a "Very Good" rating.
Wine Details
Producer: Viña Santa Rita
Vintage: 2009
Variety: Malbec
Appellation: Colchagua Valley, Chile
Designation: Reserva
My Rating: Very Good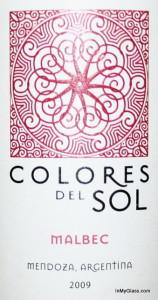 The second wine, from Argentina, is from
Colores del Sol
, and was produced in the Mendoza region.
I get a little more fruit on the nose here, along with the aroma of roasted coffee. On the palate, I taste black cherries and blackberries. There's some very good spice mid-palate, and it ends with a strong finish that includes some mocha notes.
This wine also gets a "Very Good" rating.
Wine Details
Producer: Colores Del Sol
Vintage: 2009
Variety: Malbec
Appellation: Mendoza, Argentina
My Rating: Very Good
Both wines exhibit some common characteristics of the Malbec grape, but there are some differences, and I might not have picked up these differences if I hadn't done a side-by-side tasting. The wines are very comparable in terms of quality. My personal preference is for the Colores del Sol from Argentina, but that doesn't necessarily mean that it is a "better" wine. I'd gladly drink either one of them again.