Outside the ridiculous central cocoon of Moscow, there is a hugely diverse city. Parts of it are brand new, glistening in the September sunshine, but then again parts are crumbling (or have already crumbled). What's left is either being renovated or is a church. And that is pretty much every building in the city. With perhaps three exceptions – the two skyscrapers and the Lubyanka.
The word Lubyanka is still said to send a shiver down most Muscovite's spines. This enormous building set just off the central ring was for many years the headquarters of the secret police (and now the FSB), over the years many people were taken in to the Lubyanka, never to be seen again. Or, if they were to come out alive, it was often onto the roof – the highest point in the city – so they could look out in the direction of Siberia, where they would soon be sent to 'work', unlikely to return. The building is now very unassuming, sitting behind colourful flags on the roundabout making it hard to think of all of the unspeakable things that went on within those walls; but the most telling thing as I walked past was the little old lady who stood staring up at the sandstone stories, shook her head, sighed and shuffled on her way.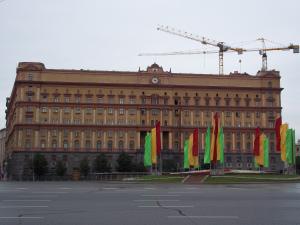 Straight down the ring road (typical of Moscow, all parts of the ring road are equally curved, however, some are more equally curved than others) stands the enormous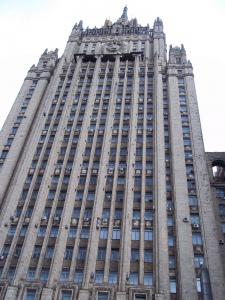 towering structure of the Stalin-Gothic Skyscraper. The 'Seven Sisters', as these skyscrapers are known, were built around the 'Garden Ring' (the gardens were flattened in favour of a huge ring road during the Soviet era) and adorned with stone stars and other communist emblems. They were originally intended to form a ring around the city and the dominating 'Palace of the Soviets' – which was destined to be the new seat of government; it would have been taller than the statue of Liberty and the Empire State Building combined, had it ever been built. Of the two 'sisters' that I saw one is now the dominating Ministry for Foreign Affairs, which towers over the eastern district of the city dedicated to business and scores of embassies (nothing like trying to intimidate other countries by leering over their embassies…), and the other is now more famous for decorating the city's version of Starbucks mugs (or its actual use as an apartment block).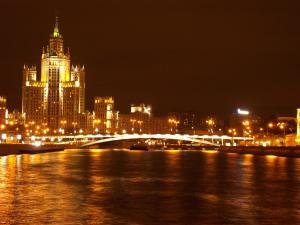 At one point demolished to make way for the Palace of the Soviets, the Cathedral of Christ the Savior was rebuilt after the fall of communism to demonstrate the triumph of Christianity over communism. Sitting on the banks of the Moscow River this enormous cathedral blows most others out of the water. The building itself is of bright white stone (quite remarkable given pollution levels) and surrounded by sculpted gardens and a statue of the final Tsar. But what makes it such a stand out is the five golden domes that crown it. These shine, even if there doesn't appear to be any sun and are recognisable for miles around. To be honest, it seems a little OTT, considering the buildings around it are falling to pieces.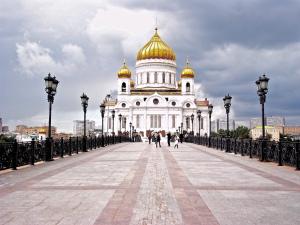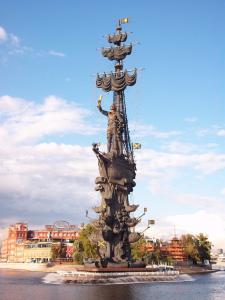 Across the river and a short walk away is the statue of Peter the Great. Despite him demoting Moscow to the nation's second city he is idolised here with a 95 meter (yup, 95…) monument to his founding of Russia's navy. Almost cartoon-esque in its appearance, this would look ridiculous in any other city, but as so much of Moscow breaks away a little from reality it fits right in.
I passed the monument on my way down to Gorky Park. Once described as a 'communist theme park', it was originally designed as a park of 'culture and rest' it is the only major park in central Moscow. Following the fall of communism it was transformed into a massive theme park, but it fell into disrepair and over fears for public safety the park was revamped in 2011 into an 'eco reserve', the only attraction to survive is some of the paths which are transformed into ice rinks when they freeze in the winter. All that remains of the 'Old Gorky' are the mock-up space shuttle and the enormous entrance gates, that and its return to the original purpose of culture and rest.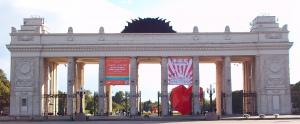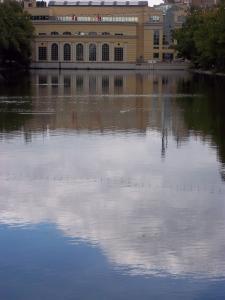 Away from the river in a district once dominated by butchers shops sits
Chistye Prudy
 [Clean Ponds]. The large pond here was used to dispose of the butchers' waste until 1703 when it was mucked out on the orders of the prince. Today it forms part of a long park, flanked by art installations, trendy tea houses and cafes, it's frequented by ducks and an old man fishing. It's about 50cm deep and, I don't doubt, entirely devoid of fish.
My final Moscow experience was one I had trepidations about. Everyone I spoke to told me that, without fail, getting out of Russia is much more difficult than getting in (which, you know, isn't exactly a stroll in Gorky). So I left for Domodedovo airport with a lot of time to spare. Having spent twenty minutes queuing to drop off my back I got to the front of the queue to a problem I hadn't even thought of. I was flying from Russia to Austria on a German airline – check in was in Russian or German. Neither of which I can speak. Opting for my stronger language of the two (15 words, as opposed to 10) I bumbled through it in German – goodness only knows what I agreed to or disputed – and was eventually given a boarding pass and sent on my way. There was a 1.5 hour queue at customs and security (why they need customs here I'll never understand). And they closed the barrier as I got up to it. "Security full, you wait here", I was told. Uh huh… When will it be open? Or is there some other set I could use? No, seemingly not, I must just wait. And then the most bizarre thing happened: my passport was thoroughly inspected, I was looked up and down and then I was led by a member of staff to the diplomatic customs and security channel! I am, I hasten to add, not a member of the diplomatic corps, and was utterly bemused by this sudden turn of events, however, given the slightly mentally unhinged nature of Moscow I decided to go with the flow. Five minutes later I was through both customs and security (with several 'have a pleasant flight, sir's) and officially over the line of the Russian frontier. I guess some people do get out easily after all…
So that's Moscow. I still can't think of how to properly describe it, no words really seem quite enough. I like 'fascinating', 'slight unhinged' and 'glistening facade', but they have slightly negative cogitations together, which would betray the fact that I was quite taken by the place. I've never seen such a gap between the have and the have-nots (in every sense, not just the people), where the domes of cathedrals glisten and there's not a leaf out of place in the Kremlin, but a building round the corner's roof has fallen in. It is also certainly a city in motion and I feel it's one to keep an eye on over the next few years – the super-rich are fast becoming dominant, but I don't know if the country's politics like that. Recent events and restrictions on things we would consider a civil liberty don't really seem a like a country open to the world, and the hoop-jumping immigration/visa issues are surely an easily sorted problem if they are as keen for foreign visitors, as they claim to be (good luck any would-be spectators for the Sochi 2014 winter Olympics!). But then who am I to try and pigeon-hole another country and how they do things?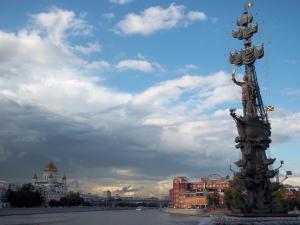 And that is perhaps also the answer to the description quandary – Moscow is Moscow, and the only place it can be compared to is itself, so here's hoping I get another chance to visit some day so I can do just that.














Cr