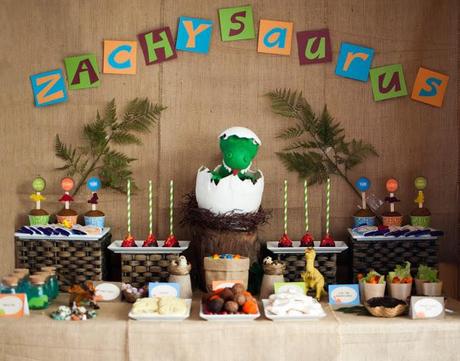 Jhoanee from I
t's a Cake thing by Jhoanee
loved doing this Dino party for her son as told by Jhoannee...
"I loved doing it because the theme was so fun (so many dino stuff out there!). My son is into dinosaurs, I think because of his older brother, and so he desperately wanted a dino party. He's been wanting a party since last year and he actually chose to have a dino themed one. He also nagged me (yes, nagged and only 3 yrs old!) about having a dino cake. Had to be a t-rex too!
I wasn't sure I could do a 3D dino cake so just opted for half a dino. Then came the idea that since he's not quite a big boy yet, having a baby dino would be appropriate, hence the dino coming out of a shell. Of course, everything had to be dino-related. I made chocolate truffles for dino dropping. Made dino bones from meringues. I did fossils by baking cookies and used one of his dino toys to stamp the feet. The biscuit pops (made from crushed biscuits and nutella) were made to look like lava flow. The mud bath was mousse with crushed oreos on top. Now, the dino eggs. Been looking everywhere for speckled eggs. Luckily Easter is coming so varieties of chocolate eggs were more available. And guess what, after my husband came home with them one day, quail eggs were the perfect speckled eggs! I just did "Zachysaurus" from card stock and did the colours to match the printables.
 All Sweet Treats by
It's a Cake Thing by Jhoanee
Food printables from MyPartyDesign (
http://www.mypartydesign.etsy.com/
) Bird nests from
The Little Big Company
:) Eco cups, jute sack, jute backdrop and table covering from Occasion by Design (
www.occasionbydesign.com.au
) Tree stump stand hired from Tiny Tots Toy Hire (
www.tinytotshire.com.au
) Chocolate rocks :
www.theprofessors.com.au