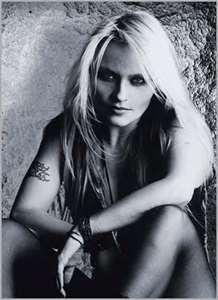 Years ago I had the pleasure of meeting Doro Pesch at the New Jersey Metal Meltdown.
She rocked that stage, sandwiched in between a host of death and new age metal bands;
she stood her ground and played from the heart. Doro is one of the metal community's shining stars. A veteran musician she has been on tour in some form or another almost her entire life. That dedication and passion comes through, not only with her music, but also her personality. She is metal.
You can hear her love for the genre in her voice as she excitedly speaks of music she has created and plans for the future.
Her latest album, "Raise Your Fist" is loaded with both traditional heavy rockers, and powerful ballads.
My initial goal was to obviously discuss the new album but I found there is so much more to learn and discuss with this wonderful, classy, icon of metal.
Her positivity was infectious.
Ronnie James Dio was such an important influence on your career. The song "Hero" off the new album was written about Dio. Can you tell me a little about your memories of him and what his friendship meant to you?
"Ronnie was always there for his fans. Even when the crew would say to him, Ronnie you have to take care of yourself its cold outside. It didn't matter. He would always talk to the fans. so I had the great privilege to be witness to these great memories and all the fans would be so happy they got to talk to him. Ronnie also had a great sense of humor. He was always cracking jokes. "
So not only his music but his friendship helped to influence you...
"He was very kind, loving and supportive. Watching him perform would always make me try to become a better performer. I always try to give 150% and to treat every show like it could be the last. He taught me to always be true to yourself and to be true to the music. To tour with him and to get to talk with him was great. He was so loved by all his fans. I couldn't really put all of it in words."
You have had the chance to work with some of the greats in the metal community, Biff from Saxon, Dio, The Scorpions, how did the duet with Lemmy from Motorhead come about? The song, "It Still Hurts", is an actual ballad.
"Actually in 2000 on the
Call of the Wild
album we did two songs. One of the songs, "alone again", Lemmy sang and played acoustic guitar for me and I was so touched by it that I knew he had to sing on "It still Hurts". In the back of my mind as I had this song I could hear Lemmy singing it. So I took the rough mix and sent it to him. I love "The Ace Of Spades" and all the heavy stuff but when he sang with his acoustic he had so much emotion. When we recorded it I got goosebumps and it came out so good. I'm so happy with how it turned out I think it is one of the highlights of the record."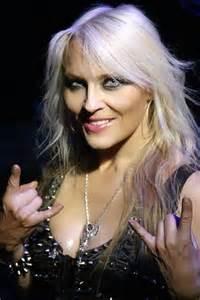 I think "Raise Your Fist" is one of your best albums. Do you find it more and more difficult to choose which songs to play? "Yes it is...there are so many records and of course you have to play the classics like "All We Are", and "Burning The Witches". So I see how the fans react to which songs and change the set list. "Revenge"

and

"Hero" are from the new album and they are always in the set list. Sometimes of course people drive to different shows or even travel to see five shows in a row so I always try to give them something different each night. Sometimes it gets hard to choose which songs. Of course diehard fans know the record so they always ask for songs. I always try to play whatever the people want me to play. Sometimes you run out of time but we always try to play as many songs as possible. it's for the fans to choose. Sometimes fans call out for songs and the band doesn't even know the songs depending on what album they are from." I know you have recorded a number of cover songs including bands like Led Zeppelin. Billy Idol, Judas Priest. There is a cover of Metallica's "Nothing else Matters" on the album.  " Yes the Metallica song we actually recorded for the magazine Metal Hammer. It was a tribute to them. They asked me if I wanted to do a song and I said I would love to do nothing else matters. It's only available on the limited edition. It was never meant to be on the album but the record company wanted to release it. I think you can get it on ITunes but I'm old school I'm not really up on those kinds of things, like ITunes or you tube. Speaking of that, do you think that the internet and all these programs like iTunes, and Spotify make it better for musicians or hurt them? " On one hand I think it is great that wherever you are in the world you can hear great music you might not get a chance to. Places like China and Russian and Thailand now have access to all kinds of music. But on the other hand I am a lover of vinyl. I love the great album covers and the artwork. I miss that. The new record actually has a limited vinyl release and I really appreciate that. Vinyl carries so much more magic. I sometimes miss the old times when one record would never leave your record player for two or three months. I think times have changed. People just don't get the whole package, the album cover. It's like a piece of art. On the other hand it is really convenient to get the record right there. You don't have to go out and buy it. It's good and bad. As long as the fans actually buy the album and don't download it for free. Many labels I worked with in the past are no longer around because they couldn't compete. It's a curse and a blessing." Obviously you paved the way for female fronted metal acts. How do you feel about the success of bands like, Epica, Sister Sin, and Halestorm? Do you think that female artists are more respected in today's metal world? "I think it's awesome. I am friends with most of the ladies in metal. There is always a bond of friendship and support for each other. I'm proud of all the women who are out there doing it. When I started in the 80's there were some women doing it but record labels seemed to want just the sexy image and not the substance. So I think everything is good now. Much more respected, still sexy but much more respected." I know you have done some acting..... " Yes. We are in the middle of doing the second part of the movie, Anuk:Tale Of The Warrior. That was my first acting in a movie. We are almost done filming part two of that movie. Probably be out in 2014. I play the part of a warrior girl. Traditional story of girl against the bad guys. It was a lot of fun. It all started with me doing the music for the soundtrack and then the director said hey why don't you try acting in it. I got the script and it sounded great. The director is also a musician and one of my best friends. It's hard to make a record but it's even harder to make a movie." Is this something you might do more of in the future?... "Yeah. I love the independent nature of the film making. Yes .I would love to do more." Any song on your new album that you like better than the others? " I love them all. "It Still Hurts", I think Lemmy is so good on that on

 

and the song "Freiheit" which is dedicated to human rights organizations. That cause is very important to me. But I love all the songs." One last question. Is there any band you would like to cover? " I would love to make twenty more records. I think I would like to cover Rammstein."

  

The new album, " Raise Your Fist", is one of her best piece of work.

 

A tribute to this hard working, hard rocking, positive metal spirit. Her optimistic attitude never wavered, never faltered, throughout the interview. I couldn't help but catch some of her happiness, she is truly a fan of Heavy Metal and it flows through her like electricity.

 

As a fan, as a Metal Head, I feel confident that Doro will never let the flame of Metal be extinguished.

 

Another tour bus rolls up, Doro gets on, and rocks her way into the sunset with her fist held high. --MetalRising Check out "Raise Your Fist" on Nuclear Blast Records

1 - Raise Your Fist In The Air


2 - Coldhearted Lover


3 - Rock Till Death


4 - It Still Hurts - feat. Lemmy


5 - Take No Prisoner


6 - Grab The Bull (Last Man Standing) - feat. Gus G


7 - Engel


8 - Freiheit (Human Rights)


9 - Little Headbanger (Nackenbrecher)


10 - Revenge


11 - Free My Heart


12 - Victory


13 - Hero