"Within the very first minutes of watching our wedding video for the first time… I was truly touched…" the bride shared with us. The truth is, that is exactly how I felt too, after watching this amazing video by Camshot Cinematography. Powerful moments that reflect the  joy and profound happiness of this loving couple…
Trust me and… just press play.
The bride describes: "We met at Thessaloniki in 2008 through some common friends. Since then, we are together! He proposed to me in 2013 and in our anniversary we had booked a room at the Daios Hotel. We had set up a surprise party with all our beloved friends, at the bar we use to hang out for years. Papigo is our favorite destination, from the first year we are together, therefore it was quite our next decision in having our wedding at this small but magical village! Our wedding was a simple, traditional one. We spent three fantastic days there and I keep saying that I would do it again today in a heartbeat, without changing anything… All the people involved in our wedding were spot on! We met our videographer in Papigo, just two days before the wedding. We were only talking by phone up until then… We had seen his work and we were excited! It is really important for your personal beautiful moments in life, even the people you cooperate with, to be so pleasant and positive like Michael! When he sent us the video, we were kind of in shock! We expected it to be good, but what we saw really did overcome our expectations!"
VIDEOGRAPHER :
CAMSHOT CINEMATOGRAPHY

PHOTOGRAPHER
Snap shot
WEDDING DRESS
Teokath by Flora Aidonopoulou
BRIDL SHOES
Teokath by Flora Aidonopoulou
GROOM'S ATTIRE
HUGO BOSS
BRIDAL MAKEUP
Eleftheria Samaropoulou
BRIDAL HAIR
VANITY HAIR
VENUE
Kalliopi resort Papigo
WEDDING PLANNER
Opos to Fantastikes
FLORAL DESIGNChristos MpatsiolasINVITATIONSLeuteris KarampasisWEDDING DJBILL PAPADOPOULOSDESSERTS
Traditional Sweets House Bimtsa
LOVE4WED SELECTED VENDORS
CAMSHOT CINEMATOGRAPHY are on Love4Wed Selected Vendors.
VIDEOGRAPHERSCAMSHOT CINEMATOGRAPHY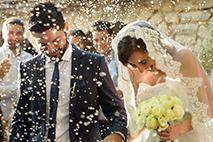 VIEW PORTFOLIO
For more information on how to become part of our Selected Vendor Guide click here
Google+

Pinterest

Twitter