Denman College is just outside Abingdon near Oxford and since 1947 it has been the home of the Womens' Institute (WI) educational centre. You do not have to be a member of the WI to go there, though the courses are cheaper if you are. You also do not have to be a woman. I am not a member of the WI, but I was looking for a particular kind of sewing course and a friend told me about the college. A quick look and a booking was made.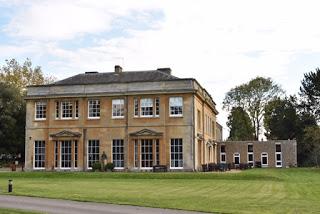 The college itself is comprised of a main house and then some teaching blocks and further accommodation. The house was originally Marcham Park owned by John Elwes MP, who was allegedly infamous for being a miser. The house was requisitioned during the Second World War by the RAF and then in 1947 was purchased for the WI. It was then named after Lady Denman, who was the first 'chairman' of the WI.
There was time allowed for exploring the grounds. A garden in November is always an interesting garden for me as you start to be able to see its structure quite clearly.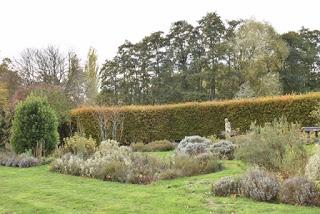 There is the Herb Garden, which has benches for you to sit in and enjoy your surroundings.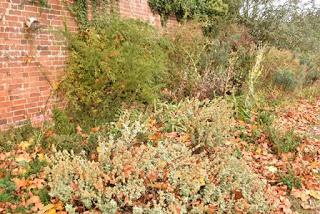 There is also the long herbaceous border, which does not look its best at this time of year, but if you peer closely you can see a nerine in flower. There were a few nerines dotted around the house and garden and I had serious nerine envy. You can also see that the structure of the border is good, it must be worth seeing in the height of the season.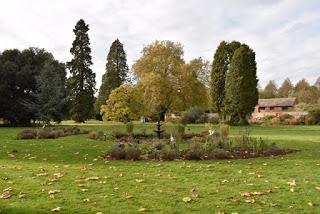 There are rose/perennial borders and some very fine trees.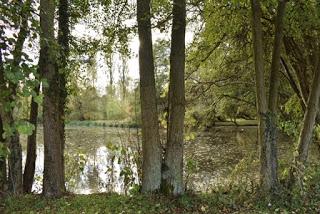 and a very beautiful lake that is perfect for taking a walk around during lunchtime. As you walk around the grounds you can spot trees that have clearly been there for a lot longer than the WI. The house itself has mysteries of moved walls and additions and it made me wish to see it how it would have looked before the wars. It is a good thing that the house and grounds still have purpose. There has been in the last couple of years a campaign to save Denman College following a deficit in its finances. It appears that course bookings are now up and steady again so its future is more secure. This is a good thing.
There is plenty to explore inside the house as well.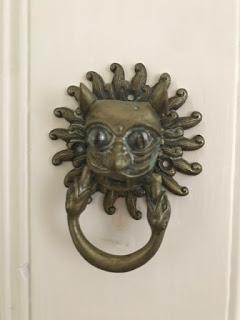 I was there over Hallowe'en and I thought that the knocker on my door was suitably spooky.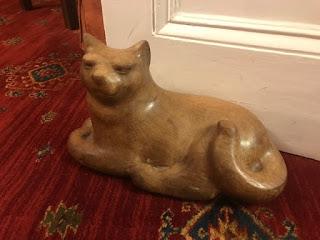 and I loved this doorstop, made by a retired tutor at the college in memory of Tiger, a ginger cat who lived in the college in the 1960s. I would love a doorstop like this.
Denman has an eclectic range of courses, some last one day, some two and some week-long. Not only was my course good and taught me a lot, but I met some really nice people. I thoroughly enjoyed my stay at Denman College and I hope to return in the new year to learn something else new.