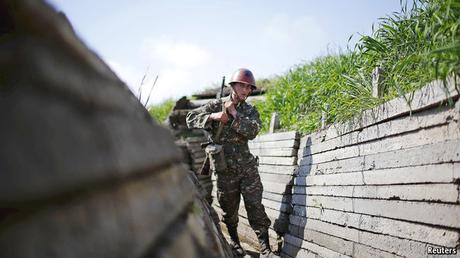 Heroes of the motherland
THE road to Agdam, a small town that was once part of Azerbaijan, runs out abruptly and turns into a front line. Soldiers walk nervously along the mound of earth that separates Azerbaijan from Nagorno-Karabakh, a disputed territory controlled by Armenia since the two countries fought a war in the early 1990s. That war left at least 20,000 dead and a million displaced. Most of the conscripts are younger than the conflict, and have seen Armenians only through a slit window in a machinegun redoubt.
The conflict has been simmering ever since, and in early April it erupted again. Azerbaijan's well-equipped troops staged an offensive, retaking a couple of hills. Total deaths, on both sides, were estimated at 200. But the psychological effect of the"four-day war", as it is now called in Azerbaijan, vastly exceeded the military gains. Baku was filled with national flags as crowds celebrated Azerbaijan's first "victory" since the humiliating defeat 20 years ago.
"Psychologically, it was like Stalingrad. It proved that we can achieve victories," says Fariz Ismailzade, a vice-rector of ADA…