Well this Spring wedding video from a gorgeous wedding in Grasmere (the Lake District) certainly got to enjoy true April Showers!
I guess it wouldn't be a true English countryside wedding without a little rain. And, a truly wonderful couple who embraced that rain (and the mud) to make the most of the epic surroundings...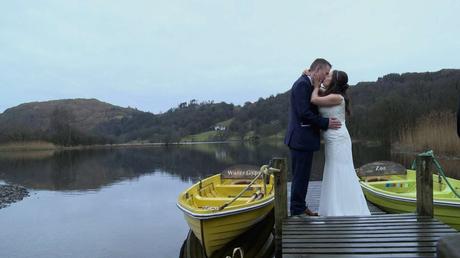 It's with huge thanks again to the super talented (and lovely) Mick Cookson, he recommended me to Gemma and Ian earlier in the year and after lots of late night (post toddler bed times for us both!) chats on the phone they were soon booked in and telling me all about their wedding day.
Here's a few words from Gemma and Ian after seeing their highlights film (you can see it below too!)
We watched the film about 4 times back to back on Wednesday night and again tonight. I haven't emailed before now because I was looking for the right words.... and I'm still not sure I have got them.
You, and the film, are incredible. We have cried every time. We are both filling up now as I type.
We absolutely love it and feel like you have captured our day in the most wonderful way. Looking back, I can't believe we only wanted a video for dad.... and I am so glad you were there while I was getting ready. I actually look comfortable in front of the camera!! You know I was adamant I didn't want to be videoed but as soon as I saw you filming Marella it became massively important to me to capture those moments and for Ian to see them too. The two camera approach in church was an absolute winner. It's something we will watch time and again.
We haven't shared the highlights with many yet but the feedback was a universal "wow" and some complaints about the impact on eye make up whilst watching!
I'm so glad we found you and went with our guts. You are worth every penny, an absolute angel and I have been singing your praises.
We can't wait to see the rest!!!
The day started at The Wordsworth Hotel, where they were both getting ready and would soon be celebrating later. The sky was a dark shade of grey and the rain soon followed, but that didn't stop the excitement building for the day ahead.
Gemma was a little unsure about being filmed in the morning but I think it was seeing how her little daughter Marella was so unfazed and being her usual cute self in front of the camera she warmed to the idea. Ian was close by ensuring people had brolly's ready before heading to St Oswald's Church to welcome their guests.
One thing that sticks in my mind was also the really thoughtful card from the guys at ' Herdy '. Gemma and Ian are loyal fans of Herdy and so it was a really lovely touch from them!
Gemma, Marella and her close friends then made the short walk past the famous Grasmere Gingerbread shop and through the church gardens before the bride made her way down the aisle to her husband to be.
Marella was a little unsure at first but as soon as she realised she was meant to head to Daddy she ran shouting 'DADDY!' all the way down the aisle!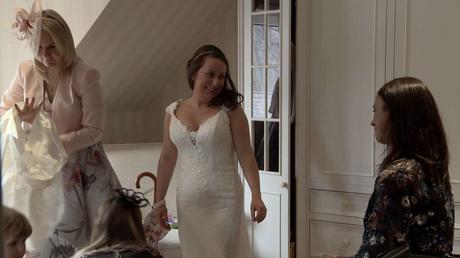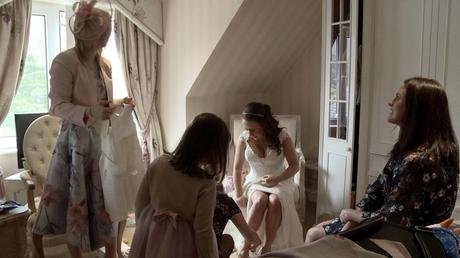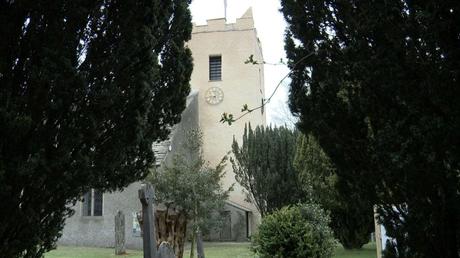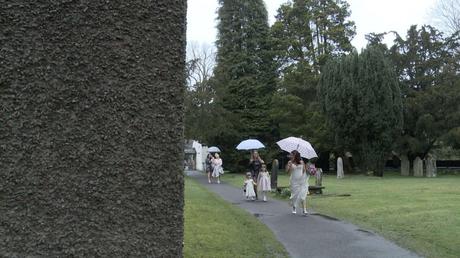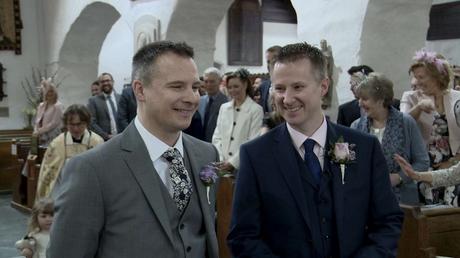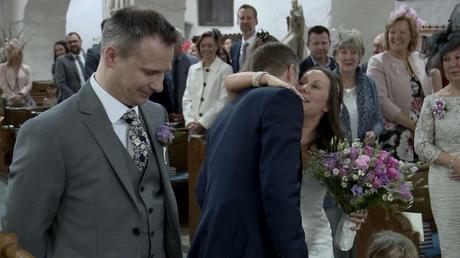 The soon to be newlyweds enjoyed singing their chosen hymns with their guests before saying their vows and exchanging their wedding rings. Little glances and smiles inbetween heartfelt words were were what made this ceremony so cute.
After the blessing of the rings they were soon walking back down the aisle as Mr and Mrs! Back out in to the rain mind, but that didn't stop their huge newlywed grins as they made their way over the The Wordsworth.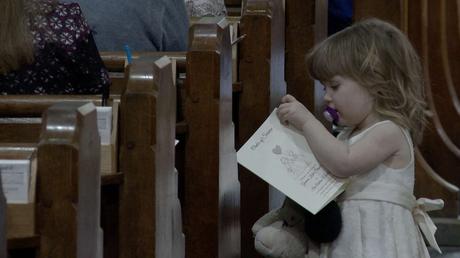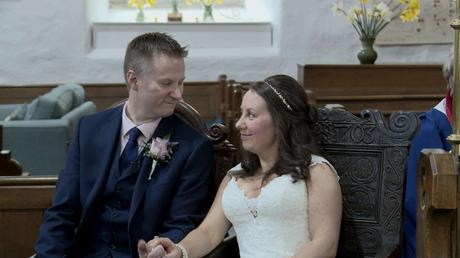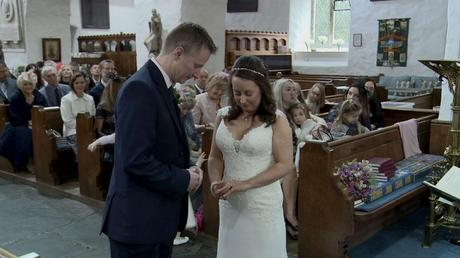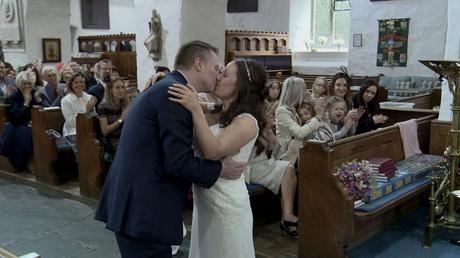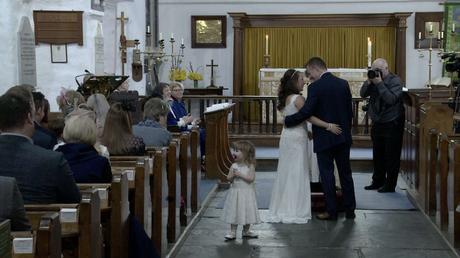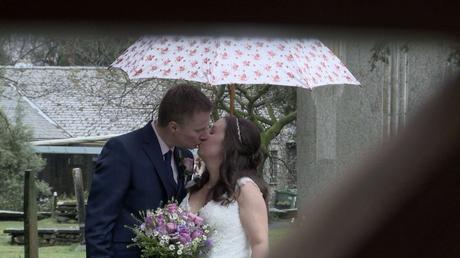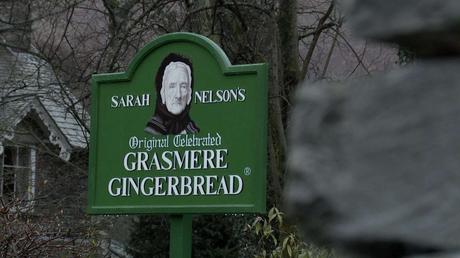 Guests mingled and enjoyed ice cream before Mick quickly organised a handful of group photos. Once the formal bit was over a very lovely manager whisked us away in their car to spend a few moments by Grasmere Lake.
Even on a gloomy day the Lakes can look incredible and this was the perfect 'wow' setting to have a few amazing wedding photos (and video, obviously!).
Gemma braved the mud and the slippy jetty in her white bridal shoes and enjoyed a cuddle for the cameras before carefully retracing their muddy foot prints back to the car.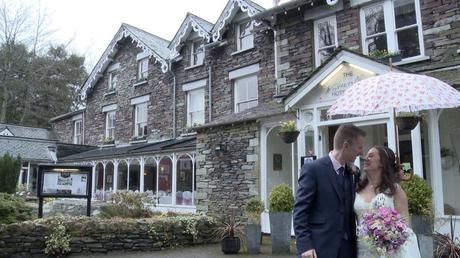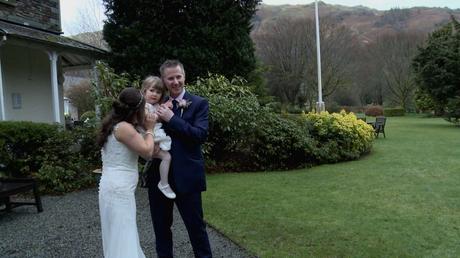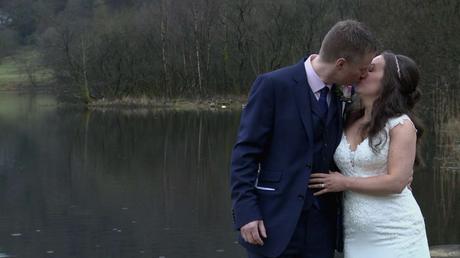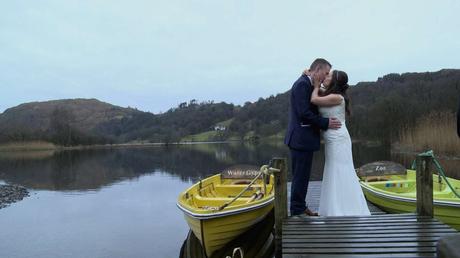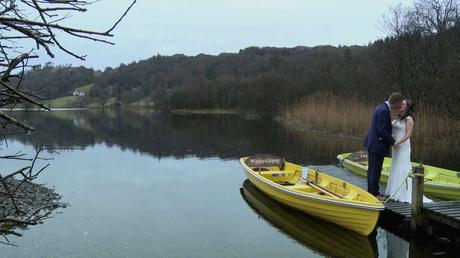 Guests then welcomed them back with whoops and cheers as they were announced in to the wedding breakfast room as the new Mr and Mrs Newton.
After their meal they enjoyed a couple of heartfelt speeches from the Groom and Best Man before cutting their unique wedding cake (created by the talented Sue at Champagne Cakes). They'd made sure it said a lot about them with the addition of a cute camper van and of course a 'Herdy' sheep!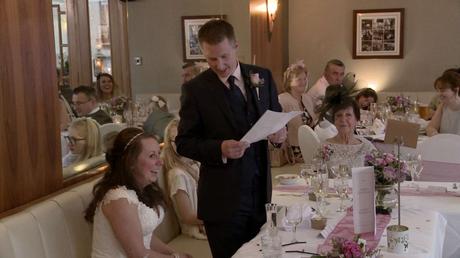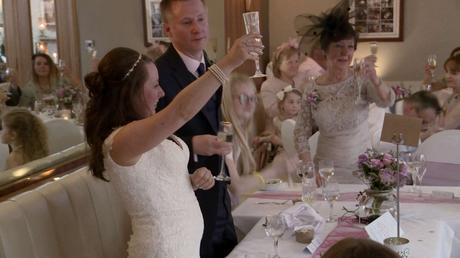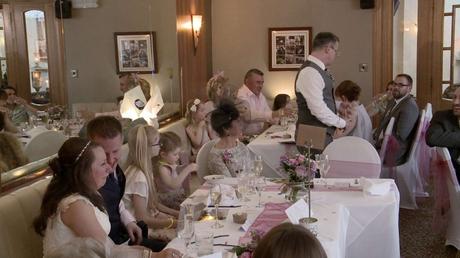 Guests enjoyed a bit of down time in the Wordsworth lounge before making their way over to the evening reception room.
On the way you passed the sweet table which was certainly a popular stop off for their guests.
Gemma and Ian soon took to the dancefloor for their first dance as husband and wife. Their band even played it live for them before welcoming the rest of their guests to join them and get the party started...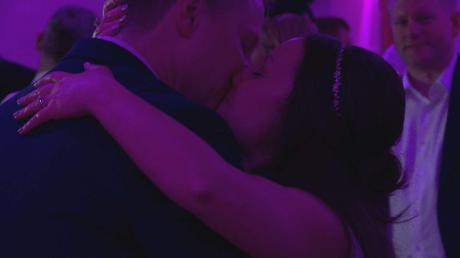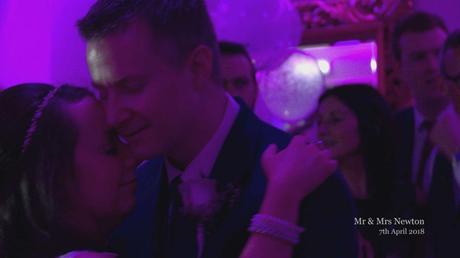 Are you hoping to get married in the Lakes? I'm totally with you, it's a stunning place to get married whatever the weather!
I adore weddings in the lake district so do get in touch if you'd like to see more of my weddings from around Cumbria and chat about your wedding plans too!
Wedding Church Ceremony - St Oswalds Church, Grasmere
Wedding Reception - The Wordsworth Hotel, Grasmere
Wedding Photographer - Mick Cookson Photography
Wedding Favours - Sarah Nelson's Famous Grasmere Gingerbread, Grasmere (Lake District)
Wedding Flowers - LilyLou's of Ambleside, Lake District.
Wedding Cake - Champagne Cakes, Lancashire
Special mention to Herdy, obviously 😀