It's another Wednesday of "Design Under the Influence" on La Dolce Vita! Today I'm discussing beni ourain rugs — which as you know is a favorite piece of mine in my own home. I'm sharing some pretty darn fabulous spaces, and resources for authentic vintage pieces, as well as inspired-by pieces. Go take a gander!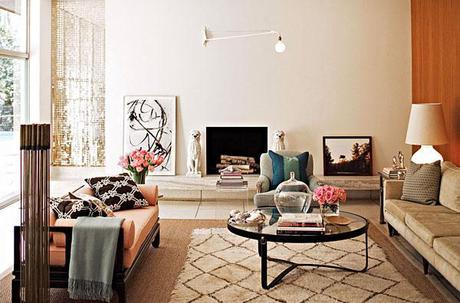 Barrie Benson
Point being, image above (with said beni ourain) = LOVE. I've been a huge fan of Barrie Benson ever since our beloved Domino days. And recently I've been wanting to add a bit more color into my home. I dig the way the photo above has a fairly neutral base (in a fab mod house), with just a few pops of sophisticated color. It feels modern and comfortable, yet chic, simultaneously.
As it turns out, I'm also guesting on a blog for a wonderful, new-to-me site, Histoire. They have curated a collection of items from the around the world that fit their social, environmental and economic mission. I was so excited to be asked to participate in a series in which I pick an item from their site, and another item that I would style with it. Well, seeing how I'm trying to insert a bit of color in my home, I immediately fell in love with their ikat scarves/runners! Couldn't you picture this draped across my grandparent's vintage teak buffet? Go check it out to see what I paired with it!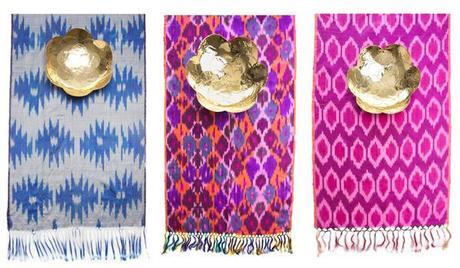 More ideas to add a few pops of color onto my neutral base:
#1: For the living room, need to finally finish that large abstract canvas sitting in my garage!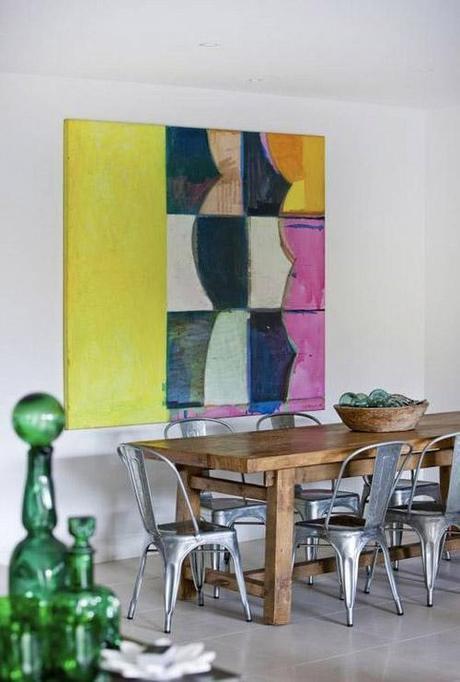 Lucy Fenton
#2: Maybe some bright accessories or pillows for my sectional?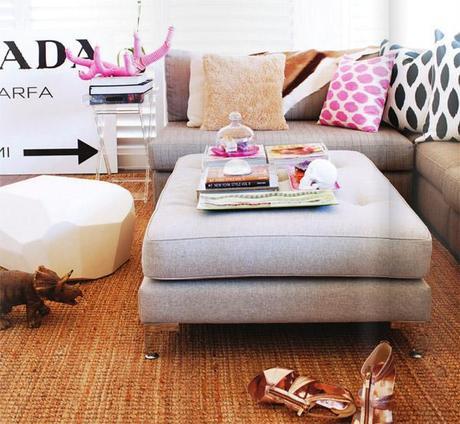 Claudia Stephenson
#3: What about a colorful traditional rug for the dining room?
Gabriel Hendifar
Stay tuned, I'll be working on these ideas for a new photo shoot this summer! In the meantime, read what I've got going on at La Dolce Vita and Histoire today!