I have been wanting to visit Ulting Wick for several years now.  I came to hear of it through Twitter and have spoken often and swapped seeds with its creator and owner Philippa Burrough for quite a while.  The garden opens often for the National Garden Scheme but I have struggled to find a date when I can go.  As I was going to be down that way I asked Philippa if I could have a cheeky private visit and she very kindly said yes.  It is here I should mention that my companion for the weekend is very interested in exotic gardening.  This becomes relevant soon.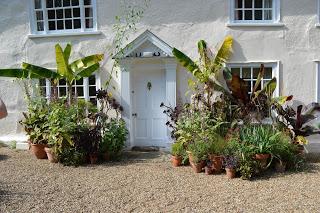 So, where to start, well at the front door seems best.  The container planting makes a dramatic entrance.  I was impressed already.  I am not going to show you all the garden, but I am going to pick out some of the bits that I want to share with you.  I do this because I think it is a garden to be visited and I would not want to spoil it by showing too much.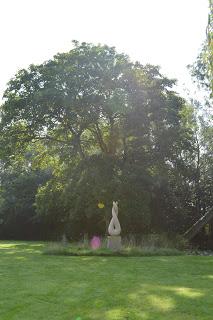 Going around to the rear of the house there is the Twist', such a beautiful yet simple sculpture.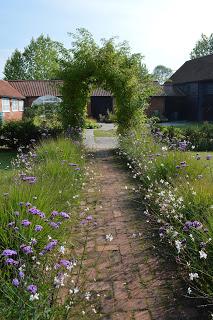 I loved this verbena/grass edged path.  It was soft and romantic and just perfect.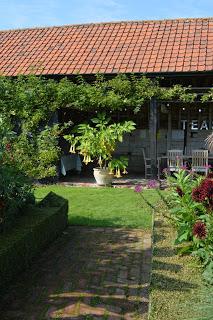 I paused to admire Brugmansias in pots.  Mine is much smaller but one day I am hoping it will look this good.  I also paused to look at the size of pot it was in.  Checking that I am not out of line with the size of my pot against the experience of another gardener is always a good thing. Yes it is a case of size matters.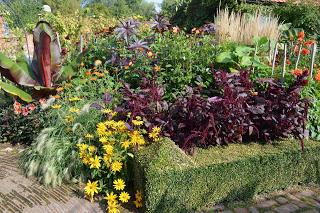 The exotic planting in the farm yard is just wonderful.  The box edging is precise and the plants overspill with gay abandon.  I really wanted my friend to see this as I knew she has an exotic garden of her own. We both walked around this area several times, admiring the planting, asking Philippa the name of some of the plants and generally being more than a little bit in awe.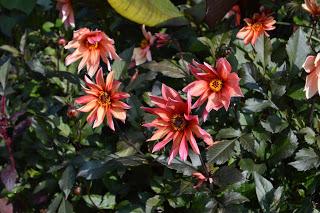 I was delighted to see my favorite dahlia, Waltzing Matilda, making an appearence.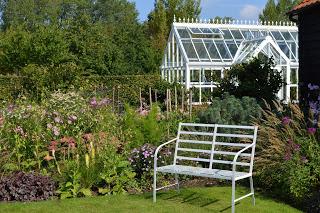 There are lots of places to sit and enjoy the garden.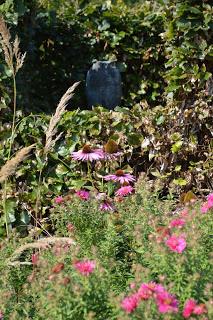 and a wise owl keeping watch over the Pink Garden.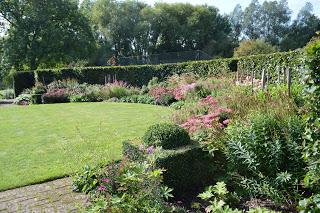 I really liked the Pink Garden.  Again I am going to use the phrase soft and romantic, it is beautifully planted and the colours work together very well.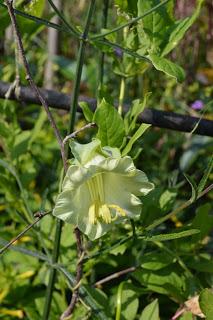 The devil is, as always, in the detail.  These Cobea scandens were just perfect on an archway between garden sections.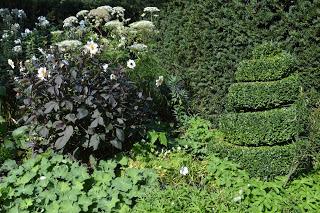 and I stood in front of these topiary twirls in the White garden and thought about how I needed more topiary in my garden.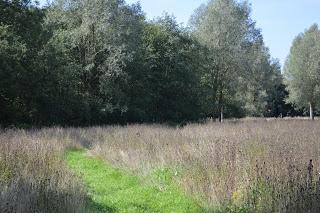 We stood for a while and pondered the perennial meadow.  It was so peaceful, I had the strange urge to go and eat a cadbury's flake in the middle of it and hope that it didn't start gently raining.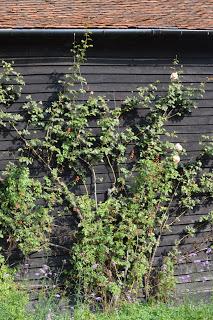 The black barn walls make a perfect backdrop.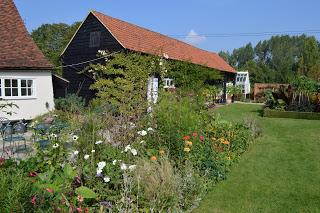 It is a great setting for a garden and this is a great garden.  It is also very much Philippa's gardens.  As we walked around and even as we sat and drank tea, Philippa was removing the odd dead-head here, pulling up a weed there.  To say that she is hands-on is an understatement; whilst Philippa does have a gardener, there is no doubt about how much work she personally puts into this garden.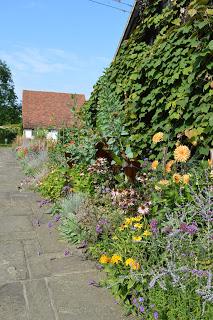 I genuinely think this garden is something special.  I will definitely be returning to it as it is well worth the journey.  I predict a visit at tulip time......
A big thanks to Philippa for being so welcoming.
Episode One: A visit to Beth Chatto's
Episode three:  Lullingstone Castle
Episode four:  Great Dixter