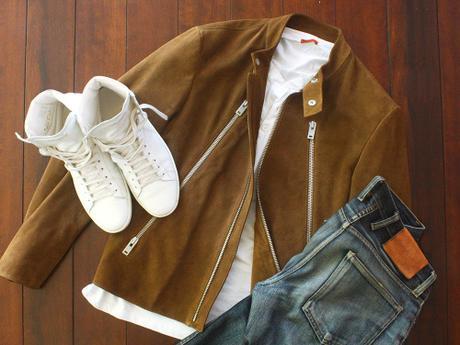 Nothing softens the look of a leather jacket more than suede. A plush, napped leather can be a good way to tone down the utilitarian origins of a bomber jacket or cafe racer – making these friendlier versions of their rugged counterparts. Want to wear a leather A-2 without looking like you've stepped off the set of Top Gun? Or a double rider without people mistaking you for a Hells Angel? Get them in suede. 
The material can be particularly nice in the warmer months since it absorbs light. That gives the jacket a softer, more sophisticated look on a bright day than some of your smoother, shinier leathers. Plus, much like suede shoes, you can use them to add texture. A suede jacket lends visual interest to a plainer t-shirt or henley, but also won't clash with a patterned shirt. In the colder seasons, you can team one with a speckled Donegal sweater or cabled Aran for a texture-on-texture look. 
I recently picked up this brown suede five-zip from Maison Margiela (on sale at the moment at SSENSE). The model has been with the company for over ten years now, making it one of the more enduring non-traditional designs. The jacket has long, diagonal zips across the chest – helping give it an edge – although it's still easy to wear with slim jeans or wool trousers. Pictured above: the Margiela jacket with my Barena henley, 3sixteen SL-100x jeans, and Saint Laurent sneakers (the quality of the sneakers is admittedly terrible, especially for the price. Readers are probably better off with Common Projects Achilles Mids). 
If Margiela's five-zip is too avant garde for you, try some of the bombers from Valstar. They're sporty, slimmed down, and reasonably easy to wear with either jeans or tailored clothing. You can find them at No Man Walks Alone, Exquisite Trimmings, and Mr. Porter. Additionally, Ralph Lauren and Brooks Brothers are always good for conservative designs, and I like the Italian casual look that Stoffa has put together. Lastly, Unionmade and Club Monaco have some nice options from Golden Bear. 
Coming soon: a suede jacket care guide at Put This On.