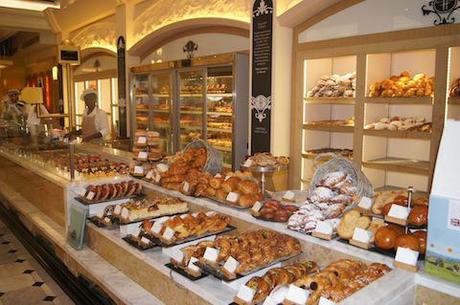 Paul Hollywood's face is familiar thanks to BBC2's hit series 'The Great British Bake-Off' yet he has built a reputation as one of the best artisan bakers in the UK having worked as Head Baker in hotels including Cliveden and The Dorchester.
To try some of Hollywood's breads go to the Boulangerie and Pattiserie in Harrods where the Paul Hollywood Artisan Bread Company supplies the store with original and exclusive varieties.
Harrods new Boulangerie and Patisserie has moved to a different part of the store with ranges combined and condensed to one area to make shopping easier. Half of their products are freshly made in-house every day and the other half is provided by lines from suppliers such as Royal wedding cake baker Fiona Cairns, Little Venice, Lola's Cupcakes and multi-award winning chocolatier William Curley.
Paul Hollywood's exclusive line includes knobbly Olive Sticks (£1.50) made from white bread laced with chunky fresh green olives that are a perfect dinner party purchase, a pungent Truffle Ficelle (£1.25) divine with mushroom pâté and Cheddar and Apple Sourdough (£2.95) delicious on it's own.
Hollywood's original line of breads include an amazing Stilton and Walnut bread (£2.95) made with Colston Basset and packed with walnuts, delicious toasted, with the crust letting way to dense soft dough and pockets of oozing cheese.