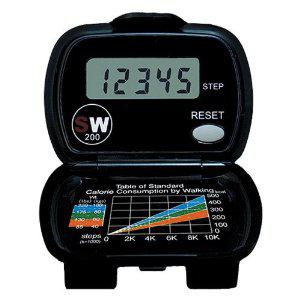 Are you looking to improve your health but feel that you can't afford an expensive fitness facility or a personal trainer? Here's something you can do, and it won't cost you much of anything except some time.
Set two goals for yourself:
Walk 30 minutes a day. When you're doing that regularly, move on to the next goal.
Walk 10,000 steps a day, which works out to roughly five miles. To help make this happen, invest in a decent pedometer, like the Yamax model shown here. A good one costs $15 to $20 (supercheap models are notoriously inaccurate).
As you progress, watch your blood pressure plummet. Don't sit on the couch or turn on that flat screen until you've hit 10,000 steps each day. It will make you not only younger but also richer, because you'll avoid expensive diabetes, blood pressure, and cholesterol drugs.
Recommended Product (Affiliate Link)