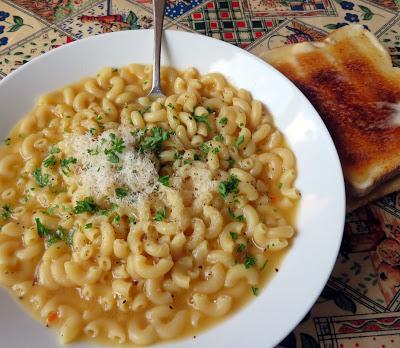 This Pasta with Chicken Broth, Butter & Cheese that I am sharing with you today is a beautiful example of simple and uncomplicated foods done well and put together in a most delicious way.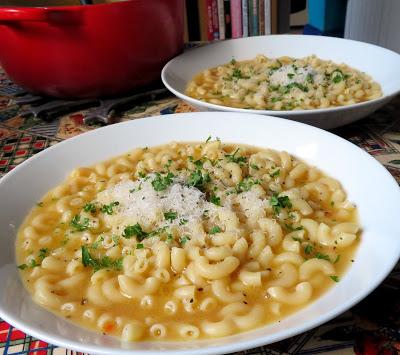 There are several things that I always keep in my larder.  One of them is a variety of pasta shapes, from the always popular spaghetti right on down to rice shaped orzo.  I love pasta, and would eat it in any way shape or form . . . Todd, however is not so sure!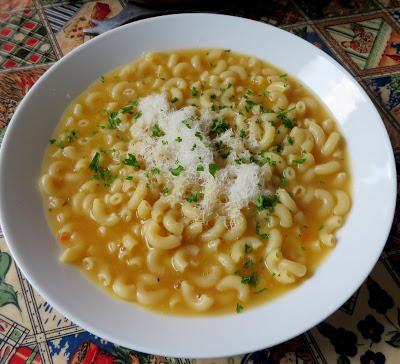 He does always eat what I put in front of him, and he is a fan of pinching the pennies, and so he didn't complain overly much when I served him this, plus there was still some Sticky Toffee Pudding Cakes, leftover from the other day for afters.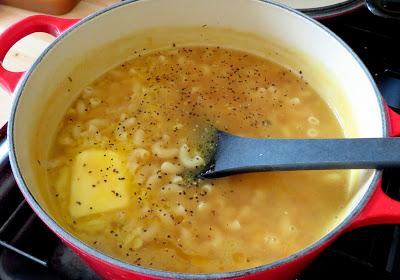 Another thing I always keep in my store cupboard is a variety of stock cubes and gel pots.  Chicken, vegetable, beef, ham, lamb  . . .  Stock and pasta are the basis of this very simple and yet delicious dish in which pasta is quite simply cooked in a quantity of stock . . .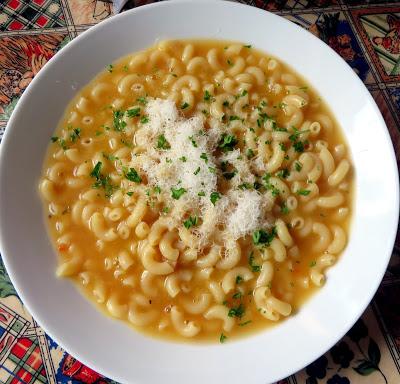 Cooking the pasta in the stock infuses it with lots of flavour, and the starch from the pasta actually serves to thicken the stock somewhat into a sauce  . . .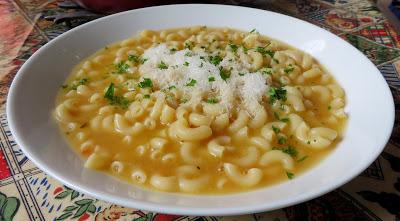 The knob of butter added at the end doesn't hurt either . . . . just sayin'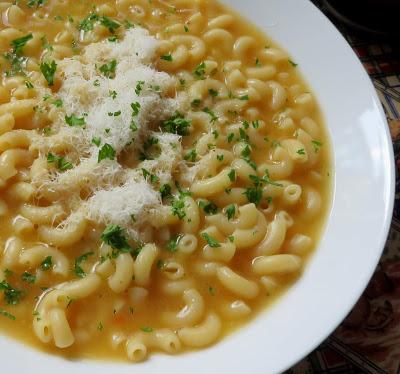 This is one dish where you want to cook the pasta at a slow simmer. To boil it in the stock would mean that too much of the stock would evaporate, and you want to keep as much of it in the pot as possible for that sauce . . . so a low simmer does the trick perfectly . . .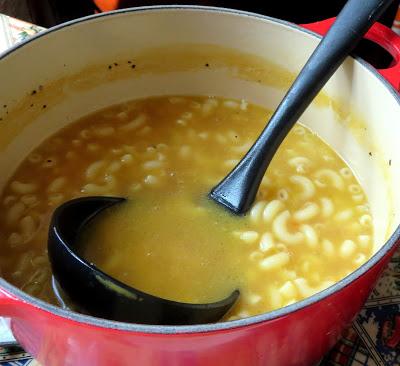 As you can see, I had plenty of stock left to ladle over the cooked pasta for the sauce  . . .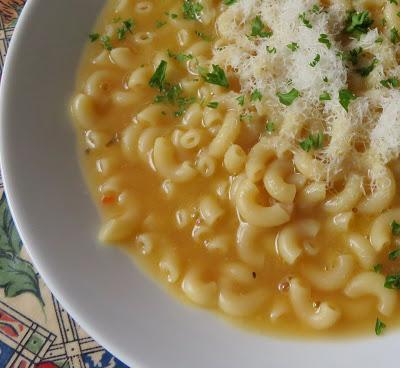 I used a very small elbow macaroni for this today, but any small pasta shape works well.  You want ideally one that will cook in less then 10 minutes . . .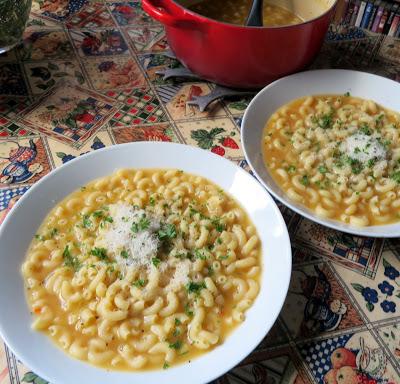 If you use a good stock you shouldn't need any seasoning, other than coarse black pepper.  The stock should be salty enough  . . .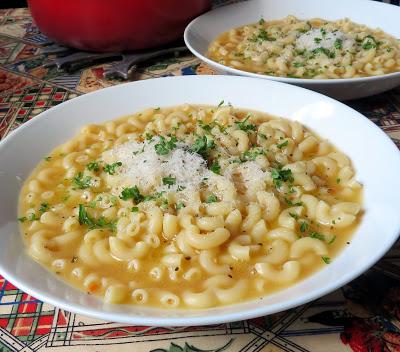 Me, I always like a good grinding of black pepper on everything . . .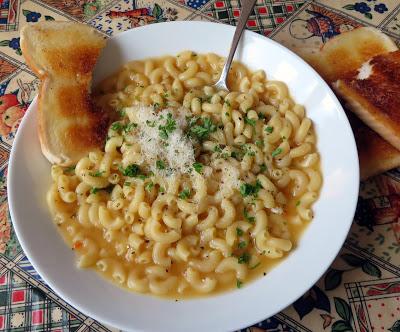 Garnished with some freshly grated Parmesan Cheese and a sprinkle of chopped fresh parsley this was a real treat for me. Comfort in a bowl  . . .  Some hot buttered toast on the side goes very well. 
Yield:
2
Author:
Marie Rayner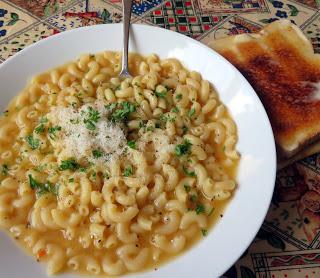 Pasta with Chicken Broth, Butter & Cheese
This is essentially comfort food.  Quick to make and very simple. We enjoy it with slices of hot buttered toast.
ingredients:
950ml chicken broth (4 cups)
230g small pasta shapes (small macaroni, small shells, orzo, ditali, stilleti, etc.) (2 cups)
30g butter (1/4 cup)
50g finely grated Parmesan Cheese (1/4 cup)
coarse pepper
chopped fresh parsley or basil
instructions:
How to cook Pasta with Chicken Broth, Butter & Cheese
Put the chicken stock into a large heavy based saucepan.  Bring to the boil and then stir in the pasta. Reduce immediately to a low simmer. Cook as per pasta package instructions, stirring frequently to prevent it from sticking. Don't be tempted to boil it as you will most definitely run out of stock. This is meant to be cooked at a very slow simmer.  Once the pasta is cooked, remove from the heat and stir in the butter.  Grind some pepper into the pot and stir.
Using a slotted spoon, scoop out the pasta to two heated bowls.  Ladle any stock left in the saucepan over each, dividing it equally.  Sprinkle each with half the cheese and a spoonful of chopped herbs. Serve immediately.
Created using
The Recipes Generator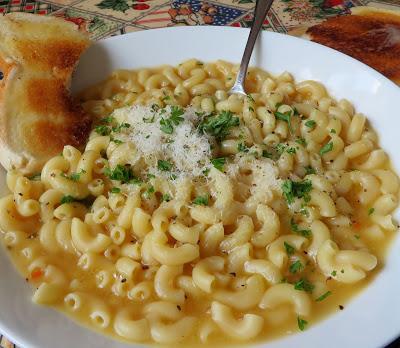 It is the simple meals like this that I enjoy most of all.  I have never made it for any more than two people, but if I was going to do so, I would cook it in separate pots.  This really is a delicious doddle! 
Up Tomorrow: 
Fillet of Sole with Fresh Bread Crumbs