A big shout out to all Fathers on their special day tomorrow!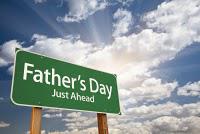 According to the U.S. Census Bureau, it's estimated that over 154,000 of the approximately 70 million fathers across the nation are stay-at-home dads. These Mr. Moms, with children younger than age 15, have been out of the workforce for at least a year and caring for the family while their wives work outside the home.
That's a huge shift over the past several years. So this Father's Day, if you want better communication with the man in your life, try to be flexible. And begin to appreciate the unique opinions of the man who means so much to you. Don't buy into the commercialism, thinking that fancy ties will bring you closer. This Father's Day give the gift of understanding as you continue building on communication skills and strengthening the emotional ties.