A visit to Daydream Mine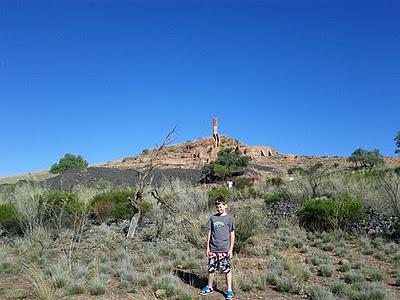 This afternoon was very mild as far as temperatures normally go for this time of year, so after work and school my son and I decided to take a trip out of town to explore some of the tracks up around Stephens Creek catchment in the rugged hills of the Barrier Ranges. We ended up out at the abandoned settlement from the late 1800's known as Daydream mine. I amazes me how industrious these men were, that's a full blown smelter built up on the hill there and the black piles about halfway up the hill are massive mullock heaps. There is no permanent water supply here at all. They had to have been tough as nails to live and work out here in the barren ranges.
We've had a lot of rain, more than I've ever seen since we moved here to Broken Hill 5 or 6 years ago and the desert was green with good pasture as far as the eye could see. Even though there has been a great amount of rain this year Stephens Creek and all it's feeder creeks were all bone dry, the water just flash floods through these watercourses then disappears into the ground about the same time the rain stops.
The trip out and back with a bit of side track exploration included took us around 4 hours and we negotiated around forty dry soft sand creek crossings in total, along with some sections of badly water eroded track. There are scattered rocky outcrops up in these hills and we checked a few out finding quartz, mica, galena and other minerals just lying around all over the place. There was one particular spot I intend to head back too and check over with a metal detector as it had the look of classic Hill End or Sofala gold bearing creek eroded hillside.
As we were making our way back down to the Creek valley we spotted a feisty Stumpy Tail Lizard who wasn't keen on giving up his late afternoon sunning spot on the track to the Land Rover. We also saw flocks of Galahs, a large mob of Roos, a few scattered Emus including one hen with three chicks in tow, a couple of good size Feral Goat herds, one lonely rabbit and one cunning little fox who did not hang around much. We didn't spot a single snake which surprised me for this time of year. The sheep on the station country were healthy and fat with lots of grown lambs amongst them.