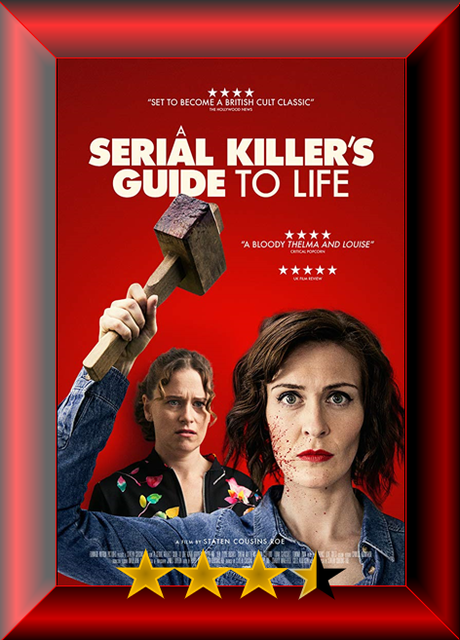 Director: Staten Cousins Roe
Writer: Staten Cousins Roe (Screenplay)
Starring: Katie Brayben, Poppy Roe, Ben Lloyd-Hughes, Sarah Ball, Tomiwa Edun, Sinead Matthews
Plot: A self-help addict unwittingly finds herself on a killing spree with her unhinged life coach.
Runtime: 1 Hour 21 Minutes
There may be spoilers in the rest of the review
Verdict: Quirky Dark Fun
Story: A Serial Killer's Guide to Life starts as we meet a self-help addict Lou Farnt (Brayben) who has always struggled with her confidence in life, jumping between differ gurus for years, being held back by her mother Maureen (Ball). Lou meets Val Stone (Roe) at one of the self-help promotions for the latest book she is reading, which soon gives them a chance to become friends.
Val encourages Lou to join her on a road trip to discover other self-help ideas, all while she is completing her own killing spree across the country, one that Lou has no idea of.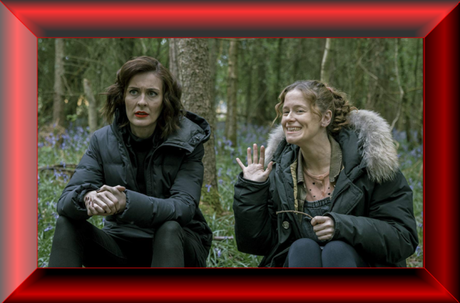 Thoughts on A Serial Killer's Guide to Life
Characters – Lou Farnt lives a quiet like with her working in a shop, caring for her mother that has always held her back and using self-help gurus to try and help her uncover her true self come out of her timid nature. She meets Val who pushes her to escape her life, where she gets to go on a road trip. Val Stone is a serial killer that has been going through self-help gurus, she meets Lou inviting her on a road trip to different self-help gurus, ones which she continues to kill, she is very cold, but confident in her kills. Chuck Knoah is one of the gurus that has been inspiring the women the most, the road trip is them looking to get to him, as he does inspire millions with his worlds. Maureen is Lou's mother who has been controlling her life for years, not letting her get free to her own life.
Performances – Katie Brayden brings the timid character to life with ease, with us understand all her struggles in life, while Poppy Roe does bring the cold-hearted killer to life with levels of disturbance behind the performance. Elsewhere we do get performances that embrace the self-help people you would have imagined.
Story – The story here follows a timid self-help addicted who befriends a mysterious woman who happens to be a serial killer that is hunting for self-help gurus. This is an interesting story about learning who you are and what you can do with the right support, only becoming an adventure about murder. It has easily been compared to 'Sightseers' which does have the same tone in the film. The story does seem to be drive to each help group, try some new therapy which does seem to become random and completely out there almost poking fun at the wild therapies in the world.
Comedy/Crime/Horror – The comedy in this film is very dark, it focuses on the twisted actions of Val, which does playing into the crime side of the film, which shows the killing spree, without much of the killing itself. As for the horror it does show the shock of being part of a killing spree when Lou learns the truth of Val's plan.
Settings – The film does use the settings to show different locations around Britain, as the couple travel around to different self-help groups, starting on the beauty of the coastal town.

Scene of the Movie – Caught in the act.
That Moment That Annoyed Me – We don't see what Val choice of kill is.
Final Thoughts – This is a dark quirky comedy on a par with Sightseers, while being the fullest Britishness of Prevenge, one you can have fun watching.
Overall: Delightfully Dark.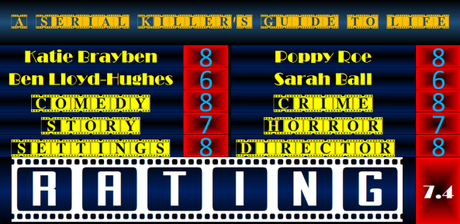 A SERIAL KILLER'S GUIDE TO LIFE is released on iTunes and Digital HD from 13th January 2020  http://www.aserialkillersguidetolife.com