An Austin firm creates a home for a family in the Texas capital that sits among the trees.
Slideshow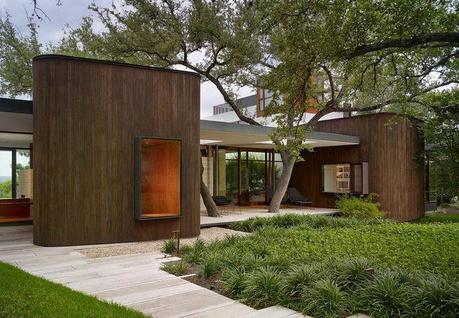 Alterstudio Architecture of Austin designed this house in the Texas capital for a young family of four.
Photo by Casey Dunn.
Alterstudio Architecture designed this house in Austin, Texas, for a couple—he is a psychologist and she stays home with their two boys, ages 9 and 3. The family had been living in a 1,200-square-foot home, but came into some family money and seized a "once-in-a-lifetime opportunity," as Kevin Alter, one of the firm's principals, puts it, to build their dream home.
"We spent lots of time with them, designing everything—and they wanted to know about every aspect of the building, including designing the interiors," says Alter, who also serves as the associate director of the Center for American Architecture and Design at the University of Texas at Austin. "As a consequence, the authorship is really in large part theirs, as they were heavily involved."
Economic and ethical decisions drove many of the material and design choices. The house makes use of solar energy and has a geothermal heating system. It was built with cypress after the architects and clients briefly considered ipe. They ultimately reasoned that, though FSC-certified ipe was available, it didn't make sense to import it "from a rainforest in Brazil," Alter says, "when we could get a local cypress that would also be resistant to the elements, even if it required staining."
The property had a collection of handsome, mature trees that the couple wanted to preserve, and in the end not a single one was felled. Pulling this off contributed to what is arguably the structure's most distinctive feature—cutouts in an overhang through which the tops of two mature trees poke out.
"To get close to the trees, we had to be very careful, particularly with the foundation, hand-digging around roots and occasionally spanning across roots rather than cutting them," Alter says. "But building in this manner, and having a building that is essentially one room wide with trees on either side, gives the impression of really living in the landscape."