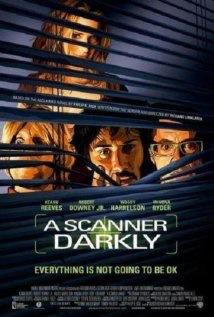 Director: Richard Linklater
Writer: Richard Linklater (Screenplay) Philip K. Dick (Novel)
Starring: Rory Cochrane, Robert Downey Jr, Keanu Reeves, Winona Ryder, Woody Harrelson
Plot: An undercover cop in a not-too-distant future becomes involved with a dangerous new drug and begins to lose his own identity as a result.
There may be spoilers the rest of the review
Verdict: Strong Start, Slow Finish
Story: A Scanner Darkly starts by introducing us to Charles Freck (Cochrane) a man being pestered by bugs while on a new drug. Calling a friend James Barris (Downey Jr) for advice they plan to meet to look at the bugs. Skip to the Police who are trying to crack down on narcotics with a new undercover suit worn b Officer Fred (Reeves) as he goes undercover to fight the war on narcotics. Substance D is the new drug on the streets that they are most trying to stop taking a hold on the users.
Officer Fred is undercover with dealer Donna (Ryder) using his alias Bob Arctor who is a suspect he is meant to be after, he also knows Charles and James along with follower stoner Ernie Luckman (Harrelson). We watch as Officer Fred starts to lose his mind as he struggles to deal with the different realities the drug world is leaving him in. Fred has to work out who to trust and why the police are after him as well as why Barris is trying to sell him out.
A Scanner Darkly is one of those films that really pulls you in to start with but in the end fizzles out, it is a shame because the idea was a good concept but it doesn't give us enough potential surprises like who Hank is, it is clear who early on. The subject looks at how the drugs can affect the people who are just undercover rather than the ones who are who are the stoners. I think more focus on who and what is really going on should have been had because the end feels empty rather than concluded. (6/10)
Actor Review
Robert Downey Jr: James Barris one of the stoners who believes he is smarter than the rest of them. He wants to out one of his group not knowing he is the guy undercover. Robert does a good job in what was one of his recovery roles. (7/10)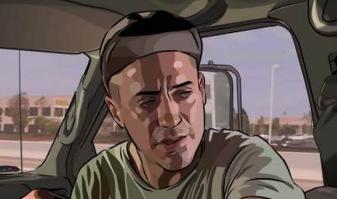 Keanu Reeves: Bob Arctor/Officer Fred the undercover cop whose identity is a secret to the force while he gets close to the dealers. Keanu does a good job in a role you wouldn't imagine him in. (7/10)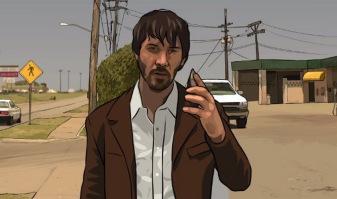 Winona Ryder: Donna Hawthorne main dealer and girlfriend of Bob, she keeps the guys hooked up. Winona does a good job but doesn't get enough screen time. (6/10)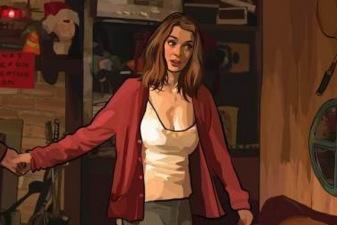 Woody Harrelson: Ernie Luckman one of the stoners who gets all philosophical whenever high. Woody makes for a solid supporting character but needed more screen time. (5/10)
Rory Cochrane: Charles Freck the man who gets most affected by the substance D who starts seeing things before anybody else and is always the fear of what the group could become. Rory does a good job and as for that opening scene that really pulls you in and you want to see more of his character. (8/10)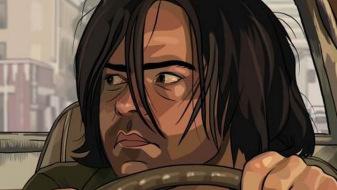 Support Cast: A Scanner Darkly only has supporting characters working in the police be it officers or doctors checking on Fred. They all help try to show his better side rather than his drug side.
Director Review: Richard Linklater – Richard has become one of the biggest names in Hollywood this year and this showed that he is a visionary director. (8/10)
Animation: A Scanner Darkly is very original with its style of animation which makes the story be able to go in direction that wouldn't be possible if it was just one or the other. (9/10)
Mystery: A Scanner Darkly tries to keep you guessing but sadly doesn't keep it up enough of the way through the film. (6/10)
Thriller: A Scanner Darkly keeps you wondering but never pushes you to the edge like it could. (6/10)
Settings: A Scanner Darkly settings are created well throughout the film. (7/10)
Special Effects: A Scanner Darkly uses both brilliant special effects and animation to create a unique look for the film. (8/10)
Suggestion: A Scanner Darkly is one to try it isn't the most perfect film but the visual could be rewarding. (Try It)
Best Part: Visuals.
Worst Part: Fizzles out near the end.
Believability: No (0/10)
Chances of Tears: No (0/10)
Chances of Sequel: No
Post Credits Scene: No
Oscar Chances: No
Box Office: $7.6 Million
Budget: $8.5 Million
Runtime: 1 Hour 40 Minutes
Tagline: Everything Is Not Going To Be OK
Overall: Brave Idea
Rating