This post was originally published in the August 2010 issue of. is a newspaper that reports Dutch news in English for the expat community. A monthly publiscation,can be picked up for free at various locations throughout Amsterdam, The Hague, and Rotterdam, or you can pay for a subscription and have it delivered to your home. For more information, check out the website.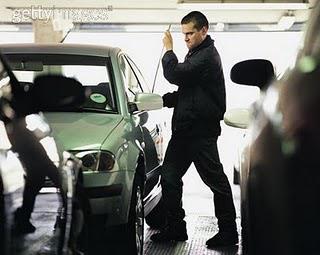 Car break-ins are the number one crime in the Netherlands. In Utrecht, TIFFANY JANSEN finds a new community programme taking action against thieves, one car at a time.
Since last December, police in Utrecht have been adorning the city's vehicles with tickets bearing the message: "Auto leeg? Doe 't liever zelf" (Empty car? Better do it yourself).
Of course, the last thing you want is to return to your vehicle to find the windows smashed and your personal belongings missing. What most people do not realize is that the state they leave their vehicles in can often be an invitation for thieves.
"The imprint of a suction sup from a navigation system is often sufficient for a car thief to take his chance," says the Utrecht Gemeente.
Automobile break-ins are the number one crime in the city of Utrecht, most of which occur in parking garages. In fact, home and automobile break-ins are the most frequent crimes in the Netherlands as a whole.
And the sad fact about these crimes is that, according to Binnenlands Bestuur, less than five percent of reported break-ins result in the perpetrators receiving any form of punishment.
The civil servant's journal goes on to report that a common complaint from victims of break-ins is that police rarely show up on the scene of the crime and the criminal often goes free.
Central Bureau of Statistics (CBS) reports from 2007 show that 320,618 of the 340,020 reported thefts went unsolved.
That's where Utrecht Veilig steps in. Utrecht Veilig is a campaign introduced by the Gemeente Utrecht to increase feelings of safety and security for those working and living in the city, enlisting the help of well-being organizations, entrepreneurs, the Openbaar Ministerie and residents to reach this goal.
Even the campaign's logo reiterates the importance of working together to create a safe environment: "Utrecht Veilig - Dat doen we samen" ("A safe Utrecht - We do it together).
In order to reduce the number of car thefts and break-ins, the police force in Utrecht is issuing warnings to vehicle owners, alerting them of the issue and offering tips on how to prevent themselves from becoming victims.
The best way to prevent an automobile break-in, they say, is to ensure that all items of value are cleared out of the vehicle or hidden from view. Too often people are unaware of the risk they are taking by leaving things in their cars.
In addition to the warnings, police officers in Utrecht are inspecting parked vehicles and leaving 'tickets' behind the windshield wipers.
The front side gives information on the Auto Leeg? campaign in French, German, and English. A checklist on the reverse side allows police and supervisors to grade each vehicle on break-in prevention tactics - or lack thereof.
Car owners who lock their doors and successfully hide items of value from sight receive a passing grade. Failing grades are given to those who fail to do one or both of those things. There is also space for the inspection officer to list any visible items in the vehicle.
Amsterdam may have its 'lokhomo's' (undercover gays) and 'lokjoden' (undercover Jews), but Utrecht prefers to enlist the aid of 'lokauto's' (undercover cars). These 'lokauto's' are strategically placed throughout the city to catch car thieves red-handed.
"Many car burglars are now well known to us. Others we are able to recognise from surveillance videos taken from inside the lokauto," says Harro Kras, acting district chief of Utrecht police, on Utrecht Veilig's website.
"We're also able to make arrests thanks to the aid of witnesses."
Utrecht Veilig's agenda also includes cracking down on bike theft, break-ins, violence, prostitution, soft drugs and coffeeshops among other things.
TIPS from Utrecht Veilig for keeping your car safe:
Place valuables under the seats or covered with a blanket
Register the make, serial number and type of your car radio, navigational system, cd player, speakers, mobile phone, and other valuables.
Park you car in a guarded or well-lit area. Make sure it is visible.
Leave the glove compartment and center console empty and open.
Declare your car empty with an Auto leeg rear-view mirror hanger or sign for the inside of your car.
If you are a victim of an auto break-in or car theft, file the incident with the police immediately
Pick up the March issue of
The Holland Times
for Tiffany's article on infant mortality.
Photo: Adam Gualt, Getty Images