My Ripple partner lives about 463 miles due south of me, and with so much going on in Ripple World, we try to get together once a month or so to discuss, plan, and strategize our plans for world domination.   Given a choice, I'd fly rather than ever bear the horror of driving through Los Angles, but with Pope's recent surgery and a definite need to help my buddy recuperate by spending endless hours immersed in grade B sci-fi films (like the Voyage to the Planet of the Pre-historic Women, and an incredibly bad 2010 release of John Carter of Mars with Traci Lords), I decided to brave the LA nightmare and pop down late Friday night.
Any good roadtrip needs a soundtrack, but a trip like this is a little different.  With the unknown traffic sinkhole that is LA looming, I kicked over the ignition having no idea how long the drive would actually take.  My money was on 8 hours, but with LA -- 10 hours wouldn't have been out of the question.  Point being, that a good road trip, like a good mixtape, has to have some planning and an escalation and rounding out of the musical soundtrack. With that in mind, I loaded a box full of the latest Ripple submissions into the passenger seat and headed off into the unknown.
Many of the CD's in the box failed to make the cut and won't be mentioned here, but this is what occupied my ears for that 8 hour drive south.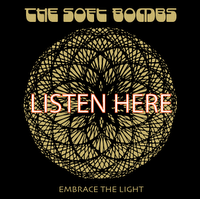 The Soft Bombs - Embrace the Light
These guys I already knew.  I thought that "Moorish Girl" from their self-titled debut was about as good a burst of post-Stone Roses, shoegazing psychedelic pop as I'd heard in a while.  Now the boys come back with their second album, Embrace the Light, and lead-off track, "I'm Alive" follows suit perfectly.  Considering that we at Ripple released a split single with the shoegazing psych dance throb of Sky Parade b/w the garage infused jangling pop of Grand Atlantic (still available here), you might predict I'd love this stuff.  The Soft Bombs sound like the perfect combination of those bands with a touch of the jangle of The Parties tossed in.  I tried to get them to join us on stage at Hotel Utah when Grand Atlantic and Sky Parade toured through, but it didn't work out.  Next time, I will for sure.  Dynamite shoegazing pop full of swirling colors and textures.  Check em out at  http://thesoftbombs.com.hostbaby.com/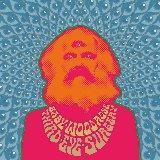 Baby Woodrose - Third Eye Surgery
Keeping the psychedelic theme going, I headed off 580 East onto I-5 South where I was greeted with the nothingness that is the Central Valley.  Baby Woodrose is a legend in garage psych pop.  I've written about him so many times that his name has become an adjective in my vocabulary.  As in, "wow, that band really brings the psych on all thick and Baby Woodrose-like."  Just as the man himself does here.  A touch more spacey at times, his label Bad Afro Records calls this his "space rock" album.  Yep, there's a bit of sitar, a bit more fuzz in places, but to me it all sounds Baby Woodrose; blissed out, impeccably done psychedelic garage pop.  No one does it like BW.  You'll find him here: http://badafro.dk/artists/baby-woodrosehttp://badafro.dk/artists/baby-woodrose


Papa Grows Funk - Needle in the Groove
As the psych haze starts to fade, I need to pump things up and get my ass moving.  Heading down I-5 is a mind-numbing trek, and I need something funky to get my ass moving.  Welcome Papa Grows Funk.  It was the name of legendary New Orleans producer and songsmith Allen Toussaint that first caught my eye, having produced 4 of the cuts, but the joy doesn't end there.  "Do U Want It" blasts out all undulating bass, serpentine guitars and gangland vocals.  This is pure funk, the kind that melts onto Bourbon Street each night from a infinite number of bars, late after hours and gallons of hurricanes consumed.  Blissed out, get your ass moving New Orleans funk.  PGF is a five piece and when they find the groove of a song they ride that baby like a cowboy breaking a bronc.  Seeing Toussaint's name, I knew I was gonna be in for a treat, but the fun doesn't end there.  Each track is a blistering funky treat.   Find em here:  http://www.papagrowsfunk.com/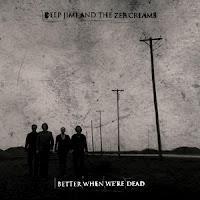 Deep Jimi and the Zep Creams - Better When We're Dead
Ok, got my funk down, heading up the Grapevine above LA, time to get my rock on. With a name like Deep Jimi and the Zep Creams, you may think you know what these guys sound like.  But you'd be wrong.  Yes, they bleed a classic rock vein, but you need to toss some Rush into there and some fine melodic rock, like Survivor at their finest.   Hailing from Iceland, I'd stumbled upon one of the band's earlier discs a while back and dug their hippified take on classic rock.  Now under the production helm of Porvaldur Bjarni Porvaldsson, the band come raging back with a slicker, more polished AOR rock sound that is about as solid as any release I'd heard in this genre for a while.  Think of the heady days of the late seventies, when bands like Loverboy and Survivor vied with more rocking bands like Triumph and Foreigner for arena stage time.  That's what we got here.  Big arena-sized riffs, slick-yet-impassioned vocals and some killer hooks.  Not metal, by a long shot, but fine quality arena rock.  Visit the boys here : http://www.deepjimi.com/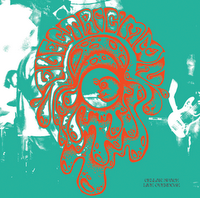 Electric Moon - Cellar Space: Live Overdose
Dropping from the Grapvine into LA I need something to keep me awake (it's almost midnight) yet keep me calm from the assholes on the freeway that drive like their car really does deserve all 5 lanes of freeway.  Electric Moon pops in and tension melts away amidst a kaleidoscopic swirl of hallucinogenic guitars and fuzzed out effects.  Think Colour Haze in a pantomime match with the :Egocentrics and you'll get the idea.  Swirling rushes of guitar and hazy bass effects, find the groove, hitch up their magic carpet to it, and ride off into the fog of the LA night sky.  Trippy, stoner rock in it's truest sense of the word.  4 instrumental, free-form jams spaced out over 2 CD's.  2 hours worth of mind-bending acid/psych madness.  Somehow, it never loses what little focus it has, never fails to engage and never fails to find its own inherent groove.  A fine comedown for the drive as I pull into the Pope's driveway.  Launch your own journey here: http://www.electricmoon.de/
Safe at last at Pope's house, a carne asada burrito awaits me.  Then in 24 hours, the drive home and another musical journey.
--Racer