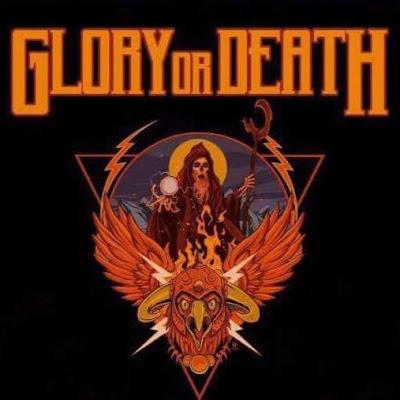 Tell us about your label, what it's called and how you'd define it?
Glory or Death Records! My first ever tour was playing guitar with Great Electric Quest as we joined the Red Wizard boys. We titled it the "Glory or Death Tour". We were young and hungry, what can I say. Tyler aka @Beer_Viking (GEQVocals) and I always used the term "Glory or Death". We had a handful of mottos like this that we would always bounce off each other growing up. "Makin' it Happen" was another. Basically forcing our way no matter the scenario and when the stakes got high one of us would say one of these mottos to the other to push them to take action. It never failed. You remember my guitar solo hanging upside down from the rafters at Pier View Pub. One pretty prime example of Glory or Death mentality. The power of friendship to conjure unrepentant confidence summed up in a cheesy saying. Ha.
How long have you been doing this and what got you started running an independent record label?
Glory or Death Records started back in 2017. There was a point after touring with GEQ that Tyler and I decided we had no choice, we had to create a record label. We kept running into these insane bands on the road that would blow our minds. After the shows we would try and get their albums of course and so many times these bands had nothing to offer. We decided to make it our mission to help push these bands to record and cement their masterpieces in time. We brought in Jeff Wilson (Kook/HeavySanJose/BlyndSubmyshynz) as well. He was like an unofficial manager for GEQ. Always, always throwing us opportunities and assistance. Seemed like a clear choice. We all tag teamed the Thin Lizzy project which came out fantastic between all our contacts. The distance made a lot of things difficult in the later phases of the project and I ended up basically taking the ball and building the machine the best way I could make it flow. Jeff and Tyler are always helping me out with ideas and contacts, but I have handled the day to day/majority of the label work for the last few years (With huge amounts of help from a handful of other people I am very grateful for).
What motivated you? Why here, why now?
There are endless things in this role that motivate me to keep pushing the Glory or Death train along. To come up with a riff or lyric or anything musically alone is an incredible feeling. Writing a song can leave you with a "high" that will last longer than any drug. Immortalizing someone's music and art conceptually in a package that can be held and looked through while listening to the music from a needle on a spinning slab of wax... What kind of black magic is this. Unreal. There is something very special about the experience. There is also something calming/settling about vinyl. Mesmerizing if you will. Sending you into a sort of trance and freeing yourself to absorb the music/art that much more.
I get appreciative messages all the time from bands and fans alike. Honestly it is all just fun, but this kind of stuff, on top of everything else. There is just no looking back at this point.
What's your prior history in the music world?
I grew up loving music. I always wanted to play every instrument I saw. I got in trouble in Elementary school for breaking into the music room during Lunch to play with the instruments. I played the clarinet back then mainly. At a point I outgrew the class and they had me take a bus every morning to the nearby middle school to play with the middle school band instead. After I started High School I quit the "School band" stuff and was more into skateboarding and trying to act cool I suppose. A neighbor got a guitar and had a shitty little combo amp, but when he turned it on it blew my mind. I just thought it was the coolest thing ever. Shortly after I ended up with my own guitar thanks to my parents. On to "CrazyTrain", "Iron Man", "Smoke on the Water" etc, you know the story.
I played in a few, I guess you would call them bands, but I doubt you would call it music that we were making. But, you gotta start somewhere right? We were just learning. Luckily we were just learning how to drink too, so most of this embarrassing timeframe is blacked out anyway. I played my first real show in a backyard with a punk band called "TheConvicts". We were all about 15 years old and of course none of us were convicted of anything. We only had 3 songs and when we went to start the set we were so nervous. I will always remember after the first note or two the singer/bass player stepped on his cable and his bass came unplugged. We all froze and he turned to us and was like "Uhh skip the song, just skip it, next one". With 2 punk songs left I think our set was under 5 minutes total. Which is pretty fortunate considering how mortifying it was. A great first step in conquering stage fright though.
I grew up with a friend Corey Ciota, who played in "band" with me in Middle School. When we crossed paths later in life we both had long hair and a strong love for Iron Maiden. He happened to play drums by this time and his Dad knew tons of killer music. I will always be grateful for everything he shared/pushed on us back in those days. Corey and I jammed together for a long time and eventually we needed more members to start an actual band. Ironically enough we met Tyler"T-Sweat" Dingvell on a craigslist add hunting for other driven musicians in hopes of starting a power metal band. We all met at a local Del Taco and eventually started a project called "Vengeance". We played only one show I believe - in my backyard one weekend when my parents were out of town. It was much more well put together than previous projects, but I don't think we ever got a full time bass player and never did any real gigging.
Great Electric Quest was born in December 2009. Our drummer quit music to focus on school after the first gig so I of course quickly recruited Corey. Shortly after, our singer Jack Nash split as well, relatively early in the project. Corey and I suggested we bring in Tsweat and from there with Mike Hurrin on Bass we had the first solid line up for the Quest. We lasted a long time in the brutal world of music. Playing for little to nothing and partying way too hard. Down the road other parts of life got in the way, as they do, and the line up changed a few times. The Quest has always been really fortunate with the members it ended up with. A lot of really talented minds have all contributed to the songs that grew over the years. It is pretty special really. Mucho Drums came from War Chief and Jared Bliss from the Nite Crawlers to bring the Quest's current line up which has been the line up most people know, since that line up is when we really started to hit the road. With Tours like the "Squeelin' Wheels " 28 day figure eight tour all over the US and the "Beer Wars" 56 day European Tour we really put in some work.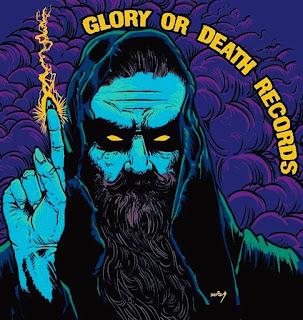 This is when things really ignited for not only the band, but the record label as well. We were just constantly making so many friends on the road that there was always action to get into. Absolutely some of the highlights of my life during this time frame. Seeing the sights in Europe, Canada and all over the US and getting to share our music LIVE was just unreal. I am so grateful to have had the opportunity to be a part of these experiences. We of course had a TON of help constantly, but a lot of this success came from the "Glory or Death" motto. I book the majority of Great Electric Quest's tours myself. You just have to force your way sometimes. On our 56 day European Tour we flew to London at the startof it with nothing but the clothes on our backs (and a bag of beers, until they made us chug em or toss em). We bought a van in London off "GumTree" which is basically Euro Craigslist and drove off with it on the opposite side of the road in a new country. Glory or Death! We collected our gear and upgraded things as we went along, having to repair all kinds of stuff constantly because we couldn't afford new stuff so we just got what we could get by with. It was pretty janky honestly, but fortunately the bigger festivals we had booked had a backline so it didn't matter as much for the important gigs. The last 4-5 days of the tour we started selling off everything we could. As always we were saved by strangers. When it came to the Van we just weren't able to unload it before we left, but the owners of the last venue we played were so kind to hold it for us and sold it a week or two later and sent us the funds (minus some parking tickets, classic London). After 2 months of traveling from London to Germany to France to Switzerland back through Germany to Sweden, Norway and ending at Freak Valley Festival in Germany once more before that last drive back to London, we ended up just about dead even on finances. Unreal experiences all created by Rock N Roll and Glory or Death Mentality. I can't even begin to count how many people helped us out on this monster journey, but we made a TON of new friends and endless memories. We also released the ultimate piece of GEQ history (so far!) "Great Electric Quest - Live at Freak Valley Festival - Netphen, Germany" via Ripple a year later slightly smiling face 2nd Press coming to Glory or Death Records late 2022.
Once COVID hit things really got quiet all over in the music world. It was actually really fortunate for me though, because I dove headfirst into the label. I was working daily on all kinds of exciting stuff, from the Bow to your Masters series to other Original albums from bands we had found in our journeys. Before COVID hit GEQ had festivals booked in Mexico City and Veracruz and even a 10 - day Tour in Tokyo that we had to completely scrap. We lost some flight money and booking fees, but our hits were still really minor compared to the nightmares we were seeing around us. It was a terrible time for a lot of people. To top it off Tyler got diagnosed with cancer (Fortunately he was cleared of it after grinding it out for about a year). I just stayed focused on the label and did my best to keep bands productive and moving forward to getting their records in the long line to be pressed.
What was your first release?
Great Electric Quest - Chapter I was the first record Tyler and I ever made. We released that album ourselves, but it said "Glory or Death" in the liner notes in the gatefold. We had already been dreaming of things clearly. Technically the first Glory or Death release was a split EP from Love Gang / Smokey Mirror. Tyler handled this first release mainly on his own and we learned a lot of really important things through the process. A lot goes into making a record. Getting the audio mastered for vinyl, getting the art laid correctly to the templates for printing so nothing bleeds into areas it shouldn't or gets cut off an edge or something. The spine on a jacket is very thin! Catalog # 's, UPC codes, Licensing for cover songs. There was a lot to learn in the early days. Todd / Ripple were always there to help though! Which was so damn cool, when it could've easily been the opposite. Furthermore here comes Todd asking for an interview to help spread the word on all things Glory or Death. What a guy!
Every project is special of course, but there are some projects here that are quite a bit more complex than others. Our "Bow to Your Masters" Tribute series is one. Volume's include Thin Lizzy & Deep Purple so far with Judas Priest slated to be released November 2022. We've been incredibly fortunate to have the support and faith of some real heavy hitters on these projects. I never would have dreamed I would be releasing music by monsters like High on Fire, Yob, Mos Generator, etc. Going opposite of this series we have the Glory or Death Records "Friends & Family" series showcasing everyone's talent via their own Original tunes. Volume One was just released Nov 2021 with 26 bands (A lot of them Ripple bands as well!). Volume Two is slated to be released Dec 2022.
Are you looking to tap into a particular local scene or were you aiming to capture a sound?
Not particularly. Just looking to release what we thought were good tunes!
Tell us about the label Name and logo.
The classic Glory or Death Logo was made by Vance Kelly. A fantastic artist. It was created for the original Glory or Death Tour and always stuck with Glory or Death over the years. I think the logo fits the name very well!
There's so much to learn about running a label, share with us some of the lessons you're learning along the way.
Off the top of my head - Patience is imperative and "Whiplash" mailers are the shit. Consistency is key on the label side. With how long it takes for a record to come full circle to the finish line it is important to keep throwing logs on the fire so there isn't a gap in releases.
I am always hunting for more projects - Submissions at [email protected]
I always try my best to give credit where credit is deserved. It becomes increasingly more difficult as we move forward with just so many damn fine folks lending a hand. We seriously get so much help from all over the place. I can't tell you how special it is to see everyone pitch in to make dreams come true for each other.
What's the biggest challenge facing you today as an independent label?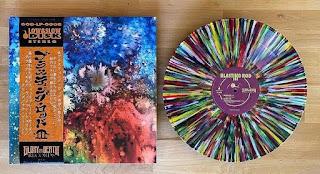 Just trying to keep all the plates spinning at the same time. It is a lot of work to keep everything constantly moving forward, but every time a new project gets wrapped up it is another reminder of why I endure all the madness. It is far beyond worth it. I wouldn't survive without the constant help of a large handful of people. Just to name a few - My Wife - Kerube, Ygor Silva, James Page, Mark Aceves, Matt Early, Heath and the Wax Mage crew, Clifford Dunbar, Tony Reed, Matt Ortt, Luke Davis, Chong Santino, Mucho Drums, Corey Ciota, David Wilburn, Micheal Kimble, Bobby Parker, Jeff Hylen, Jared Bliss, Ethan Smith & of course my parents Mike/Annie Donner, Tyler Dingvell/Jeff Wilson and you Todd! There are over a hundred others literally though. I am so grateful to everyone.
Seems like there are a lot of independent heavy labels emerging these days.What will you do to set yourself apart?
Primarily I think the music and the album art dictate the difference of the labels. At least from the fans perspective. When a band comes to me with music and no art, I have a wide array of artists I like to offer to them that I know will blow it out of the park every time.
I also spend a lot of effort trying to make things special at Glory or Death. A few examples; Formula 400's release "Heathens" had a special edition that came with a bottle of Mead titled "Sun Destroyer" after a song on their record. I had this brewed by Imperial Meads in Chattanooga and only about 30 bottles were made and hand numbered with labels matching the album art. They also came with hand screened oil rags with Steven Yoyada's Formula 400 logo on them. Blasting Rod's limited edition release came with an insane obi strip designed by the band out of Nagoya Japan on this fantastic Japanese Art paper (I have never been so excited about paper in my life, you just have to touch it to know). For Bow to Your Masters Volume Two Deep Purple the "Shades of Deep Purple" package came in a handmade purple velvet sleeve with the Glory or Death logo laser engraved into the velvet. It included 12x12 fine art prints of the album art signed by the artist David Paul Seymour. The jackets were sequentially numbered in silver foil. The Call of the Wild Limited Edition records were stuffed with leopard print material, literally in the wax. Sometimes I will recruit my Dad @MikeDonnerPinstriping to paint some custom jackets for a limited edition release. I LOVE fun stuff like this and am always looking for ways to make each release special in its own way.
What do you look for in your bands?
Quality recordings. Quality content. Art is a plus when trying to suck me in. Groove/Vibe. Does it make you feel something. Is there anything that really ruins it as a whole?
How do you find your artists?Are you a club rat, constantly searching live venues for cool acts?
I get submissions daily and listen to all of them at some point. Most of our releases come from bands I have seen live or even had the pleasure of sharing the stage with though, which is pretty cool. Just another special connection.
What are you looking for now?
Let's go with a choose your own answer on this one;
A. A Beer
B. Captain Beyond
C. Anything that sounds great and original
Are you involved in all the creative decisions?
It my way or the fucking highway pal. Ha. Just kidding. I offer support to everyone I work with and have an excellent network/team of incredibly talented folks that are always available, but ultimately I want the records to be what the band wants. Every step of the way on both Audio and Art side goes through phases of checks and balances with myself, the bands and the fine folks doing the real behind the scenes work.
What would you like to see happen for the future of the music industry and your label in particular?
I just wanna help push the people I work with to the next level any way I can. I do hope we can continue to enjoy live music as well as make records though. The joy of seeing everyone's smiling faces and soaking in some killer tunes together is something untouchable.
Anything else you'd like to share with the waveriders?
99% of them are great friends of mine already. I just appreciate all the work of Ripple over the many years. Paving the way for us all. I am always looking forward to the next Ripple Fest!
Listen for free/shop at - GloryorDeathRecords.Com
See sexy wax and get updates on new releases via FB / IG @GloryorDeathRecords