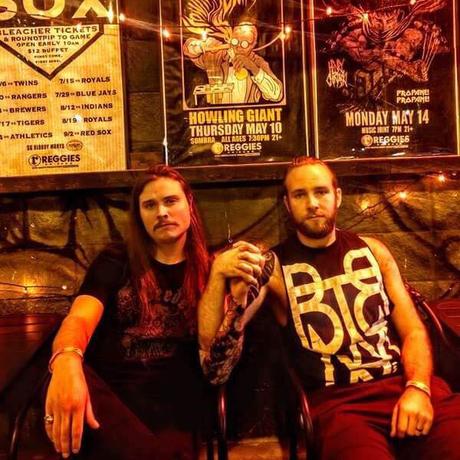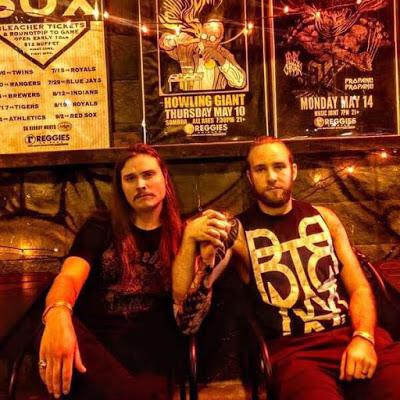 When I was a kid, growing up in a house with Cat Stevens, Neil Diamond, and Simon and Garfunkel, the first time I ever heard Kiss's "Detroit Rock City," it was a moment of musical epiphany. It was just so vicious, aggressive and mean. It changed the way I listened to music. I've had a few minor epiphany's since then, when you come across a band that just brings something new and revolutionary to your ears.

What have been your musical epiphany moments?
Tom - There have been a few moments of epiphany, but two bands/albums stick out in particular. The first time I listened to Rush in middle school was my first introduction to prog rock and the idea of a concept album. 2112 is such an amazing song and album, and it inspired me to consider imagery when I'm writing and playing. The second notable moment was the first time I listened to Sorrow and Extinction by Pallbearer. Listening to something that could be so heavy and dark while still being beautiful and melodic changed the way I think about doom and heavy music in general. Finding a ray of hope in a doom song was a magical experience.
Zach - Growing up, I listened to all sorts of music with my parents, mostly classic rock and some country. So when I first heard In Keeping Secrets of Silent Earth: 3 by Coheed and Cambria, I was blown away. To me, this band that came out of a scene where a lot of the music sounded very similar and they were doing something really different. They were clearly influenced by Rush and a bunch of older prog, but brought something new to the table. Coheed influences my writing process to this day whether I'm thinking about a story concept or tying musical themes together within an album.
Talk to us about the song-writing process for you. What comes first, the idea? A riff? The lyrics? How does it all fall into place?
Zach - It depends on the song. Most of the time, a song comes out of a guitar riff, progression, or lead line. We create a theme instrumentally and build around that. There have been a few times that a lyric comes first, but that isn't as common for us.
Who has influenced you the most?
Tom - If we had to pick one, we would probably pick Rush because they're one of our biggest shared influences. They're one of the first bands I fell in love with and I continue to listen to them on a regular basis.
Where do you look for continuing inspiration? New ideas, new motivation?
Tom - I get inspired by touring, and playing with other touring bands. Seeing how other bands travel, what gear they bring, and how they perform in a live setting is really cool. There's always something to learn on the road.
We're all a product of our environment. Tell us about the band's hometown and how that reflects in the music?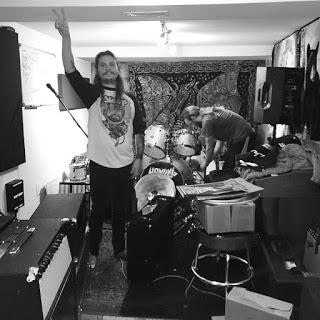 Zach - I think Nashville has influenced the songwriting process for us. There is still a focus on "the riff," but overall song form is something we're always thinking about. Learning how to create a song that engages the listener from start to finish. How long a section goes on, how many times you hit a chorus, how to hint at previous musical ideas, these are all things we think about a lot more after hanging with all the songwriters in Nashville.
Tom- Nashville is also such a big recording town, so we started to focus on album flow. In the same way we approach writing a song, we approach the entirety of a record. It's all about engaging and keeping a listener's attention throughout an entire record.
Where'd the band name come from?
Tom - We started this project as sort of a joke band and a way to blow off steam from being in other serious bands. We wrote about our D&D campaigns and called ourselves SKLDZR(Skulldozer).
Zach-As our other bands fell apart, we decided to move forward with the band full time. As we started to take ourselves a little more seriously(just a little bit), we decided to change the name. After much deliberation and rituals around a campfire, Howling Giant was born. We feel this name represents us and our music.
You have one chance, what movie are you going to write the soundtrack for?
Zach - While we love and respect Sir Elton John, we'd like to replace his soundtrack for The Lion King. It's got it all. Love, action, heartbreak, triumph, and the unforgiving nature of the animal kingdom.
You now write for a music publication (The Ripple Effect?).You're going to write a 1,000 word essay on one song. Which would it be and why?
Tom - Isak by Baroness. Talking about musical themes, lyrical minimalism, and the sludge scene, 1,000 words might not be enough.
Come on, share with us a couple of your great, Spinal Tap, rock and roll moments?
Tom - We had our good friend Daniel Douchette perform a dramatic reading of H.P. Lovecraft's "Dagon" by lamplight on stage while we set a psychedelic landscape. Not necessarily a Spinal Tap move, but kind of a ridiculous moment for us.
Tell us about playing live and the live experience for you and for your fans?
Zach -For us, the live performance is one of our biggest points of focus as a band. There's an energy in a live room that can't be replicated on an album. All of our recorded music up to this point has been recorded live in an attempt to capture that energy and feel(with a few spoken word and organ exceptions).
What makes a great song?
Tom - A great song is one that engages the listener from start to finish. Sometimes that happens through unique song form and experimental ideas and sounds, while at other times a really tight song form with a catchy verse and chorus is all you need. That, and a fat juicy riff.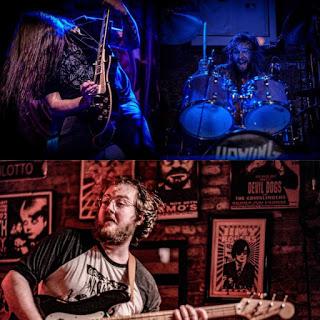 Tell us about the first song you ever wrote?
Tom - Way back when we called ourselves SKLDZR, we wrote a song called "Anthos, the Minotaur". It was a song of glory and lament recounting the tales and death of a character we created in a Dungeons and Dragons campaign. It was silly, and amazing, and heavy as hell. Back then we had two guitarists, so i'm pretty sure we had guitar harmonies happening 100% of the time. Also, I think Zach had a china cymbal.
What piece of your music are particularly proud of?
Zach -For me, its Mothership. Its not a traditional song form, but I like the way we kept recurring vocal themes over different instrumentalsections. Also, the Danny Carey inspired drum break is always fun to play.
Who today, writes great songs? Who just kicks your ass? Why?
Tom - There are so many people writing great songs and it comes down to a flavor of the month for us. Right now, I'm listening to a bunch of Pallbearer and Torche. Torche does an amazing job of writing super thick sludgy instrumental parts paired with some of the catchiest vocal melodies in the scene. Everything on Meanderthal, Harmonicraft, and Restarter kicks my ass every time.
Vinyl, CD, or digital? What's your format of choice?
Vinyl is always the way to go.
Whiskey or beer?And defend your choice
Tom - Because we both work at a brewery, I think we have to side with beer on this one.
We, at the Ripple Effect, are constantly looking for new music. What's your home town, and when we get there, what's the best record store to lose ourselves in?
Tom - Being based out of Nashville, Grimey's is our go to spot for new releases. Great staff and selection. If you're looking for old pressings and used vinyl, Phonoluxe and Great Escape are the places to be.
What's next for the band?
Zach -We're deep in the writing process right now. We have our tour to and from Psycho Las Vegas in August, another week long tour in October with Forming The Void, and then we're locking ourselves away for the winter.
Any final comments or thoughts you'd like to share with our readers, the waveriders?
Keep looking for and listening to new music. If you're following The Ripple Effect, you're already where you need to be.
*******
Psych-Metal Road Dogs HOWLING GIANT to Tour Southwest En Route to August Psycho Las Vegas Appearance
Nashville trio preps for a quick string of blistering dates before and after their set at the massive Vegas festival next month, also leads off the upcoming Best of Pink Floyd release from Magnetic Eye Records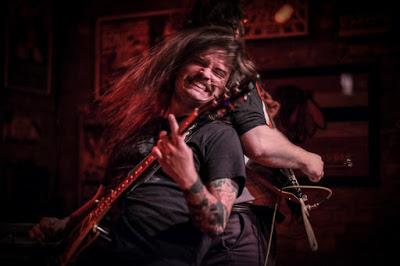 Photo: Josh Dagenais
Interplanetary riff-rockin' powerhouse HOWLING GIANT hits the road again this August for a run of shows leading them to and from a coveted slot at that annual maelstrom of stoner/doom/psych bliss, Psycho Las Vegas.
Their "Arcane Ritual" tour includes the following stops:


  

Aug 15: Wichita Falls, TX - Iron Horse Pub

  

Aug 16: El Paso, TX - RCBG

  

Aug 17-19: Psycho Las Vegas

  

Aug 20: Scottsdale, AZ - Rogue Bar

  

Aug 21: Albuquerque, NM - Launch Pad

  

Aug 22: Las Cruces, NM - The Warehouse

  

Aug 23: San Antonio - The Mix

  

Aug 24: Lafayette, LA - Freetown Boom Boom Room

  

Aug 25: New Orleans, LA - Santos

  

Aug 26: Birmingham, AL - The Nick 42nd Street Tavern
Howling Giant are also confirmed as the album-opener to the much-awaited Best of Pink Floyd LP, Magnetic Eye Records' companion album to its massively-anticipated The Wall [Redux] release.Both albums land this November and can be pre-ordered here.
Formed by self-proclaimed nerds, Howling Giant is a perfect marriage between pulpy sci-fi themes and blistering riff-psych. Fans of Mastodon's Crack the Skye, early Baroness, Summoner and The Sword will immediately latch onto Howling Giant's spaced-out, cosmically-informed songcraft and lyrics that span sea voyages to space flight to androids with a bloodlust for camels.
The band recently premiered their futuristic update of Pink Floyd obscurity "Matilda Mother" via Metal Injection at this location, which the respected outlet called, "a massive cover that takes Pink Floyd's psychedelic years to a whole new, modern metal level."
With stops in the south and southwest along with their coveted Psycho Las Vegas slot, Howling Giant continues to expand their touring radius and deliver their irresistible brand of heaviness in a live setting, upon which they're quickly building serious buzz.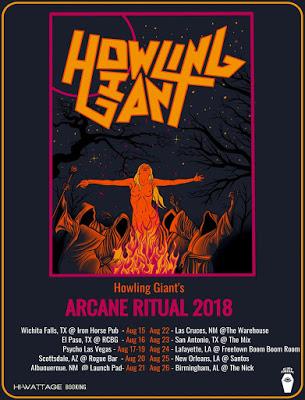 "One of the finest up and coming acts out of the East's progressive rock/doom scene... nerdy, sci-fi/fantasy conceptualism, varied songwriting, and highly energetic live performances, the band embodies much of what sets prog/doom apart from other genres." – Indy Metal Vault
"Heavy on the cosmic themes — heavy on everything, really — Howling Giant creates a world that conjures dark and villainous imagery." – Rochester City Newspaper
"What a righteous discovery these guys are. Born out of some space fuzz chamber and dropped down on Nashville, Tennessee, Howling Giant's form of metal is a unique and eclectic fairy tale trip through the stars." – New Noise Magazine
"Fuzz rock with the kinetics of a bikini-babe monster flick and the high drama of a mid-70's Marvel comic book." – You May Be Dead and Dreaming
"Melding together some of the best elements of Coheed and Cambria, Elder, and Mastodon. The spacier prog rock of the first band collides with the low end progressive doom of the second before topping off the mix with a hint of the Atlanta stalwarts' vocal style that swirls and builds to something quite satisfying." – Heavy Blog is Heavy