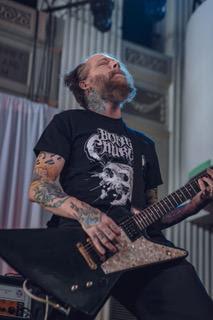 When I was a kid, growing up in a house with Cat Stevens, Neil Diamond, and Simon and Garfunkel, the first time I ever heard Kiss's "Detroit Rock City," it was a moment of musical epiphany. It was just so vicious, aggressive and mean. It changed the way I listened to music. I've had a few minor epiphany's since then, when you come across a band that just brings something new and revolutionary to your ears.
What have been your musical epiphany moments?
For my11th birthday in 1976, my older brother gave me Aerosmith "Toys in the Attic" and Alice Coopers "Greatest Hits." Life was never the same.
Talk to us about the song-writing process for you. What comes first, the idea? A riff? The lyrics? How does it all fall into place?
It's all about the riff for me, Usually Bishop has a pretty good layout and I'll add the riffs. We all put in input to complete song but Bish handles the majority of lyrics.
Who has influenced you the most?
Alice Cooper, Michael Schenker and Robin Trower
Where do you look for continuing inspiration? New ideas, new motivation?
I usually look back at some bands from the early 70s that were a little before my time and I might have missed out on some of theirdeeper cuts.
We're all a product of our environment. Tell us about the band's hometown and how that reflects in the music?
We are all kinda spread out but Texas and Oklahoma is our home. Texas hasthat don't mess with us vibe, so we can just be ourselves and not worry about what other bands or people think. It keeps us free to create without pressure.
Where'd the band name come from?
Bishop was working on an oil rig off the Gulf that was called Thunder Horse. He thought it would make a rad band name, I agree.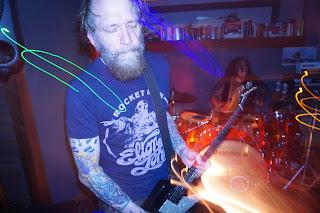 You have one chance, what movie are you going to write the soundtrack for?
Vanishing Point 1971
You now write for a music publication (The Ripple Effect?).You're going to write a 1,000 word essay on one song. Which would it be and why?
Song for the Ferryman, lots of fun research on the history of crossing to the other side and who helps us get there,
Come on, share with us a couple of your great, Spinal Tap, rock and roll moments?
Drove all the way thru New York City and beyond and had to turn around and go back all the way thru New York City at 5am while everyone was asleep. When the band woke up, I told them the 3 extra hours was because of bad traffic not my map reading skills.
Tell us about playing live and the live experience for you and for your fans?
For me it's about losing myself in the music and coming out of my trance to find out that all these wonderful people are taking the same trip.
For me it's all about the riff. I let the other guys make it a great song.
What one single album do you wish that you'd written or performed on, and why?
Pink Floyd Wish You Were Here. We all dream of playing on or creating something on that level of perfection.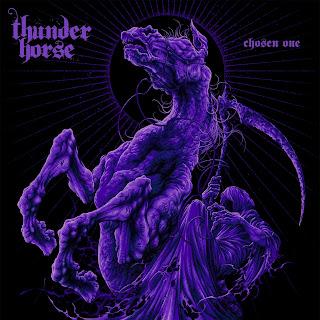 What piece of your music are particularly proud of?
Really proud of our first 2 albums but our upcoming 3rd release could be the one for me.
Who today, writes great songs? Who just kicks your ass? Why?
Robin Trower is still as good or better then he has ever been. Hard to say that about most artists that were big in the 70s.
Vinyl, CD, or digital? What's your format of choice?
Vinyl is by far the best. Listen to Rush Moving Pictures on CD and Vinyl and try to make a case otherwise.
Whiskey or beer?And defend your choice
Beer. but not going to argue with a whiskey drinker
We, at the Ripple Effect, are constantly looking for new music. What's your home town, and when we get there, what's the best record store to lose ourselves in?
Hogwild records
Recording 3rd album
Any final comments or thoughts you'd like to share with our readers, the waveriders?
Do it because you love it and enjoy the ride