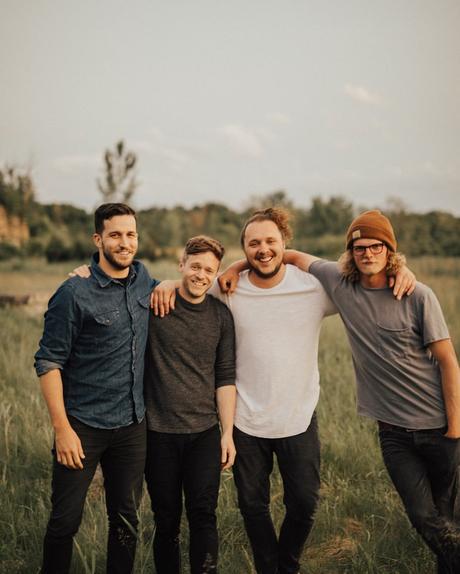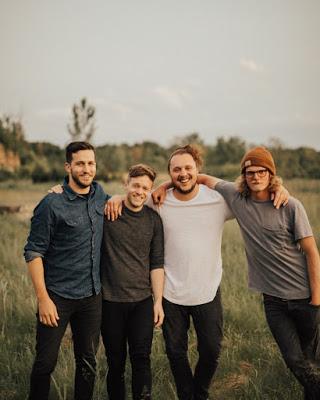 When I was a kid, growing up in a house with Cat Stevens, Neil Diamond, and Simon and Garfunkel, the first time I ever heard Kiss's "Detroit Rock City," it was a moment of musical epiphany. It was just so vicious, aggressive and mean. It changed the way I listened to music. I've had a few minor epiphanies since then, when you come across a band that just brings something new and revolutionary to your ears.
What have been your musical epiphany moments?
I moved to Nashville and went to the Contemporary Music Center for an Artist/Song Writing program. The director's name was Warren. Picture a less bald version of Fletcher from Whiplash. Warren was worth every cent of that program and was a cause of many musical epiphany moments for me, completely changing how I played live and wrote songs. I'll never forget when he stopped me in the middle of my first performance of a new song. In front of the whole audience, he just said "Timon, your singing is awful in this song - I hate it, you gotta stop. Just speak the words instead - no more singing." And that is how our first single Stay was born.
Talk to us about the song-writing process for you. What comes first, the idea? A riff? The lyrics? How does it all fall into place?
Generally speaking, we write every song in one of two ways. We will jam with some or all of the band and we will riff off of something until we feel we have something good. Then we will record it instrumentally on my iPhone and I will obsess over the lyrics and melodies and bring certain ideas to the guys for them to hear and comment on. This way takes a bit longer because everyone has their own idea of direction, but it has turned out some of our coolest songs. The other way, which we used a lot for our upcoming album Everett, is that I will wait until I get my heart destroyed by a terrible breakup and will sit in our bassist's backyard and write songs in a haze until the sun starts to rise.
Who has influenced you the most?
Probably, Andy Hull - Manchester Orchestra is a huge influence on the band and Andy has always been a legend in my mind. The dude dropped out of Highschool and released songs at 17 that are still some of my favorites (Colly Strings? Are you kidding me?).
Where do you look for continuing inspiration? New ideas, new motivation?
My band and the people closely involved with the band (like our producer Glen) are a huge source of all of these things. Their support, dedication and skill are so important for me to keep going. I'm always excited about the next project because I know these people are determined to make it excellent. Our friends and fans have always been huge for motivation as well - some of our fans have consistently driven from hours away to make it to every show (I'm talking to you Corn Teen Bois)
We're all a product of our environment. Tell us about the band's hometown and how that reflects in the music?
God bless Hamilton, Ontario. It's grungy, it's raw and it keeps it real in a beautiful if somewhat chaotic way. All of these characteristics are what King Park strives to be.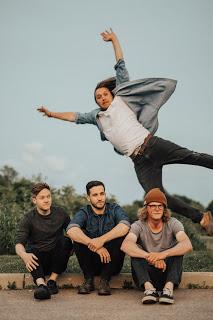 Where'd the band name come from?
Coming up with the band name was a tough decision, but when we heard La Dispute's song "King Park" it hit us right where we live - so we decided to roll with it.
You have one chance, what movie are you going to write the soundtrack for?
Nacho Libre 2. We've been dying to get the Spanish Guitar and some trumpets going.
You now write for a music publication (The Ripple Effect?).You're going to write a 1,000-word essay on one song. Which would it be and why?
Mr. Brightside. I have so many things to say about that song, the trick would be keeping it to 1000 words.
Come on, share with us a couple of your great, Spinal Tap, rock and roll moments?
One time, through a series of unfortunate events and miscommunications, we found ourselves at a talent show for preteen girls doing karaoke and dance. Instead of going home, we got on stage for our time slot, turned up to 11, and played our heaviest song. We didn't win, but we left with no regrets.
Tell us about playing live and the live experience for you and for your fans?
Our live shows are either heavier or more chill than our studio work. This is because, when we can, we like to scream and give a ton of energy live. But because of the nature of our music scene here in Hamilton, we find ourselves playing a lot of stripped-down/acoustic shows. The first time we set one of these up was due to a lot of the heavier bands we were supposed to play with dropping out. As most of our friends play acoustically, we had them fill the spots and played stripped-down versions of our songs. It was an absolute success. The show was so fun, and we have been keeping these versions in our back pockets ever since. These shows also started effecting our songwriting and we have an acoustic version of our first single from 2017 coming out this month!
What makes a great song?
This is a tough question. I want to say that lyrics make or break a song. If the lyrics hit me I can be pretty open-minded with how they are delivered and the instrumentation behind them. But at the same time, a great song doesn't need any lyrics at all to hit you in the feels (Explosions in the Sky, Caspian). I guess the ability to express an emotion deeply and profoundly (no matter the emotion) makes a great song.
What one single album do you wish that you'd written or performed on, and why?
I always wished that I could have played for a big hardcore band. That genre was my favorite growing up - I just lived for the high energy pits. I think being up there and throwing down with a band like Architects or Counterparts would be so fun.
What piece of your music are you particularly proud of?
I am proud of the way we play live. We practice hard and have come a long way. I think that we are worth seeing, I think the dudes up there with me are incredible musicians, I think we are continually improving and trying to make our live show special - and I am proud of all those things.
Who today writes great songs? Who just kicks your ass? Why?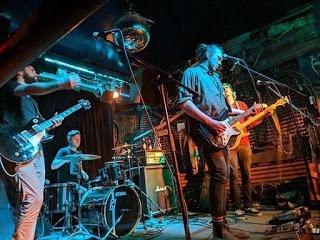 There are a couple of albums that I have a tough time listening to because they are just so good that it makes me want to throw my guitar in the trash, get a haircut and start selling bonds or however that works. Microwave's Much Love hit me like that - Pinegrove continually doing that, Citizen's Youth was unbelievable. I've also seen the Manchester Orchestra live and physically felt my ass getting kicked.
Vinyl, CD, or digital? What's your format of choice?
CDs! I love them, I had a large collection before they all got stolen along with my truck. The truck was a blow, but the CD binder was absolutely below the belt.
Whiskey or beer?And defend your choice
Whiskey. But I like it too much. So, I usually go with the safer option of beer :)
We, at the Ripple Effect, are constantly looking for new music. What's your hometown, and when we get there, what's the best record store to lose ourselves in?
My hometown is Hamilton, Ontario and you're gonna wanna stop at Dr. Disc. They put on rooftop shows and carry a bunch of local Hamilton artists.
What's next for the band?
We are opening for Ellevator on November 28! Shows have (obviously) been hard to come by these days so we were really looking forward to this one.
Any final comments or thoughts you'd like to share with our readers, the waveriders?
Please go check us out! We really hope you will like it! If you do, give us a follow for more tunes coming soon!