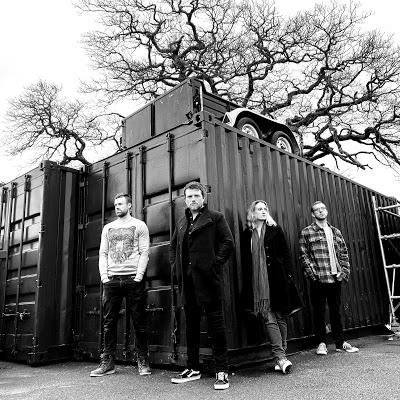 What have been your musical epiphany moments?
We really figured out what we were when Cams Joined as Lead Guitarist and we became a 4 piece. That's when we became THIRD LUNG.
Talk to us about the song-writing process for you. What comes first, the idea? A riff? The lyrics? How does it all fall into place?
Every song is different. It just happens. Mostly it's an exercise in stillness. Be still long enough and the song falls down and is within reach.
Who has influenced you the most?
To name a few, Robert Plant, U2, Noel Gallagher, Jeff Buckley, FOOs, Pearl Jam, Bruce Springsteen...... We've all got so many to be fair it's tough to list them all sometimes.
Where do you look for continuing inspiration? New ideas, new motivation?
Musically Film scores and gaming music is a constant source of inspiration sonically.
We're all a product of our environment. Tell us about the band's hometown and how that reflects in the music?
Reading Town has got many decent venues which we play regularly. It's a great way to meet so many cool people and be inspired by local talent. Of course the Reading Festival is Great and brings so much to the town. Fortunately there are loads of amazing smaller Festivals too that you should definitely check out - ARE YOU LISTENING FEST and READIPOP for example. I guess being spoilt for a wide diversity of bands and artists leaves you feeling grateful and inspired to push yourself further creatively. Also, being so close and attached to London Reading seems to carry with it a bit of an Outsiders Mentality. Sometimes you feel on the borderline trying to breach the city gates of the music industry. I would think that would definitely add to the longing that appears in our music. Forever Hopeful but a deep sense of longing nonetheless.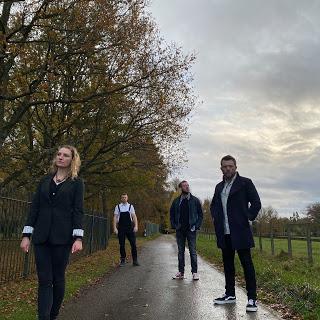 Where'd the band name come from?
We'd love to say something really deep and meaningful here unfortunately we feel we may disappoint. At one of the shows in the very early days. Our families present. We got off stage and Tom's Mum was pretty shocked by the power of his voice. Declaring he sang as if he had a THIRD LUNG. We were looking for a name. It stuck.
You have one chance, what movie are you going to write the soundtrack for?
Walter Mitty.
You now write for a music publication (The Ripple Effect?).You're going to write a 1,000 word essay on one song. Which would it be and why?
You want it Darker - Leonard Cohen - He asks of us what we fear to see. I always enjoy a terrifying deep dive into the inner workings of the human psyche. Will I make it back? Who knows? Maybe Leonard Cohen has some answers!
Come on, share with us a couple of your great, Spinal Tap, rock and roll moments?
Between Tom's tantrums in the studio, Sam counting us in 10bpm quicker than the backing track at our 1st BBC INTRO gig at The Turtle or Cams storming off stage at a Hell's Angels Biker Rally we wouldn't know what to tell ya.
Tell us about playing live and the live experience for you and for your fans?
A healthy amount of Anxiety and Nerves seems key. If you have that, you're focused. You're present and able to give across your best performance. The best of yourself. It's a balance between you and the audience. A dance. Where they feed you and you feed them. It's all about being in the moment.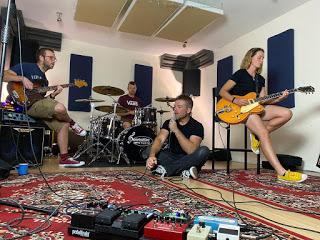 It has to be a journey. Lyrically and musically. Sounds of silence is a perfect example. It's transcendent. It's takes you somewhere and Leaves you there. While you figure out who and what it is you are. A great song teaches you something. Opens up possibilities. That's why it's so difficult to describe the writing process. When you're asked, how do you write a song? You have no idea what to say. It really does have a magical quality. When you're tuned in, you're attempting to understand something just outside of your comprehension. Its slightly behold you. A great song is slightly behold. You can't pin it down. It's a strange business.
What one single album do you wish that you'd written or performed on, and why?
Carry Fire by Robert Plant. To be honest I'd settle with tambourine duties just to watch that Man and that band go to work.
What piece of your music are particularly proud of?
These 2021 releases are our best work to date. We're releasing them as an EP called 'Dialogues of the fatal few' in November with some bonus material that will surprise people I think. We've arrived somewhere. We probably won't be staying for long but we've reached somewhere. We'll have a good look around, learn what we can before moving on.
Who today, writes great songs? Who just kicks your ass? Why?
HOLY HOLY. They seem to liberally experiment with genre, mood, texture but at the core are incredible song writers. The song feels key. Definitely a massive inspiration for us.
Vinyl, CD, or digital? What's your format of choice?
Digital on a run or hike. Vinyl at home. That's when you're really focused on what you're listening to. CDs? Pretty much only ever use a CD now when sending out Promo. Poor CDs.
Whiskey or beer?And defend your choice
Beer Then Whiskey Obviously. A few pints of the local Ale from The Loddon Brewery in Dunsdun Green followed by Single malt perhaps from Talisker bay. The beer from Loddon? Because it's frickin awesome and we know the owners who happen to be absolute legends! Talisker bay? Because it's beautifully dramatic there and their whiskey hits the appropriate peaty spot.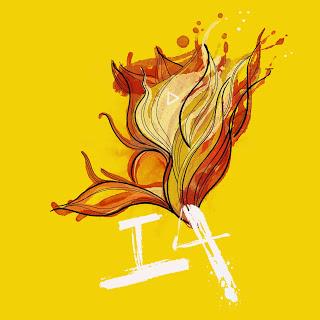 We, at the Ripple Effect, are constantly looking for new music. What's your home town, and when we get there, what's the best record store to lose ourselves in?
Head to The Sound Machine in Harris Arcade immediately upon arrival at The Reading Train Station. They'll keep you busy. Maybe have a pint at the Three Guineas before you head over. It's right by the Station Entrance. Convenient and a tasty pint of the black stuff before flicking through a plethora of vinyl. Boom.
3 more single releases to come this year culminating in the aforementioned EP release in November. We've got some exciting LIVE Shows coming up too. A BBC INTRO at The Purple Turtle in our home town in June. ARE YOU LISTENING? Festival in October and we're supporting THE WENDY JAMES Band in October also at The O2 Academy Islington.
Any final comments or thoughts you'd like to share with our readers, the waveriders?
Avoid the rips. Got caught in one of those once and it scared the whatsit out of me!