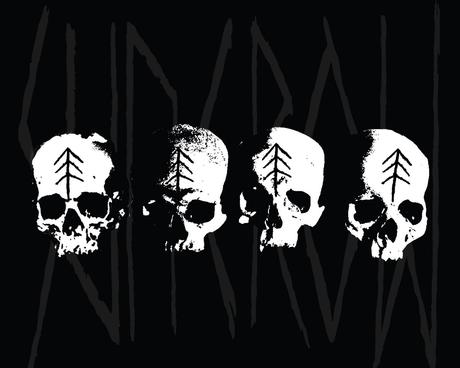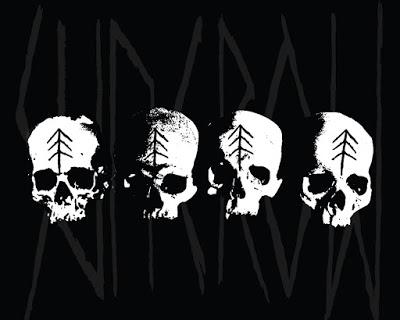 Interview Legend:
BN - Ben Nechanicky
KH - Keith Hastreiter
BS - Brian Steel
TL - Todd Lucas
When I was a kid, growing up in a house with Cat Stevens, Neil Diamond, and Simon and Garfunkel, the first time I ever heard Kiss's "Detroit Rock City," it was a moment of musical epiphany. It was just so vicious, aggressive and mean. It changed the way I listened to music. I've had a few minor epiphanies since then, when you come across a band that just brings something new and revolutionary to your ears. What have been your musical epiphany moments?
BN: There are so many... I have hazy memories of being a kid with baby-sitters that would take us on secret trips to their boyfriend's houses. The boyfriends with the black light posters, lava lamps, and funny smelling cigarettes. There was one-night I remember coming home and lying in bed hearing a pounding sound and a metallic voice came over the late night radio... "I am Iron Man..." my tiny undeveloped brain was saying "whoa what is that?" Metal feet have been chasing me ever since. I took a trip to Crete a few years ago and got to hear folk music that uses some of the same patterns as we all do now in heavy music. Realizing that we've all been collectively tapping into some of the same riffs for over 3,000 years is a real mind bender.
KH: As an early teen I wasn't into rock and metal music until that first puff from an influential, older, and much cooler sister who then put on Black Sabbath. It literally changed me forever. "Kill em All" was a pretty big moment for me as well. I was listening to AC/DC, Judas Priest, Black Sabbath, and Iron Maiden. Metallica was just so much louder faster and trashier than anything I had heard.
Talk to us about the song-writing process for you. What comes first, the idea? A riff? The lyrics? How does it all fall into place?
KH: Generally, we just kind of make shit up after we've had a couple beers. We know what we like to hear; it's got to be heavy and it's got to groove. When we stumble upon something worth developing, we catalog it or work on it a bit. From there it's an organic process of finding how to flavor and color it with a mood, like how a piece of art or a story, or something you saw in the dark corner of the woods made you feel.
BN: Yeah. Usually a riff, or a theme comes first. Sometimes an obscure feeling or notion. Maybe a lyric or concept. It's almost always accidental, I try to make reacting to accidents and finding possibility an everyday practice. I have enough accidents and mistakes to keep that well tuned. You know, if you can keep embers glowing...
Who has influenced you the most?
BN: Sabbath, Priest, Hendrix, Zeppelin, Purple, classic players of the 60s and 70s for sure. Sleep, Celtic Frost, ZZ Top, Maiden, John Lee Hooker, Electric Wizard, Soundgarden. Definitely Motorhead. Honestly whoever is playing right in front of me almost always knows something I don't and opens my mind. I'd fill this screen with my hometown heroes and friends who have probably influenced me most of all.
KH: Black Sabbath, Judas Priest, 80's metal, Celtic Frost, VoiVod, Sepultura, COC, AIC, Johnny Cash, Kyuss, Trouble, Cream, H.P. Lovecraft, Tom Waits, Robert E Howard, Bill Ward, Jon Bonham, Ginger Baker, Mitch Mitchel, Chris Layton, Keith Moon…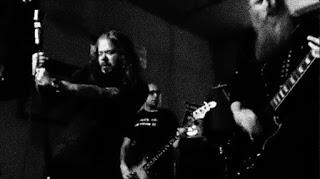 Where do you look for continuing inspiration? New ideas, new motivation?
BN: It's everywhere. It's a total cliche, but I can hear a train go by while I'm answering this. I'm looking over into my amplifier wondering how to make it howl like that... that kind of happens a lot. There are so many musicians making inspiring sounds, that's an infinite source. I watch a lot of movies, and read old books when I can. I like visual arts. I'm a nerd. I get turned on to a lot of great stuff by friends and family. I look to the people around me, they've got a lot to share.
KH: Science fiction, horror, dark art, the night sky. Hiking in the PNW is definitely a source. Every time I sit behind my kit I am inspired to play just by the sounds that come out of my drums.
We're all a product of our environment. Tell us about the band's hometown and how that reflects in the music?
KH: The PNW is an amazing place. There are huge mountains, (several of which might explode at any time), massive forests where you can get lost for days, it's dark, gloomy, overcast and raining throughout much of the year. I think that has a profound effect not just in the art and music from this area but on people's mental health as well. You need a way to channel some of the darker days out of your head.
BN: Some sound and feel does come from the water and the light, the industry and economy, the weather... steep hills, dark forests, volcanoes, endless periods of rain. They all work with the musical legacy and amplify it. In the Northwest everyone hits a bit hard and has some naturally haunted or mysterious undertone. I think there's an openness to huddling in small rooms and getting weird together. It's been a settlement where people work hard in solitude and in small groups since go, I guess we all like to let off steam while we've got a little heat together. It might seem odd for a bunch of introverts who scream at each other in dark basements... the number of musicians out here that are genuinely good humans is powerful motivation too. The people reflect in the music.
Where'd the band name come from?
BN: The power of suggestion, maybe it was a bender? Crows seem to move in patterns with the sun cycles. It just kind of stuck. It made some kind of mind-picture. Later, I found there are ancient stories about an entity called a sun crow, the tales are so old that they don't translate clearly. They are some of the oldest stories humans have. That made it seem even more appropriate.
You have one chance, what movie are you going to write the soundtrack for?
KH: Alien! This movie scared the shit out of me when I was a kid. It's dark, creepy, has the amazing artwork of H.R. Giger, and it's set in outer space.
BN: Well, Alien is my favorite movie too... so... how about The Wizard of Oz, directed by Guillermo Del Toro with Werner Herzog as Oz. We might need a seance to get Giger to do the set design.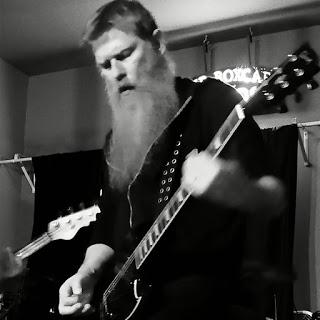 You now write for a music publication (The Ripple Effect?). You're going to write a 1,000 word essay on one song. Which would it be and why?
BN: Think About It from the YardBirds Little Games album. Pretty sure that it's the first heavy DNA encoded into what we recognize now. That came out the same year as Sunshine of Your Love, You Keep Me Hanging On, and Purple Haze in kind of a reaction when the Beatles couldn't turn their amps up loud enough to be heard. That rapid jump into loud stuff we still play all these years later is just Promethean. We'll all eat our own livers in the end.
KH: Black Sabbath "Black Sabbath". Iommi's three-note riff, the devil's Interval or Diabolus in musica. It's got so much in that one song: it's creepy, it's jazzy, it's got doom bass, and a blistering guitar solo at the end... not to mention Ozzy's line about Satan coming to get you.
Tell us about playing live and the live experience for you and for your fans?
BN: We thrive in very small rooms, with small stages or no stages. We like the intimacy with the high volume. Rooms where you don't even get a mic except for vocals, Keith hits really hard and we can just turn up and paint the walls and the ceiling.
KH: Yeah, one of my favorite things about playing music is being able to play for others. There is an element of unpredictability, energy, and emotion that you just don't get any other way. These months of no live music has been very depressing.
Come on, share with us a couple of your great, Spinal Tap, rock and roll moments?
BN: There was this thing with a disappearing singer... but no green puddle. Was it more of a Mindfreak thing than an Interzone thing? We just really don't know. We put coded magnetic rocks in everyone's pockets now, just to be safe.
What makes a great song?
KH: Does it move me live and can I feel it hit me? Does it make me say "fuck yeah!"?
BN: Yeah, definitely a moving performance. Not necessarily great,or virtuoso, just something more in there than musical execution. Drive, pulse, space, imagining something outside yourself. The way you play it can say as much or more as the material gives. I'm a sucker for epic intros and well placed vocals. Gotta have mental pictures that can be interpreted and explored...
Tell us about the first song you ever wrote?
BN: The worst song? What did he say? Why do we want to talk about that?
KH: I'm still working on that.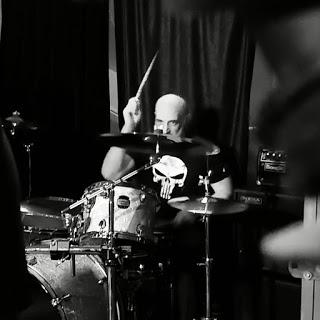 Ok. What piece of your music are particularly proud of?
BN: Quest for Oblivion, without a doubt. We had experiences that will be with us as long as the riffs are. We are working on some cool stuff though, so we'll want to ask again and ask often.
KH: Yeah. It's really hard to pin that down to a particular piece. I'm really happy with how QFO turned out as a whole and we are truly blown away with how it has been received. We've learned and grown a lot as individuals, musicians, and as a group in the process. What we have in the pot right now is really going to be something special.
Who today, writes great songs? Who just kicks your ass? Why?
KH: Where do I start? So much good music and great song writers out there it's overwhelming sometimes. A few of my favorites right now came straight out of the Doom Charts: Acid Mammoth, Dark Buddha Rising, 1000 Mods, Dopelord, Ritual King, Copper Age, Lowrider…… they all inspire me to play more, play louder, and play often
BN: Graveyard, Chris Stapleton, Nick Cave, all have a rock and roll mesmerism and craft. Wo Fat has endless turnarounds... Geezer has the breakdowns... Year of the Cobra has more bottom...Earthless can just roll all night long and... oh I see what just happened there...
BS: Hippie Death Cult.
Vinyl, CD, or digital? What's your format of choice?
BN: Vinyl is still around and growing for a reason, you can't beat it... CD's can have really cool packaging and odd releases, I have some real treasures on disc. Tape is cool too. I love them all and my house is too small.
KH: I'm going to have to go with digital here simply because it's so portable.
BS: How about 2-inch tape in a control room?... haha! I love vinyl and cd, but I do listen to a lot of hi-res digital.
TL: Vinyl. Definitely vinyl. Vinyl with the house doors wide open and speakers pulled outside, me sitting on deck with a cold one.
Whiskey or beer? And defend your choice
KH: I have to choose? WTH? An icy cold one, just can't beat that sometimes.
BN: My right hand or my left hand? Ok whisky. I'll buy you a shot, you get the beer. We both win. How's that for defense?
TL: Beer. There's a whiskey story. Bring me an ale or a Guinness any time.
BS: It's Jack Daniel's time!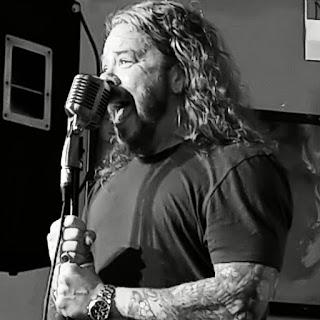 We, at the Ripple Effect, are constantly looking for new music. What's your hometown, and when we get there, what's the best record store to lose ourselves in?
BN: Zion's Gate in Seattle, straight up Pike. If you walk in and say hi to Stephen, it could be the next day by the time you walk out. It's a total metal time warp vortex. Easy Street is the place if you are on the west side.
TL: Yeah Zion's Gate and Spin Cycle Records is right down the street, they are eclectic, a real hole-in-the-wall. When I am in the Republic of Ballard, Sonic Boom Record does it every time.
What's next for the band?
BN: We're looking forward to the vinyl release of Quest for Oblivion out later this year with the heavy purveyors at Ripple Music. It's a real honor to work with the team, we are stoked. We had a lineup change following the mix of the last album, so as proud of Quest for Oblivion as we are, we are also really juiced on getting into studio with Todd on vocals. We have a lot of material roughed out, and the pandemic has had us stockpiling a huge amount of riffs and ideas to spin up and get weird on.
KH: We're always writing more material and looking forward to what's next. We are super excited to get out and play live again and can't wait to bring the heavy up close and personal.
TL: I'd second that emotion.
Any final comments or thoughts you'd like to share with our readers, the Waveriders?
KH: We are happy and honored to be part of the Ripple family. Be on the lookout for material coming soon.
BN: These are rough times for everyone. Nobody is making it through this COVID pandemic without some damage, no matter how it seems like they are holding it together. Keep sharing music with one another. It is more important than ever. Fly low, turn up, and rock heavy!
BS: Thank you!
TL: Ride on!