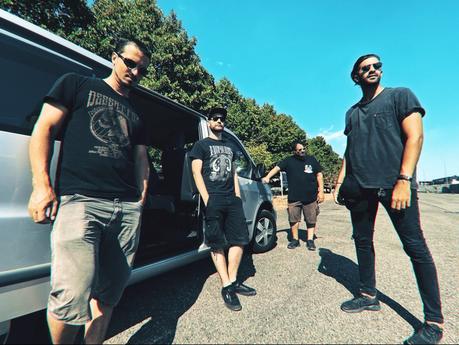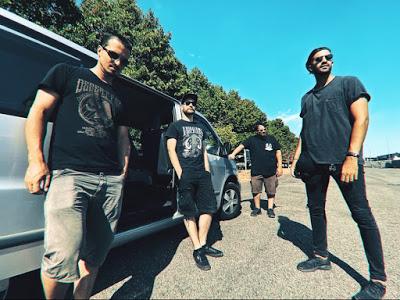 When I was a kid, growing up in a house with Cat Stevens, Neil Diamond, and Simon and Garfunkel, the first time I ever heard Kiss's "Detroit Rock City," it was a moment of musical epiphany. It was just so vicious, aggressive and mean. It changed the way I listened to music. I've had a few minor epiphany's since then, when you come across a band that just brings something new and revolutionary to your ears.
What have been your musical epiphany moments?
Hi, I'm Ric. As I was a child there was Nu metal going, I can definitely remember when I first listened to bands like Korn, Slipknot, to me it was a very punchy and aggressive sound but also weird at the same time so I liked it a lot. As well as music from Queens Of The Stone Age and Rage Against The Machine, to name a few.
Talk to us about the song-writing process for you. What comes first, the idea? A riff? The lyrics? How does it all fall into place?
Usually we start from the music. Me and Marcello make demos most of the time, and then we rehearse them with Marco and Riccardo to glue it all together. Then we write lyrics over it.
Who has influenced you the most?
It's hard to say, because we are in general quite sensitive to many genre of music and we like to be open to new things. So I can't just say that a particular band has more influence than another on us.
Where do you look for continuing inspiration? New ideas, new motivation?
I think it come from listening to a lot of music, but even from watching a movie or working too much. For example if we don't play for a few days it's normal to pick up the guitar and write some new song.
We're all a product of our environment. Tell us about the band's hometown and how that reflects in the music?
We all live in a city called Piacenza, just under Milano in Italy. The city has had some venues to play in but right now they're all closed. There are other cool bands from here but it's difficult to have a music scene without a place to meet.
Where'd the band name come from?
It means Sunday in Danish. The reason for this is that Sunday is the last day of the week and maybe the most important. It's the day in which you make a round up of all the things you've done and you start to think about the thing you must do the next week to improve yourself.
You have one chance, what movie are you going to write the soundtrack for?
I can't decide between a movie like Interstellar or a splatter movie, so I'd say a splatter traveling through space horror.
You now write for a music publication (The Ripple Effect?). You're going to write a 1,000 word essay on one song. Which would it be and why?
Not one in particular, but I'd say a song from an emerging and fresh band that really needs some help to spread the word. There's plenty articles on the big acts, they don't need more!
Come on, share with us a couple of your great, Spinal Tap, rock and roll moments?
I remember one time we had a gig in a very small bar in Hannover, the "stage" was veeeeery small and just near to the tables so at one moment Marco started to jump from a table to another. Magical.
Tell us about playing live and the live experience for you and for your fans? 
Playing live is just the best thing that happen to bands, that's the meaning of having a band and who say the opposite is a liar. You have to think about the engagement with the crowd when you write a song.
What makes a great song?
The right sounds, the essentiality of the arrangement and a good story telling.
Tell us about the first song you ever wrote?
I was in a pop punk band when I was a teen, so it has to be a very happy song about pizza and friends. I don't regret anything!
What piece of your music are particularly proud of?
Out last album, Stick To The Plan. I tend to like the Album more than singles, you have more room to say what you want to say.
Who today, writes great songs? Who just kicks your ass? Why?
Thinking of the metal scene, I like BMTH, Gojira, Stray From The Path, Code Orange.
Vinyl, CD, or digital? What's your format of choice?
Vinyl is my favorite, not for the quality, but for the fact that it's actually a physical medium to listen to music.
Whiskey or beer? And defend your choice
Whiskey, because we are the fucking peaky blinders
We, at the Ripple Effect, are constantly looking for new music. What's your home town, and when we get there, what's the best record store to lose ourselves in?
In Piacenza the best record store is definitely Alphaville.
What's next for the band? 
We have some other tracks we're working on, we just have to decide how to release them!
Any final comments or thoughts you'd like to share with our readers, the waveriders?
Thanks for this interview guys! If you have a moment, take a look to our last single "Titan" here: https://fanlink.to/sondagtitans
And be sure to check out our social medias too:
https://open.spotify.com/artist/5LUD4DPNUeL81zhr9KPO0P?si=bb_QzscUTYuOSu3Ptqg6VQ
https://www.youtube.com/channel/UCile-cqMhmBW9BzRPuI92Ww
https://www.facebook.com/sondag.music/
https://www.instagram.com/sondag.band/
Thanks again guys!
Take care.