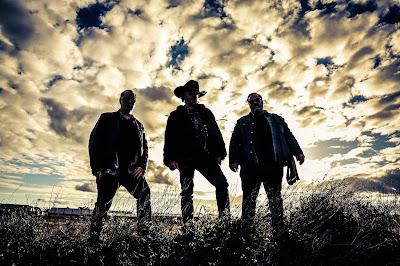 When I was a kid, growing up in a house with Cat Stevens, Neil Diamond, and Simon and Garfunkel, the first time I ever heard Kiss's "Detroit Rock City," it was a moment of musical epiphany. It was just so vicious, aggressive and mean. It changed the way I listened to music. I've had a few minor epiphany's since then, when you come across a band that just brings something new and revolutionary to your ears.
What have been your musical epiphany moments?
Justin 'JC' Cruickshank - For me it was probably returning to Jimi Hendrix after I'd matured somewhat as a guitarist and was ready to really appreciate his music. I was stunned by the breadth of imagination he brought to his playing, and it was - still is - such a scary benchmark to aspire to.
Michael 'Sullo' Sullivan - There have been many across all facets of playing music. Shihad's Killjoy. That energy, melody and riffery kicked off the journey through the rest of my heavy influence.
Pete Carter - as a young bloke fresh on the tubs (literally for a while) hearing Pantera's Vulgar Display of Power album for the first time was a big eye opener for me. It was a lesson in power and groove and using the two to create a bedrock for a powerful track. That really influenced my approach to playing music of any kind but particularly with Planet of the 8s.
Talk to us about the song-writing process for you. What comes first, the idea? A riff? The lyrics? How does it all fall into place?
MS - Fundamentally we're a jam band. Someone brings in a riff or 2 and we jam it out 'til it makes enough sense to become a part of a song. Sometimes those riffs appear out of the ether and we're just there to channel them. We've got an archive of these going back to the beginning.
Historically I've had issues completing the lyrical and melodic side of things. Writer's block and poor mental health have not made things easy so there tends to be some lag between the core musical concept and the first complete version of a song. Though these days we'll try and get together and workshop ideas to speed up the transition from cool ideas to working song.
Who has influenced you the most?
MS - I can't say there's just one or two standouts. Every record, band, muso that I've consumed or played has impacted how I see my role in making music.
PC - insert token "so many to choose from" statement here...I could narrow it down to Vinnie Paul for the power and Danny Carey for the story.
JC - Tough one, but I'm gonna say James Brown because that's where I learned the notion of The Undeniable Groove, which forms the basis of everything I enjoy doing as a musician. Find the right groove and you make people move, physically, mentally, emotionally... maybe even spiritually.
As a band, I think we'd look straight to the source: Kyuss and early Queens for setting the direction into the desert. More recently it's been bands like Elder, Greenleaf and Lowrider for expanding the sound and vibe.
Where do you look for continuing inspiration? New ideas, new motivation?
PC - everywhere, I try to surround myself with as much variety as I can and gravitate to the left of centre. The stuff that bends genres and breaks moulds, that's the stuff that sets the benchmark for me. So I try to seek that stuff out.
JC - Hitting the road with bands we dig, you get to see them night after night and you get to appreciate what they do in a way that you just don't get from one isolated live experience. Watching other bands kill it on stage makes us go even harder when our set is up, or when we're in the jam room writing a new track, for sure. But when it comes to the act of writing new riffs, nothing starts the riff avalanche like a good bag of hooch and a lazy weekend with nothing else to do.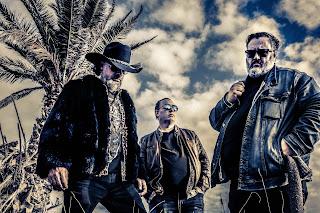 We're all a product of our environment. Tell us about the band's hometown and how that reflects in the music?
JC - Melbourne attracts artists and musicians from around the country, so culturally it's shiny and diverse and vibrant in a way like no other place in Australia. There's so much talent here you can't help but feel challenged to do something special.
PC - What he said.
Where'd the band name come from?
JC - Sullo and I were in a band before Planets' called Siren Black. Planet of the 8s was one of the shortlisted names I came up with when we were trying to find a name. We wound up playing a couple of gigs under that name as an instrumental three piece when our singer couldn't get to a show. When Siren Black folded it seemed like the best fit for what Pete, Sullo and I were talking about doing with our new direction.
You have one chance, what movie are you going to write the soundtrack for?
JC - If Disney ever does a Sith origin film, sign me up. I imagine I could do what Neil Young did (afaik) with the Dead Man soundtrack: set up in the cinema and track along to the vision. Just swap out the tremolo-laden noodling for immense, doomy riffs. Not very Disney, but hey.
PC - If there was another Mad Max flick, I'd be down for that for sure.
You now write for a music publication (The Ripple Effect?).You're going to write a 1,000 word essay on one song. Which would it be and why?
JC - Jimi Hendrix's cut of Born Under a Bad Sign. I've been playing along with and studying that track for 14 years now, and there's still bits I don't get. I love how he totally discards the song and sketches tasty af lines from top to tail.
PC - Lateralus by Tool. Mainly because it's a pretty long song (about 9 and a half minutes) so there's plenty to write about.
Come on, share with us a couple of your great, Spinal Tap, rock and roll moments?
JC - Two bands in a 12-seater bus heading up the Hume Highway to Sydney. We booked a cheap motel midway and when we got to where Google Maps said it should be at around midnight, the site looked like it'd been razed from space with lasers... there was nothing, no motel, just rubble.
Tell us about playing live and the live experience for you and for your fans?
JC - I love a live experience that's visceral. Loud live music gets inside you, you feel it as much as you hear it and sometimes it can be life changing, and with the right additives it can rearrange your synapses. That's the goal every time we get up there, to transport ourselves and take the crowd with us for a ride - to have an experience, a truly visceral experience. I think the best compliment I've heard at a show was when someone said something along the lines of "the way you guys make music, it's good for the soul" - that's what live music can and should be.
MS - Connection. It reaches you and makes you understand yourself or the world around you.
JC - Lyrics that you can relate to, or that excite your being in a primal way you don't even understand... the rest is academic.
PC - I think this is relative, it's all in the ear of the beholder so to speak. I don't think any other genres showcase this better than the doom, psych and stoner and all their applicable sub-genres. For me, it's the journey and the emotion, the perfect combination of the two is for me the perfect track. The format and formula doesn't matter if I can connect with it.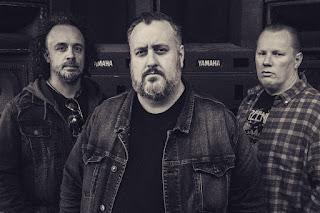 Tell us about the first song you ever wrote?
MS - Surprise surprise, it was about a girl and most likely in drop D tuning.
JC - It just went E, F, E, F... power chords at the zero and first fret. But I didn't know how to make it go anywhere past that riff, so that was when I realised I needed some lessons in music theory.
What piece of your music are particularly proud of?
PC - any track with a riff I've written like The Epic Space Adventures of the Intergalactic Guru and Drive Through Jesus both off our Tourist Season record. I get a big tickle in the "prouds" whenever I hear the guys playing one of my riffs. Flying the flag for riff writin' drummers everywhere!
MS - Tourist Season was a triumph over some pretty heavy mental health issues. In some aspects it was arduous but overall I'm super proud at how it came together in the end.
JC - The third chorus in "...Guru" is a great moment in our collaboration, but some parts of the new stuff we've been recording feel like finding that word that was on the tip of your tongue; that's a fine, fine feeling.
Who today, writes great songs? Who just kicks your ass? Why?
PC - I've been on a steady diet of Lowrider, Elephant Tree and Greenleaf for a while now. Lowriders Refractions record was (IMO) a masterfully crafted record. It's 100% everything in its place, it's got great feel and a journey from start to finish. It loves a spin on the record player!
JC - We've all been into those bands lately so I'll second Pete there, but I think Mastodon have really nailed the vocal hook in hard rock and metal. The Hunter was immense, hook-wise and Emperor of Sand was a decent return. Also loving Gojira lately - huge arrangements.
Vinyl, CD, or digital? What's your format of choice?
PC - Always prefer vinyl, but given the lack of portability of vinyl, I listen to a lot of digital.
JC - Vinyl. It's just so convenient ha ha. But seriously, hearing your own music on it is just delightful.
MS - Vinyl, for the pure self indulgence of it.
Whiskey or beer?And defend your choice
PC - Whiskey...fight me!
JC - Does not compute, system error.
We, at the Ripple Effect, are constantly looking for new music. What's your home town, and when we get there, what's the best record store to lose ourselves in?
Melbourne, Australia. Heartland Records or Thornbury Records. Mecca is actually in Adelaide though at Underground Records. Craig and the gang there know great heavy music and stock it exclusively (and movie soundtracks). We always stop in when we are playing shows in Adelaide.
We've just finished mastering songs for our next release which you'll hear more about soon. The current plan is that'll be released during 2022. In the meantime, and where we've been able to (in between stints in Melbourne's now-famous world's longest lockdown), we've been writing for our third full-length album.
We're very excited about album #3. We see our albums as the central core of our collective statement as a band, and the third album is shaping up as a clear marker in the bands' evolution and, I guess, maturation. The doom/stoner/psych scene is often criticised for its narrowness, both in terms of influence, and output, and because of the weight and awesomeness of what's come before, it can be hard to create something fresh, but that's increasingly the focus of how we're approaching the next LP, and something our existing fans will see come to light in the upcoming 2022 release we mentioned earlier.
Don't get us wrong... We love making desert/stoner rock and that'll always be a part of the band, but we're more confident now in exploring other vibes to create contrast within an album.
Apart from that it's time to hit the road again as soon as conditions are stable, aiming to hit Europe when we can. Maybe the States too? For now we have a few local shows around Australia booked and are just hoping they're not cancelled/postponed.
Any final comments or thoughts you'd like to share with our readers, the waveriders?
How good are riffs! And you guys ought to know, so thanks to all of you who have checked out our music, and been to shows, and bought music and merch. And a big hello to those who are hearing about us for the first time. Hit us up via social media, mention this article and we'll give you some download codes for you and your crew.