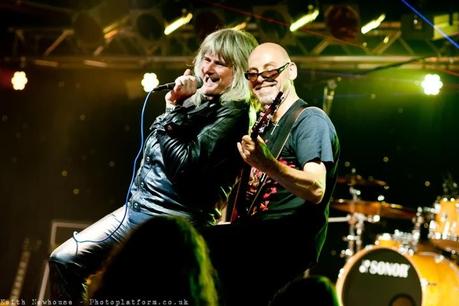 Phil Denton is the guitarist and main songwriter for the British Hard rock band Midnight Messiah.  Doesn't ring a bell? Maybe you remember the early 80's metal band Elixir, best known for  "The Son of Odin" album and single "Treachery".  "The Son of Odin" was released in 1986, a good five years after the heyday of the New Wave of British Heavy Metal, which caused some purists to cite that Elixir were not, in fact a NWOBHM band. Elixir played their debut gig in 1985 (Supporting Tokyo Blade) at a time when most of the bands of that era had gone onto bigger things (Def Leppard and Iron Maiden) or just faded away.  And who is Midnight Messiah? Read on...
 
 So technically, very technically, Elixir weren't part of the NWOBHM because the single "Treachery" and album "The Son of Odin" were released "too late".  Do you think that affected your success in a way?
In hindsight, I would say yes, but we were not aware of it at the time. We just considered ourselves as a British Heavy Metal band, and didn't realize until years later that there were these "waves" and "movements" in Metal music. I think that if we had released 'The Son of Odin' album in 1979 or 1980, there would have been a record label willing to take a chance on us. As it was, by 1986, we were getting feedback from the labels that, although they liked the album, they wouldn't sign us, because we sounded "too British" and that wasn't popular by then!

Not too many people realize that the late Clive Burr actually played drums on one Elixir album "Sovereign Remedy" and did a show with you.  How did that come about and why only one album?
We were constantly writing songs and soon had the material to record a second album. A guy called Roland Harris came to one of our shows in late 1986 / early1987, when we still had 'The Son of Odin' line-up, and met us backstage afterwards and said that he would like to produce us at his London studio. We made a demo with him, and were happy at that studio and so we planned to make an album. Unfortunately, the Dobbs brothers (Kevin – Bass, & Nigel – drums) decided to leave the band before we got into the studio. We quickly found a replacement bass player, but struggled to find a suitable drummer. With the studio booked we needed to find a drummer quickly, but were having no luck. One day, we were getting our van serviced at a garage in East London, and our manager mentioned our plight to Bobby, the mechanic there. He told us that he serviced a car for a drummer in a rock band, and would we like his phone number. It turned out to be Clive Burr. We gave Clive a call, and he told us that he was signed to Dee Snider's new band called Desperado, but was in England for the next few months before he had to fly to The States to hook up with the band. He agreed to record the album with us before he had to go, and so we rehearsed the songs with Clive and then went into the studio with him to record the second album 'Sovereign Remedy'. Before he left to join up with Desperado, we had time to play one gig with him in London. Clive was only with us temporarily for the time between being in Iron Maiden and Desperado, and so we only had the opportunity to record one album with him. Clive had the same sense of humor as us, and it was fun working with him.

 Elixir had a great second life in the 2000's starting with the release of "The Idol" , followed by "Mindcreeper" and finally "All Hallows Eve" (and one Live album.)  The band were a mainstay of European festivals, played 2 awesome gigs around New York City,  as well as playing several gigs in their native UK.  Why did you split up?
We were lucky enough to be able to re-form 'The Son of Odin' original line-up to headline a Festival in Athens. From there demand to see us play continued, and so we were lucky to be able to continue playing live, writing and recording for over a decade – longer together than in our first spell! By 2012 Norman Gordon (lead guitar) was living back in his native Belfast, Northern Ireland, and things were getting a bit difficult for us. Norms was happy enough to fly over for gigs as and when required, but wasn't around for regular rehearsals and writing sessions, so Paul and I were pretty much writing all the songs ourselves in preparation for another Elixir album. Then in June 2012, Kev said that he felt he had had enough and was enjoying playing with a local covers band. It felt that the time was right to call it a day, and so we agreed to call time on Elixir's second period of activity.

 You and Paul Taylor (vocalist) went on to form the band Midnight Messiah, taking your name from a song off Elixir's last studio album.  What made you take that name, in a way still tying you to your old band, instead of something completely new?   Would you say Midnight Messiah's music is similar to Elixir?
When I sat down to think about it, I realized that I wasn't quite ready to stop. I didn't want to have my beautiful Gibson SGs parked in a cupboard not doing anything, and I couldn't contemplate taking up a new hobby like golf or fishing!! Paul felt the same, and reminded me that we had an album's worth of great material waiting to be recorded. We didn't feel right continuing as Elixir without the other three members and so we decided to start a new band with a new name but in the same vein as Elixir. After all, the songs we had written were intended for Elixir when we wrote them. As any band will tell you, choosing a name, is one of the hardest things in the World. We went through loads of names, and if we liked them, Googled them to find that there was already a band with that name! Finally, I suggested Midnight Messiah, and it seemed that there wasn't any other band with that name. As you say, we took the name from a track from Elixir's final album 'All Hallows Eve' and so that kept a connection between the two bands. We play a few Elixir live favourites in our set and the new band plays them brilliantly!
 Tell us about the British Steel Festival, how you got the idea to organize it.  Do you think there will be another one in 2014? (And can I suggest Spartan Warrior, Holocaust and Salem..heheh) With other festivals in England popping up after BSF's success (Metalwave and Brofest to name two) do you see a resurgence of popularity for the early 80's UK bands or is it still very much a cult thing?   What would your dream festival line up be –assuming money or retirement of bands wasn't a factor?
I first got the idea when talking to Lee and Russ from Cloven Hoof after our bands had played at Keep It True Festival in Germany. I was asking the question why we don't have festivals for British 80's bands in our own country, as we all seemed to be playing festivals abroad. That gave me the idea to organize my own festival in England to give bands such as us and others a festival to play in England. It was quite hard work, especially on the day itself, as I had to deal with the organization of the festival and concentrate on my performance with my own band. We held seven successful events over the years, with bands such as Demon, Cloven Hoof, Jaguar, Tygers of Pan Tang, Wychfinde, Pagan Altar and so on appearing. I was diagnosed with a rare, incurable auto-immune disease in 2012 called Relapsing Polychondritis at around the time of the last British Steel Festival in 2012. I managed to get off my sick bed to play our set, but wasn't around the rest of the day, and relied on my band mates to oversee events. Since then, the medication I am on has got me back on my feet, but I haven't really felt fit and well enough to organize another British Steel event. The good news is that there are other festivals popping up in Britain now for bands like us, such as Brofest and Metal Wave, which we played last October. There are very few opportunities for bands such as us to play good gigs here in the UK now, so I cannot see a resurgence of 80s bands, we remain very much a cult thing.
My dream line-up for British Steel, if money was no object would be:
Black Sabbath
Deep Purple
Judas Priest
Thin Lizzy
Elixir (we always play of course!)

  What do you see in Midnight Messiah's future?
Just to continue doing what Elixir could not – playing live shows and writing and recording albums.

  If you could play lead guitar in any other band (still around or not) which band would it be and why?
Queensryche in the period between the 'Warning' and 'Operation:Mindcrime' albums. Back then, they were the perfect Metal band – great musicians, great vocalist and brilliant songs. The trouble is, Chris De Garmo and Michael Wilton were so great as guitarists together, I wouldn't want to replace either of them!

What are your top 10 albums?
Dark Side of the \Moon – Pink Floyd
Operation:Mindcrime – Queensryche
Sabbath Bloody Sabbath – Black Sabbath
Sabotage – Black Sabbath
Machine Head – Deep Purple
Burn – Deep Purple
British Steel – Judas Priest
Michael Schenker Group (1st album) – Michael Schenker
Strangers In The Night – UFO
Live And Dangerous – Thin Lizzy

What equipment do you use?
1974 Gibson SG Standard with Washburn Wonderbar Tremolo fitted
2005 Gibson SG Supreme with Washburn Wonderbar Tremolo fitted (and custom hand-wound pick-ups made to replicate my 1974 SG)
2010 Gibson Flying V
2011 Gibson Les Paul Studio
Marshall JCM 800 100 watt head
Marshall JCM 800 4x12" cabinet
Boss GT-10 effects board
Shure Radio transmitter
Where can our readers find you on the internet?
Our band/label website is at www.coldtown.com
And on Facebook:  facebook.com/MidnightMessiah
Thank you so much for taking the time to do this interview, Phil!!
It was a pleasure – thanks for the interesting questions!