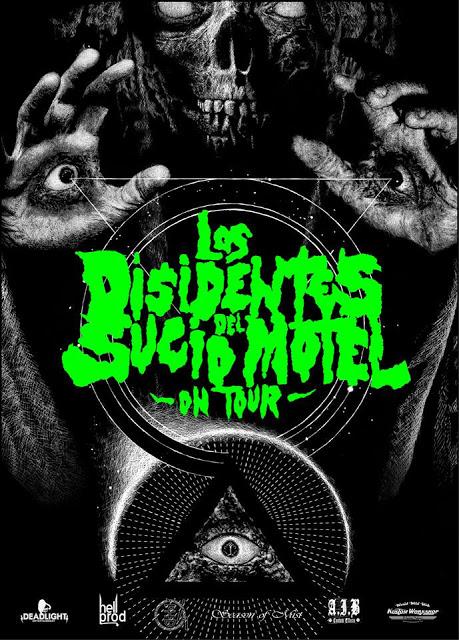 When I was a kid, growing up in a house with Cat Stevens, Neil Diamond, and Simon and Garfunkel, the first time I ever heard Kiss's "Detroit Rock City," it was a moment of musical epiphany. It was just so vicious, aggressive and mean. It changed the way I listened to music. I've had a few minor epiphany's since then, when you come across a band that just brings something new and revolutionary to your ears.

1.What have been your musical epiphany moments?

I think my very first big epiphany moment, was the first time I saw No Quarter on TV, the live album of Page & Plant in 1994. I was 13 years old. I was already a music lover, and a fan of bands like Nirvana or AC/DC (I still am today !) but this moment was really a revelation to me.
The emotion of Plant's voice, the magic of Page's guitar playing, the richness of compositions and orchestral arrangements… It was a real blast ! I remember thinking, later I want to do THIS. I became a huge fan of Led Zeppelin after that and it's still my favorite band today.
2.Talk to us about the song-writing process for you. What comes first, the idea? A riff? The lyrics? How does it all fall into place?

Most of time I just take a guitar electric or acoustic and let my fingers play and sometimes there is a melody that stands out. It's like a click in my head. « Oh ! this is cool, I like it ! Let's see what I can do with it». And generaly this idea brings me to another and another and another etc… And after it depends. Sometimes I have quite everything in my head and I explain what I ear to the others, sometimes I just have the base of the song and we jam all together around it.
3.Who has influenced you the most?

For this new album, I would say Pink Floyd, Mastodon and Gojira. But I think I'm influenced indirectly by many other bands without realizing it. The main influences for the band in general are Black Sabbath, Alice in Chains, Pantera, QOTSA or Led Zep. Nothing very original . But as you can see, not so many real Stoner Rock bands in this list.

4.Where do you look for continuing inspiration? New ideas, new motivation?

Inspiration is something you cannot control. I remember, at the end of the recording session of « Arcane », I said to the boys « I think I'll never do better than this ». Not to say that « Arcane » is perfect, I would not allow me to say that, but I thought that my inspiration capacity was at its apogee, that ideas would not renew anymore. But I was wrong. I let time do its job. I took maybe 6 months without trying to compose anything and one day it came back. When we started to think about the concept of the new album, ideas came very naturaly and songs came the one after the other in a very simple way. During the « Arcane » composition, we wrote many songs, every single idea was worked, but in the end, we had to cancelled some of them to get a global coherence in the whole album.
For « Human Collapse », the composition flew by itself and all gives a very consistent album.
5.We're all a product of our environment. Tell us about the band's hometown and how that reflects in the music?

Well, we live in Strasbourg in the North-East of France. It's a very beautiful city ! With a long and great history. Strasbourg already existed in the middle age and you still can see some of these old districts in the center of the city. But it's a city turned to the future as well, cause it is known as the « European Capital », we have the European institutions and particularly the parliament. It's not my city of birth but I've been living here for 11 years now and wouldn't leave for anything. It's a fantastic city in the middle of a beautiful area and close to the frontiers of Germany, Belgium and Switzerland. I like both its dynamic, cause it's a quite big city and its serenity gained through the centuries. Perhaps this is what you can find in our music, this contrast.
6.Where'd the band name come from?

Ah the classic question ! Haha ! At the very beginning of the band, LDDSM was a side project for each one of us. We all played in several bands, Metal, Punk Rock… but we were already friends. Not as close as today, but we used to see each other quite often. When I came to Strasbourg, my band just split and I was « bandless ». So I suggested to Julien we form a cool Stoner Rock band just for fun. And one day, when he left his home to go to our band practice, his mother asked him which band he was going to practice with and he answered « the other guys » and his mother said « Ah ! The dissidents ! ». And when he told us that story a few hours after, we found it very cool ! So the « dissident » part of the band name was born. After that, we had a massive brainstorming and each one proposed his ideas « I want a very long name ! » « I want something that makes people think about road movies » « why not a spanish name ? » etc etc.. And this is how Los Disidentes Del Sucio Motel came to Earth !
7.You have one chance, what movie are you going to write the soundtrack for?
What a hard question ! Our music has always been influenced by cinema, from the beginning to today. The first album was written as an action road movie soundtrack hence its name « soundtrack from the motion picture », the second « Arcane » is a concept album based on myths and beliefs and of course horror and Z-movies. This new one was inspired by apocalyptic and anticipation movies like « The road » or « The book of Eli ». So as you can see, we like many kinds of cinema and inspiration depends on the moment. But we are all big fans of Star Wars, so maybe the last episode : Star Wars episode VIII in collaboration with master John Williams ! A film by Tarantino or the Coen brothers would be awesome too !

8.You now write for a music publication (The Ripple Effect?). You're going to write a 1,000 word essay on one song. Which would it be and why?
There are so many songs blowing my mind at each listening, it's hard to choose ! I hesitate between « Since I've been loving you » of Led Zeppelin and specially the No Quarter version, for the reason you know now and « Shine one you crazy diamond » of Pink Floyd cause it makes me travel mentally with each listening… Sorry I cannot chose ! So, I would write 2 essays for you !
9.What is your musical intention? What are you trying to express or get your audience to feel?

It has evolved in the history of the band but also as individuals. At first we wanted to convey above all a big energy and a lot of fun and show that we did not take ourselves seriously. Then we grew up and we start approaching things a bit darker. Today through this social apocalypse story in the new album, we try to talk about more serious things, or even more philosophical. How the journey of a random man could change him in its essential nature in the context of the end of the world. This man, it could be you, me, anybody. What would we do if we knew that the end was near? Stay home? Find our family? Get out of control and fuck everything?
Still, the most important thing for me is to convey emotions, through the music or the lyrics, I want to touch the person deeply and if I can help you forget your worries for just 5min or make you think about something, then I have achieved my goal.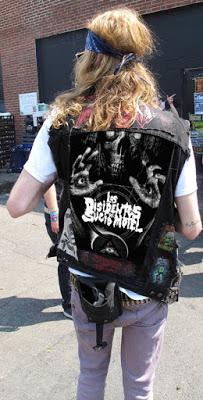 10.Come on, share with us a couple of your great, Spinal Tap, rock and roll moments?

Oh there's been so much in 10 years! I would say the one time when we've been blocked in Germany in a middle of a anti nuclear convoy protest.
Indeed, we had to play in a rock squat in a small town which was tranversed by a train of nuclear waste. Perhaps you've heard of "Castor"? Anyway ... When we arrived there, we took the wrong entry and we entered a military base. What was amazing, is that this squat in which live a dozen of modern hippies in total autarcy, have for neighbor a fucking  military base! So a military man came to the van's window and asks us what we were doing there. "We are the band playing tonight." "The band? Tonight? What the hell is this crap ? Get out of there !" We didn't understand what was happening, but the base was in full boil. The men were all armed, armored trucks were all out, they looked like they were preparing for war. So, we understood that we were at the wrong place. The organizer of the evening welcomed us and began to explain the context. On one side, Castor's anti protesters which were part of his friends and therefore 99% of the potential audience of the show and on the other side, the army ready to intervene.
We were there in the middle and we did not know what to do. Are we just going to play tonight? We waited for hours on site, in the hope that spectators would show up, but after a while we had to face the facts, the real show was outside!
We asked if we could leave rather than stay and sleep there because we had a long road the next day and we wanted to maximize our evening. But he told us that all roads were cut off and it was impossible to leave the area. Naively we thought he was mistaken and that we happen to find a good way ... Error! So we got back into the van with all our gear and we took a chance. We were far from imagining what was going on outside! It was civil war! Protesters burned tree trunks to block the roads and if it was not them, it was the army that was blocking access with their armored vehicles. We tried for hours to pass, taking every fucking road, even the country roads, but it was just impossible ! The perimeter was completely blocked. So we went back on our feet and we returned to our squat. Our host made a little fun of us, but he accepted to take us back for the night. So, we lost time, fuel, energy, we did not play, we were not paid, but lived a moment we won't forget!

11.Tell us about playing live and the live experience for you and for your fans?
To me, it is primarily a moment of complicity with my brothers on stage and with the public. I like the energy that runs through us all, whether we are on stage or in the pit. I like to feel that, it pushes the buttocks, play hard and sweat.
For the next tour, we plan to extend the live experience beyong anything we did before. Indeed, to go into the concept of « Human Collapse » until the end, we plan to project a synchronized video on our music that shows the character we talk about in the album. But we're working on it and I can not say more for now.

12.What makes a great song?

I think, if you can play it on a single acoustic guitar and that it still sounds good, you are on the good way ! I tried to apply this theory on the new album. Several songs were written on my acoustic guitars first. Then, you have to find good melodies, not necessarily simple, as you can often read, but just good. If it's simple it's a plus ! The important thing is that the song has a soul. Its own identity.

13.Tell us about the first song you ever wrote?
Oh my God ! That was sooooo bad hahaha ! I think I was 12 or 13 years old. I played the guitar with my best friend. We started playing the instrument at the same time. We were big fans of Metallica and spent many days trying to play their songs. I remember we recorded our « covers » on cassette and made our friends listen to them… Sorry guys for all you heard… We made you waste so much time ! haha ! And so one day, we tried to compose our first heavy metal song. It was called « Iramon » from the cartoon character "Conan"! He was the bad guy changing people in stone with Star-Metal! Pure evil man !
So it had neither head nor tail, we just connected riffs without worrying about whether they were really good together and if we played in the same tones! But it was fun ! I think I still can play it today ! We were so proud of ourselves ! Good souvenir !

14.What piece of your music are particularly proud of?
I would say « Journey » on « Arcane » and « The rebirth » on the last album, for their epic dimension and the harmonic work on it.
15.Who today, writes great songs? Who just kicks your ass? Why?

It's sad to say but for me, since Kurt Cobain, the Earth has not experienced a new musical genius. They are many awesome bands of very high level, in every kind of music but to me, the last Rock revolution still remains Nirvana. It therefore makes a good while now ! I think Dave Grohl is the biggest Rock star on Earth today and fucking great composer but we must recognize that for quite a few years he wrote nothing purely brilliant, his last masterpiece remains « The pretender » to me. I think bands like Mastodon and Kvelertak have changed Metal in an exciting new dimension recently, giving to the extreme technique a new melodic and catchy way and I like it. Recently, I've been kicked in the ass by the band Mutoid Man, a side project with members of Cave in and Converge. Their last album is crazy, with an amazing sound. They worked with Kurt Ballou, the guitar player of Converge. He's one on my favorite guitarist, great musician and great sound engineer. He's the guy who mixed our last album. It was an honor to work with him.
16.Vinyl, CD, or digital? What's your format of choice?
I use all three. At home I listen mostly to vinyls and CDs occasionally if I do not have those albums on 33 rpm.
Otherwise, when i'm traveling or in my car, I use digital, but I always encode in high quality, because I hate the sound of too compressed MP3.  It's really horrible.
From a purely artistic point of view, I much prefer vinyl for the beauty of the object. A vinyl cover is so much more beautiful than a CD and I still need the physical support. For me, an album is a whole: a concept, a mood, a sound, good songs and a fucking great cover. I have vinyls framed at home, just for the beauty of their cover.

17.Whiskey or beer? And defend your choice
Definitely beer! For the simple reason that I don't really tolerate whiskey. I'm getting old man! Seriously, I do like good whiskey but I have little health problems and spirits alcohol fail me, so I try to avoid them.
But I love beer and I'm always curious to try new ones when I can. But I prefer quality over quantity.
18.We, at the Ripple Effect, are constantly looking for new music. What's your home town, and when we get there, what's the best record store to lose ourselves in?
As I said, we live in Strasbourg. It's a great city but unfortunately there are not so many record stores… But if you are looking for cool vinyl at low prices, you can check « L'occase de l'Oncle Tom » and « 33 and co ».
19.What's next for the band?
Promote the new album, shoot a video clip and hit the road to play the new songs.
We are working on a European tour with the Canadian band « Chron Goblin » in early June for about two weeks and we will probably play a little bit throughout the year.
We'd love to come and play in the US also, it is a dream for all of us, so this is a call to anybody who could help us to book it soon!
20.Any final comments or thoughts you'd like to share with our readers, the waveriders?
A huge thank to all the people supporting us for 10 years, to Ripple Music to welcome us into their beautiful family and more generally to people who continue to advocate freedom by going to concerts. Recent events in France have really moved us and without these people, musicians' work would be meaningless, so we thank them. We hope that the new album will bring you as much fun listening to it as we had to make it. See you soon !