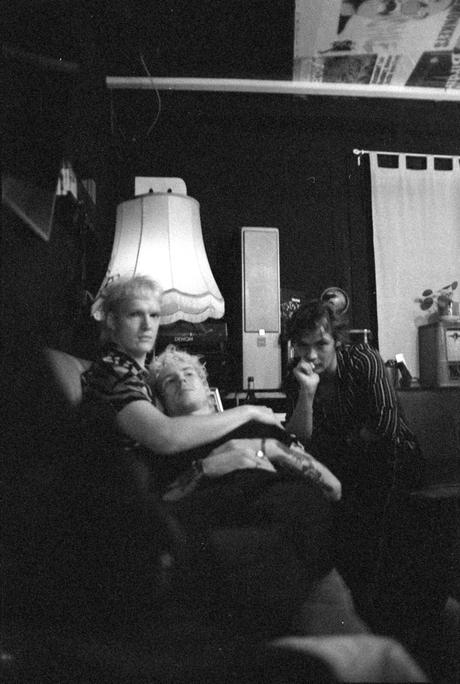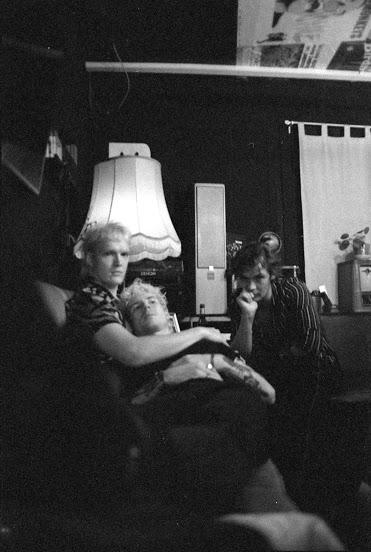 When I was a kid, growing up in a house with Cat Stevens, Neil Diamond, and Simon and Garfunkel, the first time I ever heard Kiss's "Detroit Rock City," it was a moment of musical epiphany. It was just so vicious, aggressive and mean. It changed the way I listened to music. I've had a few minor epiphany's since then when you come across a band that just brings something new and revolutionary to your ears.
What have been your musical epiphany moments?
Joel Phillips: I guess the biggest one must be seeing The Growlers in Berlin in 2019. We actually met on the back of a Flix Bus from Hamburg to Berlin on our way to see the concert. Sam with his Aussie instincts couldn't resist the sight of Joel with his mullet, drinking a beer at 10am and the rest as they say is history! We ended up hanging out for the show which was mind blowingly good and decided we wanted to form a band that special.
Talk to us about the songwriting process for you. What comes first, the idea? A riff? The lyrics? How does it all fall into place?
Joel Phillips:99% of the time it comes from Sam, our guitarist. He will usually bring an idea to the room or a semi-formed song. Then the rest of it is pretty collaborative and we just jam it out and figure it out along the way. It usually comes out of the process a totally different beast. We are fortunate that we have quite wide ranging influences in the band so things get pulled in mysterious and hopefully interesting ways.
Who has influenced you the most?
Joel Phillips:We recently got called "The Strokes Of Hamburg" by Consequence Of Sound which was incredible for us because they were THE band that really started all of us on our musical journey. We actually managed to catch them in Berlin at the start of the year and they are just another level.
Where do you look for continuing inspiration? New ideas, new motivation?
Joel Phillips: Most of our music comes from real life experiences and events, we tend to just write about how we feel. We have all individually and collectively been through a wide array of experiences and we just try and capture those moments in musical form. Musically, we are forever out at shows and watching other bands play or sending each other links at 4am of some crazy French psych-folk band we have discovered. I guess we just all really love music and we are constantly being inspired by new artists.
We're all a product of our environment. Tell us about the band's hometown and how that reflects in the music?
Joel Phillips: I think for us it's more about where we are at now in Hamburg that is reflected in our music. We all for different reasons followed music in quite a nomadic sort of way and that's what landed us all here in Hamburg. I think that connection is reflected in our output. We share a kindred spirit.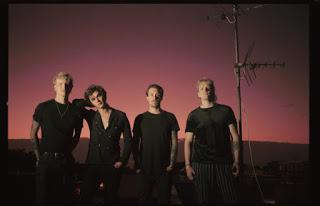 Where'd the band name come from?
Joel Phillips: We honestly just thought it looked cool on stickers/posters. It's also a "tasty cake" in Germany where we are from and underpants in British slang. Take it from that what you will...
You have one chance, what movie are you going to write the soundtrack for?
Joel Phillips: It would have to be a new Tarantino, He is pretty much untouchable. Every one of his films is epic and the soundtracks are sublime.
You now write for a music publication (The Ripple Effect?).You're going to write a 1,000 word essay on one song. Which would it be and why?
Joel Phillips: It would have to be on the cultural significance of Kirin J Callinan. Big Enough and its effects on wider society. Ha, if you haven't heard it seriously check it out, its a trip.
Come on, share with us a couple of your great, Spinal Tap, rock and roll moments?
Joel Phillips: We were once lost in a town called "Wrist" that was basically just a train station, for a few hours on our way to play a "Festival" that was literally just some locals drinking beer in a cow shed. You could hear and see the cows from the stage and the soundsystem was a total DIY bodge job. It was hilarious. You had to laugh or you would cry.
We also played a show in Brighton once BEFORE the doors opened for a festival, as there was a mix up with the promoter. That was pretty hilarious looking back, just playing to the other bands and their crew. It was also absolutely smashing it down with rain and we had to walk to the other side of the city to get the train to the next show in London. Pretty much a total disaster ha, but we had fun!
Tell us about playing live and the live experience for you and for your fans?
Joel Phillips: You can't really put into words that connection you feel when playing live for an audience, it's a feeling like no other. Live is everything for us. We enjoy our time in the studio but playing live is what we live for. It's been sorely missed this year. You just can't replicate that feeling through a screen.
What makes a great song?
Joel Phillips: It makes you feel something.
What one single album do you wish that you'd written or performed on, and why?
Joel Phillips: The Growlers - City Club. It's basically everything we set out to be as a band.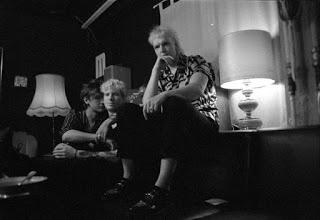 What piece of your music are particularly proud of?
Joel Phillips: We are our own biggest critics and any music that makes it out into the world from us has already gone through a pretty extensive, vetting process of refinement (laughing). We are proud of all the music we have put out. Otherwise, why would you put it out?
Who today, writes great songs? Who just kicks your ass? Why?
Joel Phillips: The Growlers just have a way of tugging at your heart strings and being so relatable in every single song, you feel like you've lived through all those experiences yourself. They have some sort of line direct into your heart and soul.
Vinyl, CD, or digital? What's your format of choice?
Joel Phillips: You can't beat that crackle as you drop the needle onto one of your favorite vinyl albums. Digital is great for portability and when you are on the move, and discovering new stuff. But vinyl is where the heart lies.
Whiskey or beer?And defend your choice
Joel Phillips: It's got to be beer, the drink for all occasions. You can have a good couple beers and wake up the next day bright and early and ready to be productive. If the whiskey comes out, you just know its a one way ticket to chaos and the next 48 hours are going to be a living hell.
We, at the Ripple Effect, are constantly looking for new music. What's your home town, and when we get there, what's the best record store to lose ourselves in?
Joel Phillips: Hamburg is blessed with many cool and independent record stores. Justwalk down any street in St. Pauli and you will find two or three. That's what we love about the place. It still has all these strange and interesting characters and underground places to hang out. La Fonque would be a place you HAVE to check out though - its a cool little bar that only ever plays vinyl and although its not strictly legal you can smoke inside. They even have a resident DJ with no arms who still plays vinyl, he is incredible!
What's next for the band?
Joel Phillips: More music! We have been locked away writing, writing, writing ready to hit the ground running in 2021 when we can get back on the road and play some music for people!
Any final comments or thoughts you'd like to share with our readers, the wave riders?
Joel Phillips: Stay safe, wash your hands. Stay home and play guitar!
Socials:
https://www.thekecksofficial.com/
https://www.instagram.com/thekecksofficial/
https://www.facebook.com/thekecksofficial/
https://www.youtube.com/channel/UCm0wdB5kpFtz5VjJlblmlIQ