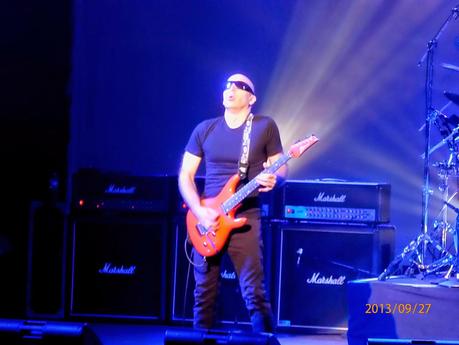 Thanks Mr. Satriani for taking the time to answer my email questions.
Your book was an incredible read into your mind. As a guitarist myself, I found the tone and flow of the book concerning equipment and studio experiences, to be priceless.
1. Your book covers a lot of the guitars and effects you used during album sessions. Do you keep a diary or a log of what you're playing on a particular song? And if not how do you remember all of it?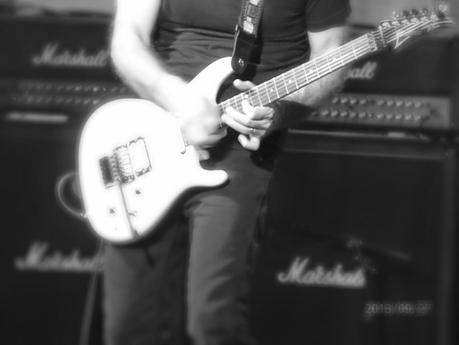 …I do keep notes from my all my sessions, some more complete than others. My tech Mike Manning keeps a running gear journal as well. At the end of a recording cycle he hands the book to me and I often review, update and condense the info for future reference.
2. Naturally as a musician you love all of what you create but are there one or two songs that you simply "love to play" live more than the others?
   …Right now, anything from the new record "Unstoppable Momentum" is the most exciting to play for me, especially the title track. But, I love playing every song in set, it's a joy and a privilege really.
3. I love how the book flows between your mind and what people around you were observing. Was this your idea?
   …It was writer Jake Brown who came up with the book's original concept. Later in the process as I was turning the interview transcripts into a "first person" narrative Jake kept the book on track and guided me through his editing.
4. On That Metal Show you unveiled the box set "Head" with the removable sunglasses to access your entire catalog on usb. What was your initial reaction when they came to you with that idea?
   …The people at Legacy still insist it was my idea! Either way, it turned out great. My co-producer and mastering engineer John Cuniberti was eager to re-master the catalog and restore the recordings to their original glory. He did all the work. I just listened and approved each record as they were finished. At 96k/24bit the music sounds the best it ever has.
5. I saw the unstoppable Momentum tour in Boston. Besides the incredible music there were some killer visuals. How involved are you with those visuals? Are they your ideas or does someone else present them to you?
   …My lighting director Alastair Bramall-Watson is a genius! He was able to utilize my drawings and make them flow dynamically for the show's projections, blending them with video content we would acquire as the tour progressed. Using a projection system allowed us great flexibility in adapting the show to different sized venues around the world.
6. In terms of technology, where do you see the art of guitar playing going in the next twenty years? We already have ipads that simulate the strings and holograms that can bring back dead musicians to the stage again. Do you see the future as less human and more mechanical in terms of performance or will we always have that human guitar interface?
   …Guitar playing will always be about fingers on strings. Look at how technology advancements changed photography, our phones are now digital cameras right out of science fiction yet mostly what we do with them is take "selfies", pictures of our faces and bodies, etc…
7. I learned in the book that you initially had no idea who the silver surfer was. Are you a fan of comics now and if so who, besides the silver surfer, is your favorite?
   …I like story telling, and comics tell stories in a compelling way. Guitarist Ned Evett and I have been developing a script with my music and artwork that we hope to be a digital animation series based on a guitar playing sci-fi hero. So, yes, I am a fan of the genre!
8. Craziest thing that ever happened to you on the road?
   …Getting forced off-stage at gunpoint by the Malaysian army in Kuala Lumpur stands out in my mind as one of those crazy moments you don't easily forget!
7.  I think Chickenfoot is a killer band. When you write songs with Sammy Hagar do you feel like o.k. I have to hold back on the solo or do you never hold back? How do you approach writing songs for Chickenfoot as opposed to writing songs for your own solo albums?
   I have to leave space for Sammy primarily, and then Mike and Chad to add their own personalities. They don't want to hear a JS solo song with little spaces for them to add their bits, they want to occupy as much creative room as I do, so, in that regard we have to share equally in the final recording.
8. Lastly, the book is a great read and a tribute to a life dedicated to your guitar and your creative spirit. Any regrets. Looking back?
   When I'm in a reflective mood I sometimes think I should have spent less time practicing alone in my room and more time with friends, family and lovers. I should have taken more chances in my career. I never should have sold that guitar…etc… But, really, no. No regrets!
MetalRising