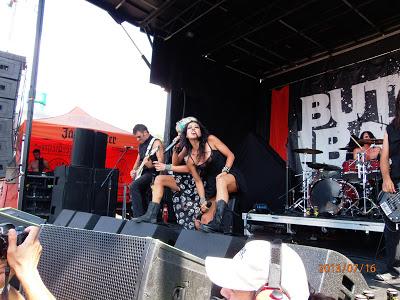 Having witnessed the awesome spectacle that is Butcher Babies, I found myself waiting to meet the band backstage. The humidity of the day equaled only by the heat that had cascaded from their blistering set.  They turned out to be amicable and real in both their presence, and their answers to my questions. The group seemed connected at all times. While vocalist, Heidi Shepherd, guitarist, Henry Flury, and drummer, Chrissy Warner answered other press questions nearby, I had the chance to sit down with Vocalist,  Carla Harvey and Bassist, Jason Klein. They were focused and clear on what they have done and where they want to go.
How is the tour working out so far?
It Has been amazing. Mayhem is actually the first time we have gotten to play in front of a real metal crowd. We are having the time of our lives. These people come out here every day to get sweaty with us. We love it.
Do you guys like the heat?
It's hot but not as bad as Arizona . Arizona was up to 113!. Today is upper 90's so it's nice  to us.
The album, Goliath, Is awesome. Very well done. Are you satisfied with it?
Thanks. You know we spent six weeks recording it. Recording can be brutal but also super fun to do. Josh Wilbur who produced lamb of God did our recording and it was just the most positive sweetest experience I have had. He was like, dude trust me this will be great. High energy behind what we were doing. We put our heart and souls into it. We are very proud of it. Something for everybody on the record. We all like different kinds of metal. I like slayer, Metallica, pantera. Death metal. Henry and Heidi love nu-metal as well. All those sounds went into the album. It's hard to be unique these days and I think we did it.

Did having the novelty of two female singers help you or hurt you in the long run?
 You know what I think it probably helped us a little bit. Something different. At least it got people's attention. But we have a lot more to prove. On the same token people can be skeptical. They like the look but they might also want to hate it right away. Something they have never seen before. When they see us live I think we change a lot of minds.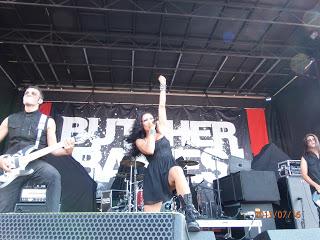 The energy level is much more intense, obviously than the recorded sounds. I expected energy but your performance blew me away.
It's the only way we know how to perform. Someone asked us earlier if it was a gimmick. I was like no, it's what we do. All of us our natural born performers. We love being onstage. When I was growing up I wouldn't even talk to people I was so shy. But when I got up onstage for the first time I went nuts. I just felt like I belonged there. I love being onstage and entertaining people. We all do. This is real. We just recorded these songs and they all mean so much to us so what we do onstage just comes naturally.
What's next? Overseas?
Well we have a tour in the fall that we can't talk about. But we can tell you that we will be at the avershock festival in Sacramento, in September with testament, korn, megadeth...sept.14th. October we will play Rob Zombie's great American nightmare.
Any chance to write on the road?
we always write. we are too busy. but sometimes during sound check we might play a riff and save it. Heidi and I are always writing down lyrics. We play and the girls will write as we jam. Then they will ask us to Play it back.
Crazy stories from the road?
Well(Laughs all around), this is a metal band so something crazy is always going on. One story involves our bus breaking down on labor day weekend. It was our first tour.  So we had to put the band in the back of a U-Haul to get to the next gig. We had to pee so we stopped, did out thing and jumped back in. A few miles later several cop cars pulled us over. They thought the band had kidnapped the girls. The cop didn't like when I told him I had nothing in the back of the U-Haul. All the cops were laughing in the end after they found out we were a rock band, except for the one who pulled us over, he wasn't laughing too much.
Do you feel your influencing the next generation of girls who might want to get into the business? Or dream of being rock stars?
I know we are. Heidi and I get letters all the time from little girls saying what an inspiration we are. But it's not just for the music. I want to be an inspiration for women to do what they want to do. People are told no so much in their lives. Guys too.
 If you have a dream you should go for it.
MetalRising