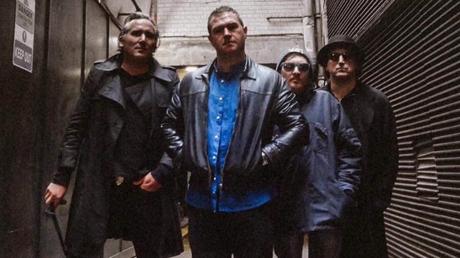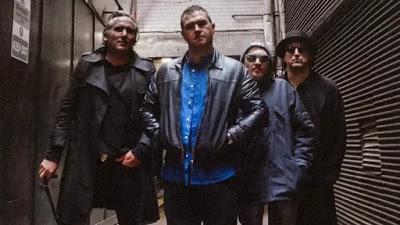 What have been your musical epiphany moments?
My first musical epiphany was seeing a re-run of Neil Young In Concert from 1971. There was so much reverence in the way they captured those studio performances. Not just Young's performance itself but the audience, the camera work, all of it. It was so stripped down yet also very grand. It's an energy and sense of occasion that is spearheaded by the music itself. I still feel that same way about music today, particularly live music.
Not long after the Neil Young show I caught a BBC "Sounds of the 60s" which featured The Rolling Stones playing "The Last Time" on their 1965 Top of The Pops slot. Something about those two performances really got to me. Even as a little kid I felt so close to that stuff that had occurred decades before. As time went on I progressed through the cannon of the 70s, 80s, 90s and beyond. Even when the music is worlds apart, if I hear something I like, it usually evokes that feeling of those two performances. It always goes back to the feeling of that discovery.
They were true epiphanies, too. Life changing. I was six years old and starting on guitar having been inspired by those performances and I'm still doing it.
Talk to us about the songwriting process for you. What comes first, the idea? A riff? The lyrics? How does it all fall into place?
Sometimes it's a riff or a hook and the energy of it informs phrasing, lyrics and feel. Other times it's all about the lyrics- a theme, one line or a message and we cast our rods to fish for the right melody, top line or chording. Whatever lands first and to whomever, that's what's brought to the table. Then we'll all work it through together, do our respective homework, cut a feel track and then cut the whole thing again adapting and appropriating as we go.
Who has influenced you the most?
The Bad Ideas themselves. Without a doubt. I think what often happens is you draw from outside inspiration whether it be a particular act, movement or environment, for example the aforementioned Neil Young and Stones appearances. Those elements are, generally, referred to as your "influences." I would definitely call those elements "inspiration."
Andy, Clive and Ed influence what I do in the most direct way possible, as I do them, as Clive, Ed and myself do to Andy and so on. That is, essentially all a band is. An supreme influence on each other and being under the influence of the energy that that chemistry affords us.
Where do you look for continuing inspiration?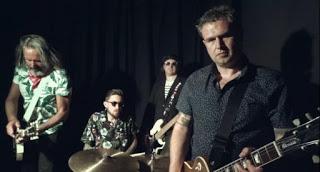 Outside of compulsively listening to music, I look for inspiration by simply being out in the world and engaging with people as much as possible. I try to stay off of autopilot mode and to be present as much as possible. I use public transport a lot rather than drive. I use busses, trains and taxis not just for necessary journeys but for the creative process. You get to see the nuanced, bizarre and often quietly brutal or loving interplay between people. It's everywhere but you have to look. Observe, recreate, communicate.
We're all a product of our environment. Tell us about the band's hometown and how that reflects in the music.
We all have respectively different hometowns. We formed in London when we all lived there. Now the rest of the band live there and I'm in my home county of Essex. I grew up by the sea and so did our drummer Clive. I've always felt that the ocean has a big effect on one's character and if you're a musician, music is the sum of the parts of your character. With being based in London for a long time it's definitely brought us an eccentricity. It has also given us a weird approachability set against angst and vague aloofness. Essex is a big part of us. We like to write and film music videos in Essex. There's a real energy and wildness to it. There is also great beauty that many people from elsewhere in the country are not aware of, subscribing to cliches and stereotypes.
Where'd the band name come from?
That's lifted verbatim from a discussion whilst properly forming the band. We had the chance to feature on a Poly Styrene tribute record going out in the states. We had 48 hours to get a band together, record the track, mix and master it and get it over to New York. It's literally what I said to Andy in a moment of doubt at a pub table in North London - "This is a bad idea!" and it just stuck.
You have one chance, what movie are you going to write the soundtrack for?
Well we'd love to write the sound track for a new upcoming Cohen Brothers or Tarantino film. We're still holding out for the call from Robin Hood: Prince of Thieves 2. They'll film it, they're just playing hard to get.
You now write for a music publication (The Ripple Effect?). You're going to write a 1000 word essay on song. Which would it be and why?
We'd do The Cure's "A Forrest" or possibly Killing Joke's "Eighties." This would be solely for the purpose of discussing where these songs fit into society at the time: how societal and sociopolitical factors played a part in them coming to pass. If it was one of ours it would be "1930s Gem" for the same reason. The time capsule element is always an interesting and fun thing to pontificate over and if you run out of steam you can always just talk about what a great song it is.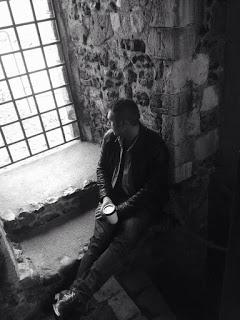 Come on, share with us a couple of your great, Spinal Tap, Rock 'n' Roll moments.
To be honest we've had so many Spinal Tap moments that we're at the point now where we would honestly welcome having had fewer. Many bands cringe at their 'Tap moments' whereas we don't have that luxury of replaying a handful of isolated incidents. We simply wince at the sheer number of them (rather than the questionable occurrences themselves). Genuinely. It happens a lot.
Occasionally we are asked which band we relate to most. At that point we'd love to say some band who became a household name by creeping up with world beating musical prowess and vision, intelligent guile, mystique, perpetually smothering themselves in rock 'n' roll lore to forever occupy a place which haunts a part of the international psyche forever.....and so we do: "Spinal Tap."
Andy and I formed the band after meeting in a cupboard. It was, literally, a dark stock cupboard. He was after doggie pooh bags and I asked: "something for the weekend, Sir?" and that's how things started and it's been Spinal Tap ever since.
There was also the time (through a wholly epic communication break down/ dates mix up) that I turned up to play a Ben Wood & The Bad Ideas show in London whilst, simultaneously, The Bad Ideas were turning up to play on a session in Berlin.
Tell us about playing live and the live experience for you and your fans
As a band, playing live is so important for us. It's the point that the material we've dedicated ourselves to is allowed to breathe in a different way to on a record. In a much more organic way, of course. It often surprises us how certain parts that we weren't expecting to stand up more than others end up doing precisely that. That informs direction.
For the audience we will always give 100%. Even if we were playing to one person we'd give it everything because, we feel, you cannot take a single listener for granted. It's not stats, figures and studying the form of listenership, it's people engaging with you. We also have a strong ethic of zero plod in writing. We don't want to even vaguely bore people and just thrash it out. Each arrangement, every spike, every push and pull is designed to engage a listener at home, in a venue or on the bus. In short, for us, we get to play live in a band who really mean it and our fans get to watch a live band who really mean it.
What makes a great song?
What makes a great song is an honest and sincere effort to make the song as good as it possibly can be. To make the song totally what it is meant to be, to completely do its job. There is also the tightrope walk of being self effacing and open whilst giving the vague impression of having kept something back. I always think the best songs leave a question mark that is strong yet subliminal-a sort of compulsion to look over one's shoulder as something's still lurking or waiting until dark to approach.
What one single album do you wish you'd written or performed on and why?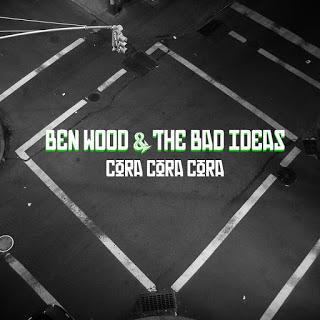 Joy Division: Human Pleasures. Naturally, I'd love to have written it but cannot actually imagine doing so. Just to say I'd played one guitar line on it would be quite something. It's just got unbelievable shape to it. For me, it plays like one long track that just changes direction, sometimes wildly. You feel like you're in the room with them when they recorded it. There's a sense of urgency and immediacy. You can feel the heat, canned beer and cigarette smoke. For a musician to communicate that much darkness and rawness with such a palpable presence is powerful indeed.
What piece of your music are you particularly proud of?
With our project to release a single per month for all of 2020 the very nature of it leaves us thinking wholly in the now. It's very immediate. The idea was to write and release an album in a different way. To drip feed it essentially. The interesting thing is that, on reflection of the material, it's also us that are being drip fed. So when we've been asked this question over the months we always find ourselves naming the one we've literally just finished and subsequently released only days after, which in this case is the August single "Black."
Basically because the newest is the most exciting for us. In just over three weeks we release the next so there isn't much time to reflect on the songs. With the gap you'd normally get between finishing an album and getting it out you'd typically be afforded that decompression period but we don't have that. As a piece of music in regards to instrumentation, I'd say our January single "Cora, Cora Cora." It really has that sparkle and shimmer. Our April single "Lead Me On" also means a lot to us as the songwriting and arrangement was atrue labor of love. Plus we've got Paul Cook from The Sex Pistols drumming on it.
Who, today, writes great songs? Who just kicks your ass? Why?
Biffy Clyro always put so much into their records and live shows. It's just so grand, euphoric and blistering. They don't allow their listener/ audience to settle. In truth there are some elements to their sound that aren't even to our taste but we recognize the brilliance in what they do. Putting all that together as a trio is a holy thing, too.
Beabadoobee has songs that really lean into the 90s sound but it's really fresh. She has the sound of someone who is literally just starting on an instrument and with songwriting, never mind just starting in the music industry. There's a real beauty to that. Also, the stuff Alfie Templeman's doing has got that real new wave, post punk sound we love but again, it'sits own thing and unashamedly pop.
Vinyl, CD, or digital what's your format of choice?
They all have their advantages and drawbacks but we'd always say vinyl as our format of choice for listening. CDs are also great because you get the tactile dimension of the music as you do with all hardcopy. It's a widely unpopular view in music circles but we also hold digital in pretty high esteem as a vehicle for getting music out there and reaching more people.
Whiskey or beer? And defend your choice.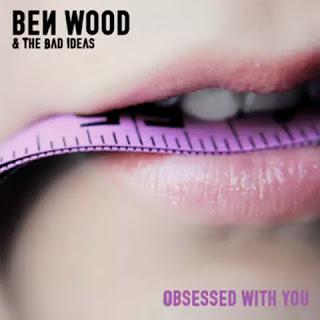 We like both but we'd say Whisky. It's smooth and has greater medicinal properties. Plus it's really tasty.
We, at The Ripple Effect, are constantly looking for new music. What's your hometown, and when we get there, what's the best record store to lose ourselves in?
Vinyl Hunter, Colchester, Essex. Superb record store. It's homely, eccentric and eclectic.
What's next for the band?
We'll continue working diligently in the final four singles of our 2020 project. Then we need to crack on with the 2021 project. All will be revealed. We're plenty thirsty for live too, naturally.
Any final comments or thoughts you'd like to share with our readers, the waveriders?
Just to say a sincere thank you to the Waveriders for having a read about our band and to thank The Ripple Effect for having a talk to us. We'd also like to thank everyone who's bought the singles and supported us. Watch this space for plenty more to come.
Ben Wood & The Bad Ideas (all links):