Gumby from the band Battle Cross took some time to answer a few of my questions. 
Ok The Mayhem Tour ! How is going for Battle Cross?
The show has been awesome. It is hot. The crowd has been great. This is one of the best cities we have played to so far. So yeah just awesome. Every show has been awesome. The crowd is always loud.
Are you finding new bands to discover and new fans discovering you as well?
Absolutely. It's one of those things where diverse bands bring in diverse crowds. We get people who have never heard of us and at the same time bringing all kinds of metal together. That is how you find your audience. There are bands that I haven't heard of that I get to see. It's awesome. We are one big metal family getting together.
Any surprises on the tour?
We are in the flow of things. For us we just have to adjust. Things happen. You just get into the flow. We always try to rehearse before we tour. Jam out the set and we go. Once your warmed up your good and it just flows. Each show you always find more time to warm up and then you get to relax a bit. For us it's a system. We get it down and we go.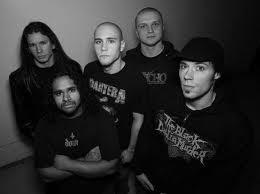 Any time to write on tour?
You know honestly I find that it's kind of hard to write on the road for us. We do our own thing, we don't have a crew. So we do all the moving. Once in a while we will if we can. It's better at home. The focus is on the gig here. We get up, help set up the merch table, play, load up the trailer. There isn't a lot of time to write.

 

Always a busy day. Shows make it worth it.
What's next for Battle Cross?
After this tour we have a late fall tour with Hatebreed and shadowsfall. Then we have more tours coming.

 

We want to go overseas, south America.

 

Mexico is one of the biggest fan bases for us.
Who writes?
we all do. we sit around and jam. we send it over the computer and then we construct it. Songs change once you start jamming together.
Yeah it all changes. For us we take the idea and then we take it apart to see what fits. we all draw from different influences. It all comes together. we don't try to sound like one thing. It's for the song.
Do you find that social media is important to young bands?
We are all over it. social media is so important. fan interaction is so important. so important to engage the fan base. we are always reaching out. signing. taking

 

pictures. You have to be all over it. we are always trying to be on that. It all means something to the fans.
--MetalRising