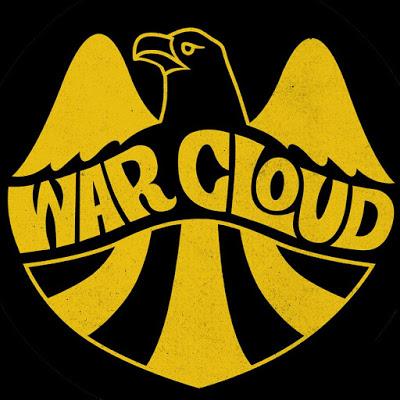 When I was a kid, growing up in a house with Cat Stevens, Neil Diamond, and Simon and Garfunkel, the first time I ever heard Kiss's "Detroit Rock City," it was a moment of musical epiphany. It was just so vicious, aggressive and mean. It changed the way I listened to music. I've had a few minor epiphany's since then, when you come across a band that just brings something new and revolutionary to your ears.

What have been your musical epiphany moments? 
The first time I ever heard Thin Lizzy changed my life forever. Now I have every album and they continue to blow my mind. Bands like Cactus, Leaf Hound, Humble Pie, and Mountain had a profound impact on me too. It's about the rhythm and groove but a voice that stands taller than it all makes for a long lasting impression ya know?

Talk to us about the song-writing process for you. What comes first, the idea? A riff? The lyrics? How does it all fall into place? 
Riffs always get a song going, other times it's in a word or a few words being sung a certain way. It doesn't take much for us to get going into a jam and we usually work it out that way.
Who has influenced you the most? Steve Marriott's voice and swagger, Phil Lynott's heart that he wears on his sleeve, Michael Schenker's perfection, and Nuge's animal instinct.
Where do you look for continuing inspiration? New ideas, new motivation? 
Westerns, mother nature, engines and the open road. It's all chaos to me so picking out details in the fabric tends to fuel my imagination.
We're all a product of our environment. Tell us about the band's hometown and how that reflects in the music? 
I was born and raised in Baltimore but War Cloud formed after we all met in San Francisco. Joaquin and Tony are locals and Sean grew up in LA. Now we are split between Oakland and SF. The gritty facade of downtown Oakland reminds me of Baltimore, and even though it's a rust town, it's got some wild west attributes.
Where'd the band name come from? 
Our name comes from a Wicked Lady song. Another band that continues to blow my mind.

You have one chance, what movie are you going to write the soundtrack for? 
I have the soundtrack for Dead Man that Neil Young did for Jarmusch. It's amazing in the film and holds up by itself as an album just fine. Has there been a rock and roll western? Something along the lines of campfire crackling meets the sounds of water flowing, and primitive percussion, better throw a guitar in there too.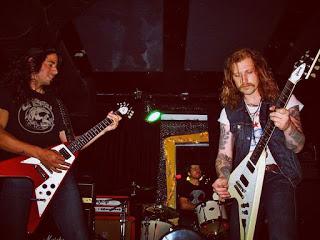 You now write for a music publication (The Ripple Effect?).  You're going to write a 1,000 word essay on one song. Which would it be and why? 
Without a doubt, Highwayman by The Highwaymen. The lyrics are very human, embodied by the greatest voices in showbiz. Anyone can sit back and enjoy the tale of the highwayman and if you can't relate to this one than I'm afraid you ain't livin'.

What is your musical intention? What are you trying to express or get your audience to feel? 
Our songs are meant to tell a story that listeners can relate to. The voice takes many different positions, whether it be the predator or prey, victim or assailant, or purely a mode of aggression and excitement one gets when they redline their engine.

Come on, share with us a couple of your great, Spinal Tap, rock and roll moments? 
We've only been a band for a year and feel very fortunate to be stoked on the music we make, the bands we've played with, and a killer music scene here in the bay.

Tell us about playing live and the live experience for you and for your fans? 
I'd like to consider myself an entertainer. Getting on stage really turns me on. I'm not thinking, my head goes out the window and my body takes control. I'm gonna be doing my thing regardless, but if the audience wants to show me some love, it'll escalate my excitement and what I can give back.
What makes a great song? 
Rhythm, groove, a sturdy voice, and some killer leads wouldn't hurt either.
Tell us about the first song you ever wrote?
 The first song I ever wrote and recording myself was a garage kind of surf number. No words, just layered guitar and a garage band drum.
What piece of your music are particularly proud of? 
It's typical to think this way but I am particularly proud of the latest batch songs War Cloud has been cooking up. Once Tony joined the band our writing changed. Having two lead guitars opens up so much that we can do, especially live.
Who today, writes great songs? Who just kicks your ass? Why?
Some of em are still alive, but the entire outlaw country movement continue to write some of the best songs out there. I wish I could be so eloquently simple with my words. I'm talking Waylon, Willie, David Allan Coe, Johnny Paycheck, Jerry Reed, Tom T Hall.
Vinyl, CD, or digital? What's your format of choice?
Vinyl is our first choice but digital is convenient.
Whiskey or beer?  And defend your choice. 
Tequila, it's all natural and good for you.
We, at the Ripple Effect, are constantly looking for new music. What's your home town, and when we get there, what's the best record store to lose ourselves in? 
I haven't been back to Baltimore for a couple years now but last I checked, Celebrated Summer Records was the spot and you can find it in Hampden, hon.
What's next for the band? 
This year we are gonna buy a van and get on the road, shoot a music video, and continue to release some heavy jams. (Rumor has it that it'll be with Ripple…?)

Any final comments or thoughts you'd like to share with our readers, the waveriders?
Grip it, rip it, kill it, grill it, and occasionally get some sleep!