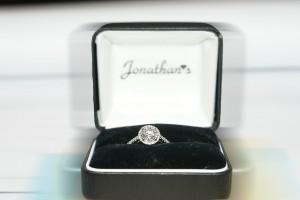 I can't even begin to imagine the amount of ring boxes we invest in at Jonathan's Fine Jewelers.  I mean, we do make engagement rings.  Tons of engagement rings. That's what we do; make engagement rings.  For all kinds of people.  First marriages, second marriages, third marriages, same sex marriages, vow renewals and upgrade the diamond rings.
Every time someone makes a ring, we put it one of our black-hinged boxes that cushions the ring in black velvet and the top is covered in white satin with our name stamped on the inside in black.  It's a nice ring box, as far as a ring box goes.  It's not a light blue Tiffany & Company ring box or a red with gold Cartier ring box, but what sets out ring box apart is that we like to remind our customers that our box is not just a ring box, but a marriage box.
The Symbol of The Ring Box
The ring box doesn't necessarily have a symbol or a meaning, other than to hold the engagement ring and it is a place to keep the engagement ring safe before you give it to your soon to be bride.  Can you be creative with the box and put it in an antique box with a picture of the two of you pasted on top? Absolutely. Could you find a fabulous wooden puzzle box that might stump your bride to be but have a treasure that she will treasure at the end of the hunt? Most definitely.  And, would she appreciate some type of hand made doo hickey that comes from the heart? Certainly.
But, the ring box still has no real symbolism…other than to hold the ring in a safe place.  But, we do believe there is a symbolism that can be placed on that ring box and that perhaps it should be called a marriage box instead.
The Marriage Box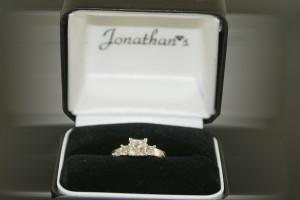 When you get engaged, you put a fabulous diamond or gemstone on your betrothed's finger that represents a promise that you and she are going to fulfill.  This promise is that you will love each other and get married.  You soon get wrapped up in the planning of the wedding, where you will live and the daily routine of life.  You settle in.  You may fight from the stress of the wedding, the meshing of two lives that are now going to be one, and you also might not have considered what it is truly going to be like now that you have made this life-long commitment to spend your life with this one person.
We believe and have seen that most people get married believing a myth that marriage a beautiful ring box that has an engagement ring that represents all the things they long for, such as companionship, intimacy and friendship.  The truth is, the marriage box starts out empty, even if a ring is inside of it.  There is no love in the ring, because that ring is an object.  The love is in the two people and those two people put the love in the marriage.  There is no romance in the ring, you and your lover infuse the romance into the relationship by learning the fine art or giving, loving and praising and keeping the box full.  The main thing to remember is that if you take the more out of the marriage box than you put in, the box will be empty.
Anyway, that is what we think about the ring box….
What do you think about a ring box vs. a marriage box?