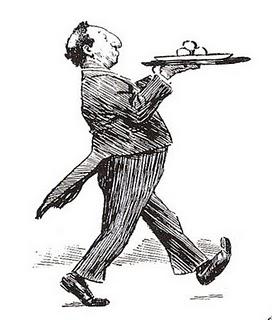 Ann's on the Foodie trail again this weekend – and in fine, patriotic form it would seem…
"One assumes that Prince William and Kate Middleton aren't worrying about what to eat at their wedding reception – there will be plenty of other people to do the worrying for them. As they are apparently having a reception and buffet, then a dinner and dance in the evening, they may avoid the total wipeout royal wedding breakfasts popular in the past.
Queen Victoria's son Prince Leopold married Princess Helene of Waldeck in 1882, and they had a proper banquet – seven courses, starting with vegetable or cream of rice soup, working through lamb, chicken (which appears three times, offered in three different styles), sweetbreads and beef, via lobster salad and plovers' eggs, to cake, soufflé and jelly.
Compared with that, the menu for Elizabeth Bowes Lyon and the Duke of York (later to become George VI) in 1923 was positively puritanical. They sat down to Windsor soup, supremes of salmon Reine Marie, lamb cutlets Prince Albert, capons a la Strathmore, and strawberries Duchess Elizabeth. Brown Windsor soup, by the way, the butt of many jokes, doesn't appear in Mrs. Beeton. One suggestion is that it reminded people of a transparent brown soap popular in the nineteenth century. There are recipes which involve boiling up stewing steak, beef stock and vegetables for a couple of hours. A little Madeira added at the table would probably improve it.
And at the wedding of Princess Elizabeth in 1947, the menu included fillet of sole Mountbatten, casserole of partridge, salade royale, and bombe glacee Princess Elizabeth. No one explains what was actually in the bombe glacee – other than ice cream.
There's a great deal of speculation about what will be on the menu on April 29. I would vote for something Welsh for a Prince of Wales – possibly laverbread or leeks, much more likely Welsh lamb. Something Scottish, to mark the importance of St. Andrews? Wild salmon isn't in season until June – but maybe there's a smoked salmon tucked away somewhere. And will there be a Bombe Catherine? Or a Middleton roast beef? Will they include the inevitable beetroot, which now pops up on every chic menu? We shall just have to wait and see.
For more foodie gossip, join my Foodies London Walk on Saturday April 23 at 10.45 am. Green Park tube, Park Exit – in the park."