If you're new here, you may want to subscribe to my RSS feed. Thanks for visiting!
I was given the opportunity to review Amazon Prime Instant Video Creative Galaxy with my 3 year old daughter. We couldn't have been more excited to watch this program together. I'd be lying if I didn't say my kids are a bit of TV junkies. Not really something I'm proud of, but they do enjoy watching TV. So anytime they get to watch something that's entertaining while also being educational is a plus for me. And Creative Galaxy was exactly that.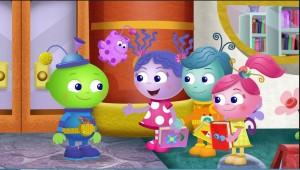 What's Creative Galaxy All About
So Arty is the main character and he's an alien. He flies around the galaxy with his side kick Epiphany solving problems like bland library walls and building a house for a bunny with art. The show teaches many different things including what a museum is, different styles of art that artists use to draw pictures (dot art for example), and also shapes and colors.
It's an interactive program which asks children to answer questions like where is the red paint or where is the square. My 3 year old daughter got into it really fast pointing to the paint colors and the shapes and saying dot dot dot right along with them while they were creating art.
At the end of each episode it showed some real children (not cartoon) creating art and pretending with the art that they created.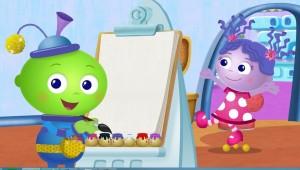 Creative Galaxy
What My Daughter Thought Of It
My daughter was very into it and sat without problem for an entire episode and then still wanted more. She was quiet and content while watching it and interacting with the characters. She truly enjoyed it and keeps asking me if she can watch Arty again. So I think she gives it two thumbs up.
What I Thought Of It
Do parents ever really love kid shows? I'm not saying I'd sit here watching this program with my daughter every time, but I certainly don't find it as annoying as say Barney. Honestly, I thought it was cute and my daughter interacting with it makes it a little cuter still. I thought it was great that it wasn't just focusing on shapes and color associated with art, but also different artists and how they create their art was being brought up to. Now I don't anticipate my 3 year old knowing a Monet painting when she sees it, but still I thought that was a nice added touch to the whole story line.
Also, while I didn't have my 6 year old son watch it, I think it's still something he would have liked, if for nothing else than just because it was an alien and he was flying around in a spaceship. So boy or girl I thought it could easily appeal to both which is always good.
All in all I have to say Creative Galaxy from Amazon Prime Instant Video is a great program for preschoolers. Your older children might even enjoy it as well. If you're looking for a fun interactive program to watch with your preschooler, then this might be the show for you.
I was selected for this opportunity as a member of Clever Girls and the content and opinions expressed here are all my own.