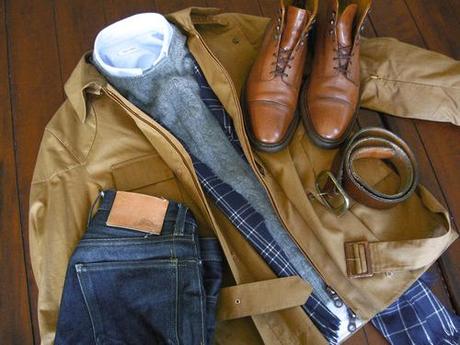 There was a thread on StyleForum sometime last year where a member solicited opinions for a traveler's jacket he was hoping to have made. It was to be a slightly modified version of a sixteen-pocketed design produced by Brioni in 1968. Now, why anyone would need sixteen pockets while traveling is unclear to me, but apparently this was designed to be a smarter version of something Inspector Gadget would wear. There were four visible pockets on the front, presumably twelve pockets hidden somewhere underneath, a half epaulette to hold a camera strap, a side buckle strap to keep a newspaper in place, and some straps at the cuff for tightening. According to Style Sage, who wrote a post about it, Brioni made it for a wealthy Californian globetrotter who wanted something for his adventures.
Personally, I've never found it necessary to have more than a briefcase and a basic coat while traveling – just something to keep a travel wallet, money clip, some gum, and something to do until I reach my destination. However, there is something very appealing about having a specific "travel jacket," and for some reason, this appeal goes up with the number of possible straps, pockets, and technical details.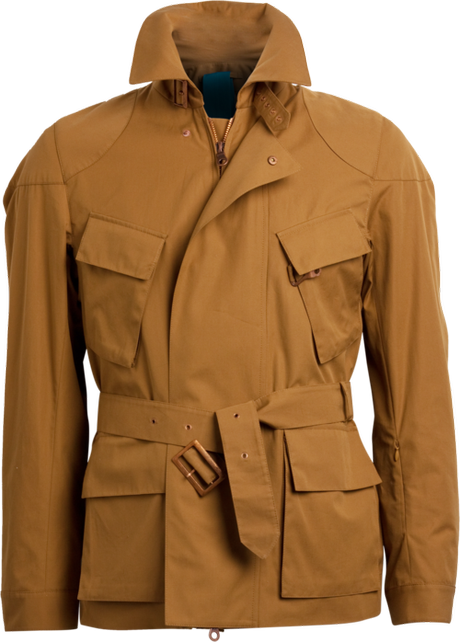 I found mine last year through Brooks England, though it wasn't designed with traveling in mind. Rather, it's a bicycling jacket that I've repurposed for traveling. Two years ago, they released it as a special inauguratory piece to their new clothing line, John Boultbee. Unfortunately, the label was short lived. After only a year, Brooks acquired PEdALED, a Japanese company focused on making wearable garments for the casual bicyclist. Designed by Hideto Suzuki, PEdALED has a sort of Japanese aesthetic that Americans might be familiar with through Engineered Garments and 45rpm, but everything is made with a specific function in mind. Brooks representatives have told me that, moving forward, the company will now focus on PEdALED instead.
Which makes me very, very glad I picked up this jacket while it was still around. It has ten pockets – two big ones at the back for reading material, a hidden pocket at the sleeve for keys, a specialized inside pocket for an iPod, and six pockets for whatever miscellanea you might need. The shell is made from British Ventile, which has a quiet, stealth quality to it (useful, I imagine, if you're trying to sneak into meetings or classrooms while running late). The inside, which is lined with Fox Flannel, also has two straps so you can sling the garment across your shoulders when it's not in use. You can see all the details explained by Timothy Everest himself in this video.
After seeing that StyleForum thread, it occurred to me that this piece would make for a great travel jacket. It has more doodads than Loro Piana's Traveler's Jacket, but not so many than it looks like this overkill by Orvis. Plus, it's great for every day use, both on and off a bicycle. Pictured at the top of this post is the jacket as I wore it last week – with a cable knit cashmere sweater by John Laing, blue OCBD by Ascot Chang, Drake's checked cashmere scarf, pair of 3Sixteen's SL-100 jeans, and some Crockett & Jones' Coniston boots.
The most impressive design, however, probably goes to Norton & Son's, who made this explorer's suit for Colonel Blashford-Snell. But I'm not nearly cool enough to wear something like that.